Hot chocolate is the ultimate comfort drink in the cold weather. Last year at the Union Square holiday market in NYC, I tried NibMor's Organic Vegan "Drinking Chocolate" for the first time. Immediately, I was smitten. It was rich, decadent, sweet, comforting — everything you want a hot chocolate to be!
I already knew NibMor was legit because the ladies behind the brand, Heather Terry and Jennifer Love, are both fellow Institute for Integrative Nutrition grads. I trust just about any IIN grad to make a spectacularly healthy product. But after taking the first sip of my hot chocolate, I paused. It was too good. I was skeptical. I wanted answers. What, exactly, is in this?
After all, these are the ingredients in one of the leading conventional brands of hot chocolate, Swiss Miss:
Sugar, corn syrup modified, whey, cocoa (processed with alkali), hydrogenated coconut oil, nonfat dry milk, salt, dipotassium phosphate, carrageenan, artificial flavor, mono- and diglycerides.
Ew. Ew! SICK!
Luckily…I found out quickly:
NibMor Organic Vegan Drinking Chocolate Ingredients:
Organic Coconut Palm Sugar, Organic Cacao Powder, Sea Salt.

That's it!!!!!! Of course, when I learned this information, my heart soared to the high heavens.
FYI : Mineral-rich coconut palm sugar is derived from the nectar of the coconut palm tree. It's more natural and has a lower glycemic index than regular sugar. While I don't consider any sweeteners truly a "health food," this is one of the best natural choices!
You can see why I had an instant healthy crush on this hot chocolate. Admittedly, during that holiday season I stopped by the NibMor tent so many times that I started to feel like a hot chocolate stalker. It's that good. ESPECIALLY when made with almond milk!
Ok so you get it – NibMor drinking chocolate is the new must-have for chocolate lovers.
And I'M GIVING SOME AWAY, to one lucky winner, right here on Healthy Crush! YES!
The prize:
1 canister of NibMor 6-Spice Organic Vegan Drinking Chocolate
Organic Coconut Palm Sugar, Organic Cacao Powder, Organic Cayenne Pepper, Organic Cinnamon, Organic Fennel, Organic Cloves, Organic Star of Anise, Organic White Pepper, Sea Salt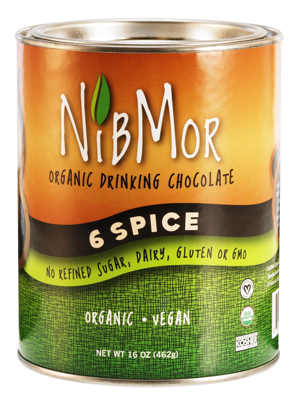 1 canister of NibMor Mint Organic Vegan Drinking Chocolate
Organic Coconut Palm Sugar, Organic Cacao Powder, Organic Mint Flavor, Sea Salt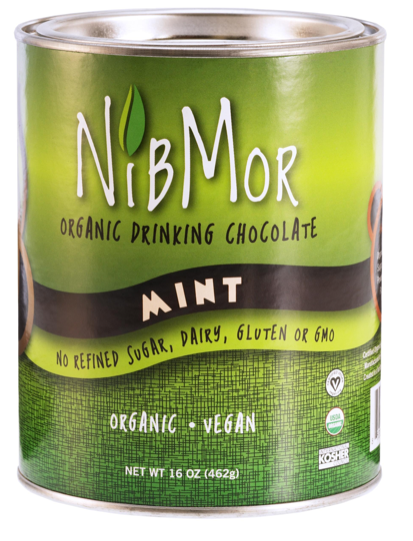 How to enter:
Comment below and tell me — what is your favorite healthier version of comfort food?
***UPDATE***

The winner has been chosen!! I picked the one that made my mouth water the most.
Winner: Lea
Lea's comfort food: Dairy free/gluten free alfredo sauce made with steamed cauliflower, white beans, almond milk, cooked shallots over brown rice pasta with tons of roasted veggies

I'm going to try Lea's recipe soon and will post a link to it asap! Congrats, Lea!!!