Today is my 2nd day of eliminating caffeine, sugar and gluten from my diet. More specifically, I'm doing the Be Well by Dr. Frank Lipman cleanse, which I'll outline in more detail below – but these 3 things (caffeine, sugar and gluten) are the things I'm most interested in experimenting with – kicking them to the curb for a little while.
Why? Well, my diet is pretty clean in general, so Dr. Lipman's cleanse isn't a crazy detour for me, but on this cleanse I have to cut out raw chocolate, kombucha and yerba mate – 3 things I've been relying on (heavily, it feels) daily. All of these things are fine and healthy, but sometimes I have a tendency to get all super addicty about them. When I say this I mean I can feel myself self-medicating with this stuff – "needing it," going out of my way to get it, using it to give me a boost. I've even begun to dedicate that Lumineers song to my favorite raw chocolate. "I belong with you, you belong with me, you're my sweetheart…" You know the one.
I mean, you're probably thinking if these are my vices, f*cking big deal, at this point I'm not medicating myself with cocaine, adderall or venti iced coffees packed with splenda. OH GOD, splenda just makes me cringe…But still – even these healthier things do have sweeteners and caffeine and sometimes I can just feel when my body needs a break.
How do I know? For one, I've been feeling more tired lately. Granted, I'm living the life of a "transient badass," as my friend coined it, traveling and staying in different places all the time – that's gotta lead to fatigue in anybody. But all the caffeine and sweeteners (even most natural sweeteners raise your blood sugar) can definitely lead to fatigue and are probably not helping. So I'm ditching it all for awhile to see how I feel. Just the fact that it absolutely terrifies me to give up raw chocolate and kombucha for even 1 day means I should probably chill out on it for a hot second.
What about gluten? I don't think I consume much gluten in general, but it's the kind of thing that just slips in here and there. Eating gluten can also lead to fatigue and general distress of the digestive system, so I'm totally down to see how I feel with none of it in me.
The reason I'm doing the Be Well Cleanse specifically is because I was generously gifted one from Dr. Frank Lipman, and I thought this would be the perfect time to try it. This isn't a juice cleanse or anything – you can eat real food every day, you just get rid of harmful foods and common irritants, and add in some extra cleansing nutrients and supplements.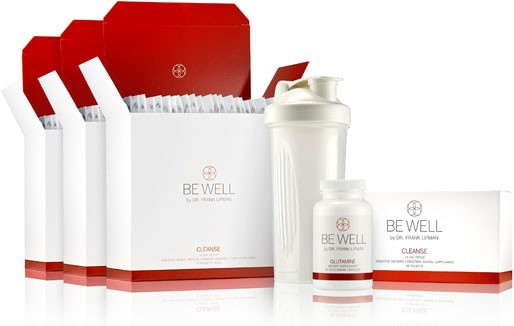 Dr. Lipman's cleanse includes shakes, glutamine (to control sugar cravings) and enzyme/herb supplements in addition to eating a specific diet. It's a lot, I admit, since I don't normally take any supplements at all. But I'm trying it, because I like trying stuff, and I respect Dr. Lipman's work. He's an MD who has also trained in alternative medicine, and he combines ancient medical wisdom with modern nutritional science, which is pretty awesome. I'm currently reading his book "Revive" – it's all about how to stop feeling "spent." It's really good stuff.
The cleanse is formulated to help you gain better energy and mental clarity, remove the crap and load your body with lots of cleansing nutrients so you have a heightened sense of well-being. Who doesn't want that?
So what foods are being eliminated in the Be Well Cleanse?
Gluten, dairy, soy, caffeine, sugar/most sweeteners, alcohol, most animal products (certain fish and a few other organic, free-range meats are allowed), peanuts, nightshade veggies, and certain fruits. See full list here.
What CAN you eat on this cleanse?
Lots of awesome stuff. Green juices galore! Most fruits and veggies (including kale and avocados, my 2 favorite foods) raw nuts & seeds, beans, certain fish and animal protein if you want, almond/rice/hemp/brazil nut milk, non-gluten grains like quinoa and brown rice, all herbs and spices, select oils and vinegars, a few select sweeteners, herbal teas. So no starvation here! This is my kind of cleanse.
At the end of this 14 days I'm hoping to feel more energized, mentally clearer, and less reliant on my favorite caffeinated treats. :)
Someone recently referred to cleansing as "liberating yourself." I love that and it's exactly how I feel – so much better than thinking of it as "depriving yourself." I truly think eliminating things that are harming you is a GIFT to your body and mind and life. I've experienced tremendous freedom from eliminating things completely in the past and I know the power of it. Commitment is freedom, in so many cases. It's all in the way you think about it…which makes me think of one of my favorite quotes:
"You know what your problem is, Shapiro? It's that you just have this really shitty way of looking at things, ya know? I don't have that problem. I just look at the dopeness. But you…it's like you just look at the wackness." -from The Wackness
That's how I like to look at this. The dopeness is that I'm getting rid of things that are making me feel like crap, liberating myself from addictive tendencies, and showering my body with vital nutrients so I can wake up every day and be awesome. I know. It's exciting.
So, if you're feeling fatigued and want to do your own version of a get-rid-of-fatigue cleanse, try just cutting out caffeine, sugar and gluten for awhile and see how it feels. If you want to try Dr. Lipman's cleanse you can get it here. I'll write another recap when I'm done.
If you're kicking any of these things to the curb, or you've tried the Be Well Cleanse, I'd love to hear your thoughts in the comments!