One of my readers emailed me and said she struggles with having foods on hand that she can use for different meals. She tends to plan out that night's dinner during the day, goes to the grocery store after work to get the ingredients, ends up eating dinner around 9:30pm, and then repeats this the next day. Sound familiar?
The key is to have a stocked natural foods kitchen, so you can come home and have everything on hand for a variety of healthy, delicious meals. This way you don't need to go to the grocery store so often, and you can still enjoy creative dishes. By the way, when I say "natural foods," I mean I buy unprocessed, whole foods without added chemicals or weird ingredients whenever possible.
Here's a list of things I usually have on hand in my kitchen to create meals from. To create a meal on the fly, scan what you have on hand, then pick a grain, a protein, veggies and whatever spices/condiments you're in the mood for. Use this list as a guide on your next shopping trip so you can have multiple healthy meals ready to go!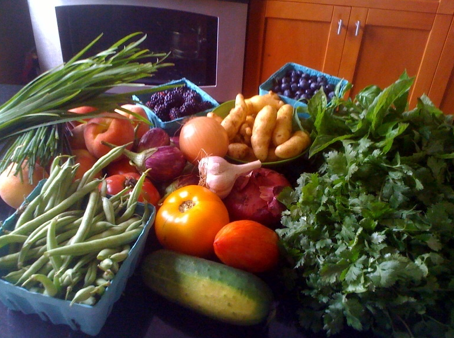 By the way, this is just a list of some of the basics I usually create meals with – ingredients/produce in my kitchen varies with season (& when I learn about new foods), and I probably forgot some things here, so make sure to find things you love and make them staples in your own kitchen. I left out animal proteins purposefully because everyone is different with their choices, so use whatever protein feels good to you! If you choose meat & eggs, organic, free-range is best! :)
Grains
Short grain brown rice
Quinoa
Soba noodles
Millet
Steel-cut oats
Vegetables & Fruit
Kale (or other leafy greens)
Fresh or frozen spinach
Onions
Garlic
Other vegetables – whatever I'm feeling at the moment (broccoli, carrots, brussels sprouts, etc)
Cilantro
Chives
Avocado
Lemons
Limes
Apples, bananas, or other in-season fruit of choice
Bag of organic frozen fruit for smoothies
Beans/Legumes
Black beans
Lentils
Adzuki beans
Red/yellow lentils
Split peas
Chickpeas
Pinto beans
Tempeh
Oils/Condiments (this is where the magic happens)
Extra-virgin olive oil
Unrefined extra-virgin coconut oil
Sea salt (I love Celtic gray sea salt)
Black pepper
Turmeric
Cayenne
Sesame seeds
Cinnamon
Red pepper flakes
Cumin
Curry powder
Maple syrup
Brown rice syrup
Almond butter
Tamari/shoyu
Dijon mustard
Umeboshi vinegar
Apple cider vinegar
Tahini
Ginger
White miso
Nuts/seeds (almonds, sunflower seeds, etc)
Beverages
Unsweetened coconut milk (So Delicious brand)
Unsweetened organic almond milk
Guayaki yerba mate
Various herbal teas – mint, chamomile, etc
Black/green tea or coffee if desired
Coconut water
Kombucha
Misc/Snacks:
Ezekiel bread, Ezekiel tortillas
Coconut Bliss ice cream
Raw chocolate
Kale chips
Organic whole grain tortilla chips
Salsa, hummus
Chia seeds, flax oil, cacao powder, maca (for smoothies)
So that's a start! Remember to always buy organic when possible!
If you find yourself stumped and want to find TONS of recipes by ingredient, I recommend checking out 101 Cookbooks Recipes by Ingredient page. I use it frequently!
Please add to my list! What are some staples in YOUR kitchen?