Alicia Silverstone posted her favorite vegan mac & cheese recipe yesterday on her site, The Kind Life. The site is a community based around her new book, The Kind Diet. (Pick it up as a holiday gift!) The actual recipe comes from a vegan catering company in Los Angeles called Seedling Catering.
Because I love Alicia Silverstone and mac & cheese (who doesn't?) I decided to try out the recipe immediately. I'm always excited to hear about yummy vegan recipes, especially comfort foods for this cold weather!
I made it for lunch today – it was delicious. Rich, creamy, "cheesy," and very filling.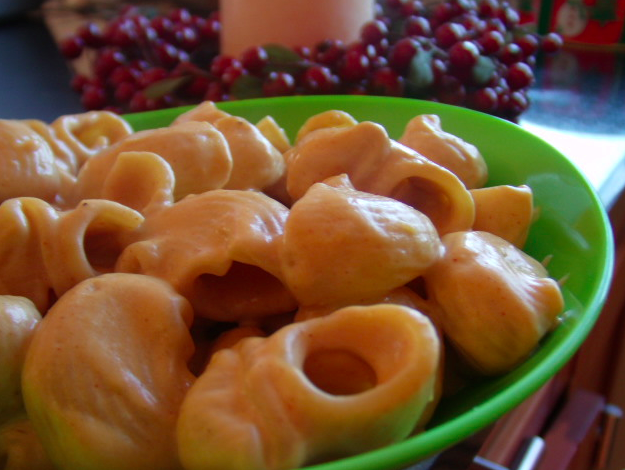 Here's the recipe (from The Kind Life):
INGREDIENTS
3 cups elbow pasta (I used organic chiocciole, shown in the pictures above).
1 cup organic soymilk (you can use coconut or almond milk here…or any plain non-dairy milk, really)
1/4 cup tamari
1 cup nutritional yeast
1 tsp paprika
1 clove garlic
1 tsp dijon mustard
2/3 cup canola oil (I use olive oil instead here)
salt & pepper
STEPS
1) Cook the pasta al dente.
2) In a blender/food processor combine the garlic, nutritional yeast, mustard and paprika. Blend to chop garlic.
3) While the machine is running add the tamari, soymilk and canola oil and blend until creamy.
4) Heat sauce and mix with cooked noodles. Add salt and pepper to taste.
This is so easy to make! It was my first time cooking with nutritional yeast as a cheese substitute and I was really psyched about the results.
Enjoy!!