Andrea Beaman truly rocks.
You've seen her as a contestant on Top Chef, where she inspired the world with her passion for natural foods cooking. She's also an author, a TV show host, and a Holistic Health Coach. But above all, Andrea Beaman is a game changer! If you want to see a clear example of why, watch this video. She healed her own thyroid condition through her diet, and has made it her mission to show people how food can heal. Her vibrant energy and enthusiasm for helping others live healthier lives is what makes her one of my greatest inspirations!
When I learned she was going to be one of my teachers at IIN, I was immediately excited. I knew she'd have amazing information to share and I feel very grateful to have been able to learn from her.
I met Andrea at a party during the Integrative Nutrition Conference in Miami. I tried to hide how star-struck I was, but she could probably tell. ;)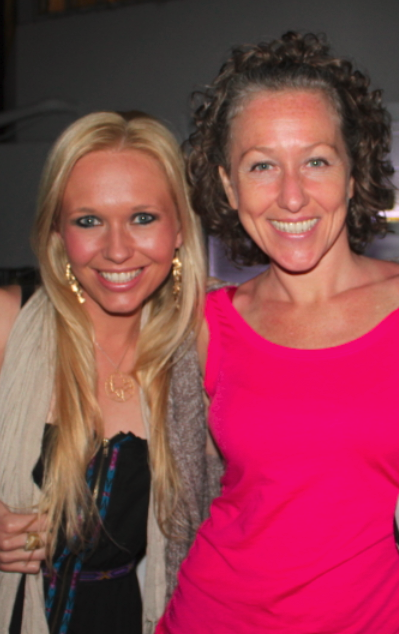 Anyway, the best news of all is that Andrea did an interview with me for Healthy Crush! I'm thrilled to be able to share some of the Beaman wisdom, and I know you'll have a healthy crush on her too after reading this. :)
Jenny: What inspired you to take an alternative approach to your thyroid condition? (Most people don't question their doctors).
Andrea: After witnessing the devastating effects of cancer treatment on my mother after she was diagnosed with breast cancer for the 2nd time, I knew there was something amiss with the modern medical approach of attacking the body.
Jenny: What are some of the positive results you've experienced in your life from switching to a natural, whole foods diet?
Andrea: The positive results are compounding, meaning they get better all the time. On the outside, my skin is clear, nails are strong and hair is healthy. On the inside I have more energy, less sickness and an overall sense of wellbeing on a daily basis.
Jenny: Did you find it challenging to compete on Top Chef with a focus on healthy food? What was the biggest challenge?
Andrea: The biggest challenge was not having access to the food I love to use in my cooking. I wanted naturally raised, grass-fed, and organic foods to cook with, but most often it was just total crap from general grocery stores!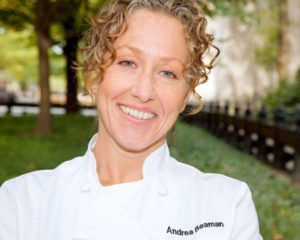 Jenny: You teach that food is a path to healing the body, but you also make it delicious and fun. What's the key to creating that balance?
Andrea: It's pretty darn simple… if it doesn't taste delicious, I don't care how healthy it is, I don't want to eat it or serve it. Eating should be a wonderful sensorial experience, not a tedious chewing and swallowing task.
Jenny: What are a few of the staple ingredients in your kitchen?
Andrea: Staple ingredients in my kitchen are extra virgin olive oil, grass-fed butter, toasted sesame oil, sea salt, fresh/dried herbs, onions, garlic, and soup/bone stock in the freezer.
Jenny: For someone who is brand new to healthy eating, what's a good place to start?
Andrea: Start with cooking seasonal vegetables. Meaning, go to your local farmer's market and pick up what ever is in season where you live. That will be the most delicious and fresh ingredients.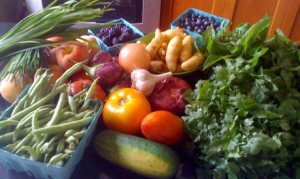 Jenny: What do you think is the biggest misconception people have about eating healthy foods?
Andrea: That healthy eating is low calorie, low fat and low flavor! It's simply not true on all accounts… at least not according to my version of healthy eating.
Jenny: Do you have any news you'd like Healthy Crush readers to know about?
Andrea: My new book Health is Wealth – Make a Delicious Investment in You! – teaches the reader how, where and why to purchase the best quality foods, and then it offers over 120 easy and delicious recipes. Also, my new DVD series, Cooking Up A Cure with Andrea Beaman will be available soon. First up – Cooking Up a Cure for Adrenal Fatigue/Chronic Fatigue Syndrome.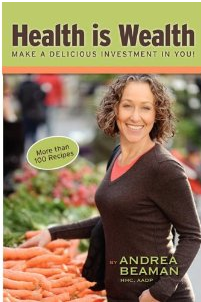 Jenny: Anything else you want to share?
Andrea: Relax and enjoy every delicious bite!
I'm so grateful to be able to share this Andrea Beaman interview!  She continues to inspire so many people every day, so make sure to check out her site and soak up some more healthy goodness. :)