I'm so sorry to be writing this. It actually pains me to do it. I'm ruining fall fun for everyone. But I can't help it. When things like this are presented to me, I feel like I have an obligation to share them….so, stop reading if you don't want to know. :)
If you're from the New England area, you're probably very familiar with apple cider donuts. I grew up in Massachusetts, and these sugary autumn treats have been a part of my life for as long as I can remember.
Every fall, the little farm stands all around New England start making cider donuts. It's a welcome-to-autumn ritual to go apple picking, drink hot apple cider, and eat these scrumptious donuts. Even after I started getting interested in nutrition, every year when I came back to MA, I would still eat a cider donut (or 2). It's the one time a year where I would actually consider eating a donut, because for some reason they just seemed so fresh and homemade and wholesome. It has always felt like a really sweet and cute tradition.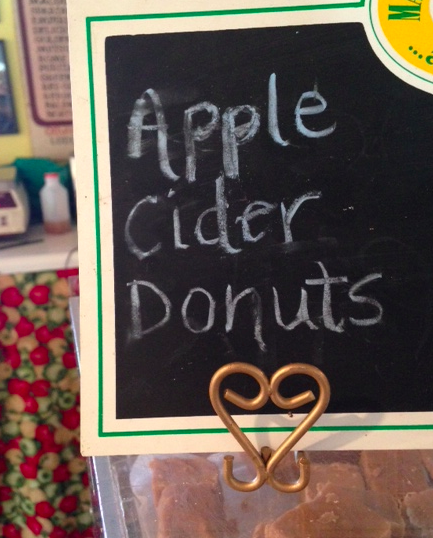 Obviously, I'm not here to say "guess what, donuts aren't healthy" – I know that, you know that, we're all smart people here. This is a different situation.
On those rare occasions when I do indulge in a treat like this, I'd like to think I'm eating something made fresh with love with a few ingredients (like butter, sugar, eggs and flour) from a wholesome little farm. That really seems like the way to go if you're going to have sugar, right?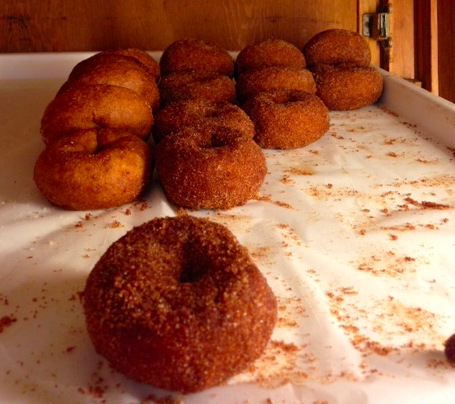 I guess I let my rose-colored glasses get the best of me when it comes to apple cider donuts, because this weekend I investigated and I was totally shocked about what I found. Maybe I was more inclined to investigate because I'm currently doing the Whole30 program and wasn't able to eat a cider donut anyway, so I wasn't as attached to the outcome.
I went to a local farm to get some apples. I'll leave the name of the farm out because I grew up going there, and it's actually a very cute place with nice people. The donuts, however, are another story.
As soon as I got out of my car, I could smell the cinnamon-sugar aroma in the air. I saw the fresh baked cider donuts on the tray, where they are displayed every year. I went over and looked at the donuts. They looked very cute and full of goodness. Awww. So sweet and innocent.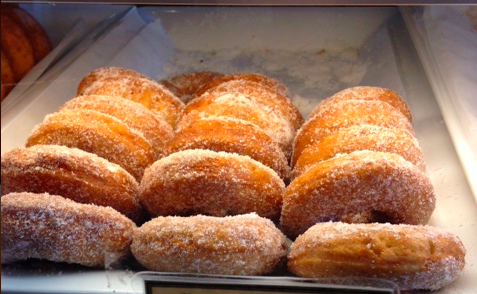 I noticed bags of donuts on a nearby table that had an ingredients label on them. I picked one up. This is what I saw:

Ew. No way, I thought. Partially hydrogenated vegetable shortening? Corn syrup? Soy flour? This must be some different kind of donut. I brought the bag up to the counter immediately and asked the girl working there, "Are these donuts the same ones that are freshly made on the tray over there?"
"Yes," she said. "Those ones are the same, we just put them into a bag. Actually, I have the full list of ingredients here if you want to look at it," she said.
Reluctantly, I looked at the full list of ingredients. It was worse than I expected. My eyes went wide with disbelief.

No!!!! I had to look away.
Partially hydrogenated soy/cottonseed oil? Yellow #5? WTF?! Sadly, I knew that it was time to break my own heart and do the unthinkable. It was time to expose apple cider donuts.
All these years, I just assumed I was eating sugar, butter, flour, eggs, maybe some apples and cinnamon thrown in. I knew it wasn't the best but I certainly didn't think it was this bad. Maybe you guys already knew this and I've been living in a fantasy land world where apple cider donuts are magical. But either way. 
If this makes you want to cry, here are some options:
APPLES. Yes, apples – they're so delicious on their own, with cinnamon sprinkled on them. This is so underrated, with all the processed "apple cinnamon" flavored sugary stuff out there. You can even add a little almond butter if you want to get really crazy. The problem is, most people get bored with fruit because they're so addicted to sugar and corn syrup. If that's you, I recommend detoxing off sugar and having fruit be your only form of sweetness. Try it for a week. You'll learn to re-appreciate how sweet fruit is. I haven't had any sugar aside from fruit and dates for 3 weeks, and I'm eating an apple right now and it tastes like candy to me! #seriously.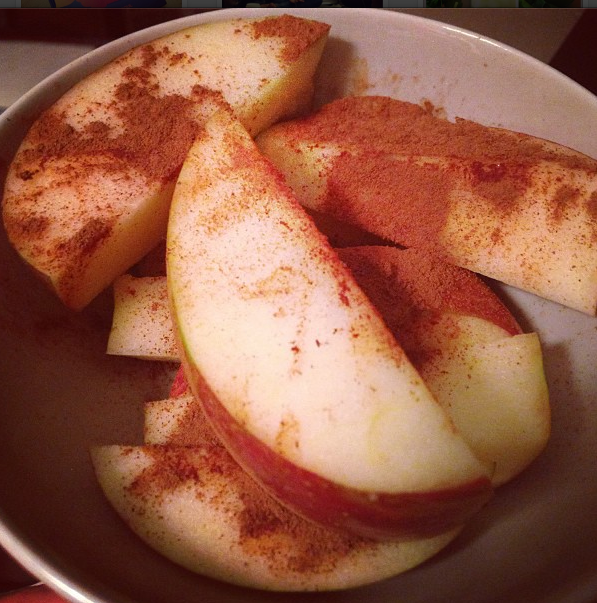 Apple not gonna cut it for you?
Try this – I call it "nature's cupcake." Trust me.
Get 1 medjool date. Remove pit, add spoonful of coconut butter. Top with a sprinkle of cinnamon and sea salt.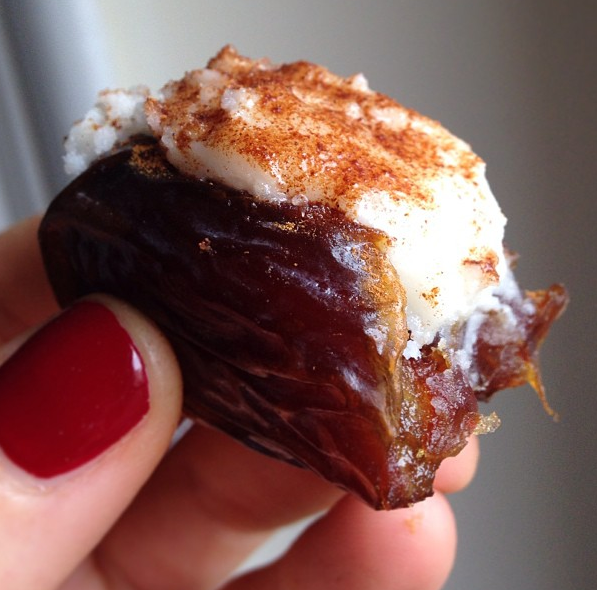 Still want donuts? Here are a few recipes if you want to try your hand at baking.
Apple Cider Donuts from Paleo Spirit (grain free, dairy free)
Apple Cider Donuts from Gluten-Free on a Shoestring (gluten free)
Baked Gluten Free Cider Donuts from A Girl Defloured (gluten free)
Vegan Apple Cider Donuts from The Sweet Life (vegan. substitute coconut oil for the canola oil)
Now listen. I'm SURE there are plenty of farms who actually bake their donuts from scratch with more wholesome ingredients, so I'm not trying to shun all cider donuts across the board. I am, however, challenging you to actually think about what you're eating and investigate once in awhile. Not just when it comes to obvious things like donuts – but everything you're putting into your mouth.
Also, as my friend Jordan pointed out to me today, local does not necessarily mean healthy.
You know what happens when you assume.
So there you have it. I'm sorry for being the grinch who stole your apple cider donut fun. To me, though, ingesting trans fats, chemicals and processed crap does NOT equal fun.
I'm all for indulgences, but please, try to respect yourself and do it more naturally.
I do this because I love you.
xx