The fall months are often filled with warm, savory, hearty foods. I love those foods dearly, of course, but sometimes we need a little crisp refreshing bite to balance out a meal. Lately I've been craving something fresh and bright, but also fall-inspired. Apples and pears are both in season, so I created a simple, fresh-as-can-be little salad that's perfect for serving before a hot, hearty fall meal! You will LOVE this, I promise. It's so easy, and so yummy.
Ingredients (serves 2):
1 small apple (any variety, preferably with a red skin)
1 small pear
coarsely ground sea salt
freshly ground black pepper
a few leaves of fresh basil
1 tbsp olive oil
1 tbsp balsamic vinegar
water with lemon juice (optional, prevents apple/pear from turning brown)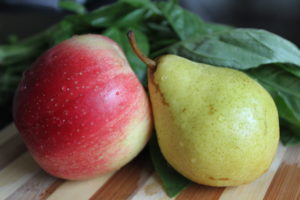 Slice your apple and pear into thin slices. To prevent browning of the apple & pear, put them in a bowl of water with lemon juice while you're setting up the rest of the dish.
Whisk together the olive oil & balsamic vinegar. Some say the best ratio for a vinaigrette is 3:1 olive oil to vinegar, but I like mine a little more vinegary so I just used 1/2 and 1/2. Up to you.
Chop basil leaves into pieces.
Arrange apples & pears on a plate. Sprinkle with basil leaves, salt, pepper, and vinaigrette dressing.
Enjoy this refreshing, savory + sweet fall salad!