Hey little dudes! Today is a fun day because I'm posting a recipe with BACON IN IT. This makes me scared and overjoyed at the same time. Scared because when I first started this blog, I was a vegan. I was pretty hardcore about it at the time. Over the years, after attending the Institute for Integrative Nutrition and learning more about how my body ACTUALLY felt with certain foods (rather than doing what I just believed to be the "best" way to eat), I began incorporating meat into my diet in ways that feel good to me, and I feel much healthier when I do. It does, admittedly, still feel weird to post things on my blog and instagram about meat, though. But you gotta get out of your comfort zone.
I still think it's awesome to be vegan. Gimme kale salads and green juice all day long. And there are SO many benefits of not eating conventionally produced animal products and not supporting the conventional meat industry. Check out US Wellness meats to get super high quality animal products from farms that use sustainable, humane practices.
When I first "broke" my streak of being vegan/vegetarian a few years ago, I'll tell you the truth — bacon wrapped dates were one of the first things I ate. It felt like a big moment for me, so whenever I see them they still have a special place in my heart. Plus, they are the perfect mix of salty and sweet, and almost everyone loves them so they're the perfect fiesta snack.
First of all, is BACON actually healthy? Why am I posting a bacon recipe on a health blog!?
I will say 2 things.
1) I don't consider bacon to be necessarily a health food, but 2) it's probably not as bad as you've always believed it to be.
I did my research (obviously) and found some awesome sources about the bacon details, so if you want to know how to choose healthy bacon, these peeps have done the research for us. Check out these 3 super helpful articles:
The Bacon Manifesto by the folks at Whole30
Is Bacon Bad For You? on Authority Nutrition
The Definitive Guide To Bacon on Nerd Fitness
Bottom line, it's all about the source of the bacon, and you CAN find bacon that doesn't have added sugar and comes from pastured pork. And unless you are avoiding sugar 100% (like if you're on the Whole30), the amount of sugar in most bacon is very teensy.
Am I gonna eat bacon wrapped dates every day of my life? Of course not. But life is also about having some fun, and bacon wrapped dates are fun.
Ok, now that we've got that covered, onto the RECIPE!!!!
Most people use almonds to stuff dates with, but I like pistachios. There's also goat cheese in this recipe, but you can leave it out if you don't eat dairy.
Ingredients:
Large medjool dates (I used 8 dates)
Bacon slices — 1/2 a slice for each date (so in this case, 4 slices)
Goat cheese – enough to stuff each date with
Pistachios (out of their shell) – 2-3 per date
Parchment paper
Toothpicks
Pre-heat oven to 375. Slice open each date with a knife or open it with your fingers. REMOVE PIT. Use a spoon to stuff a little goat cheese and 2-3 pistachios into each date.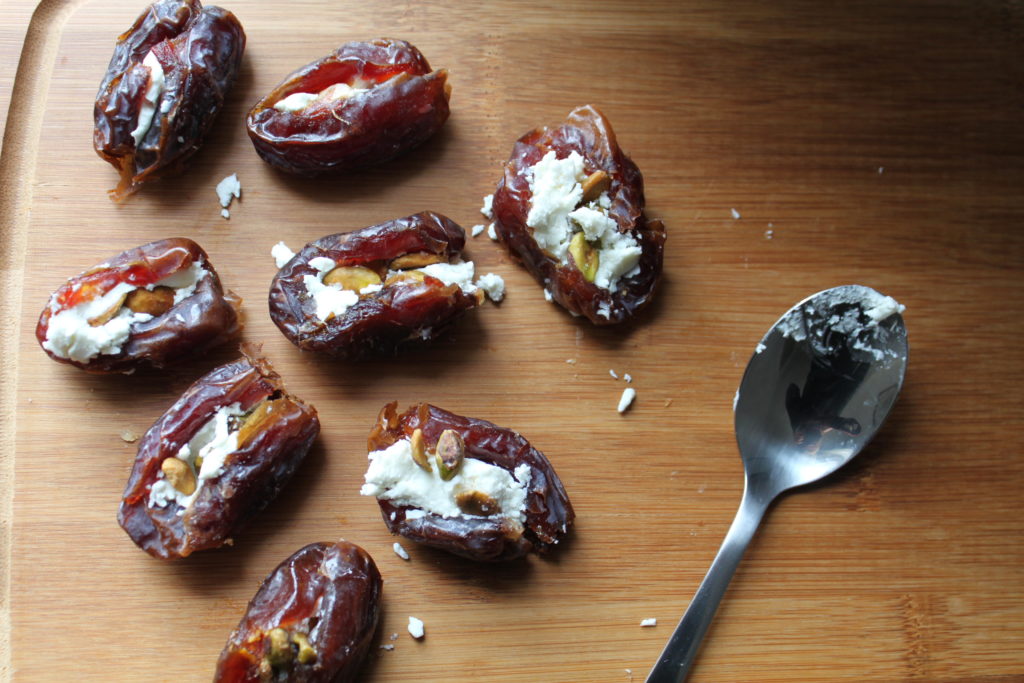 Wrap each date in 1/2 a slice of bacon. Secure with a toothpick. 
Put parchment paper on a baking sheet, and line dates on parchment paper.
Bake for about 25-30 minutes or until bacon is at your desired level of crispiness.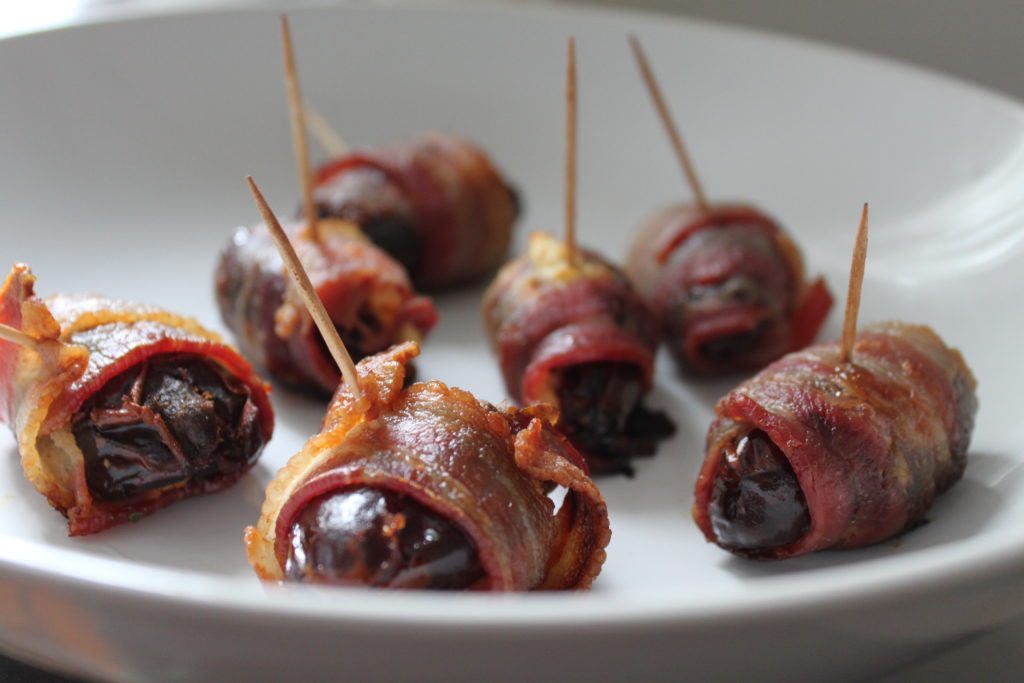 LET COOL for about 10 mins. If you don't, you shall burn your tongue and nobody likes to be a tastebud killer. :(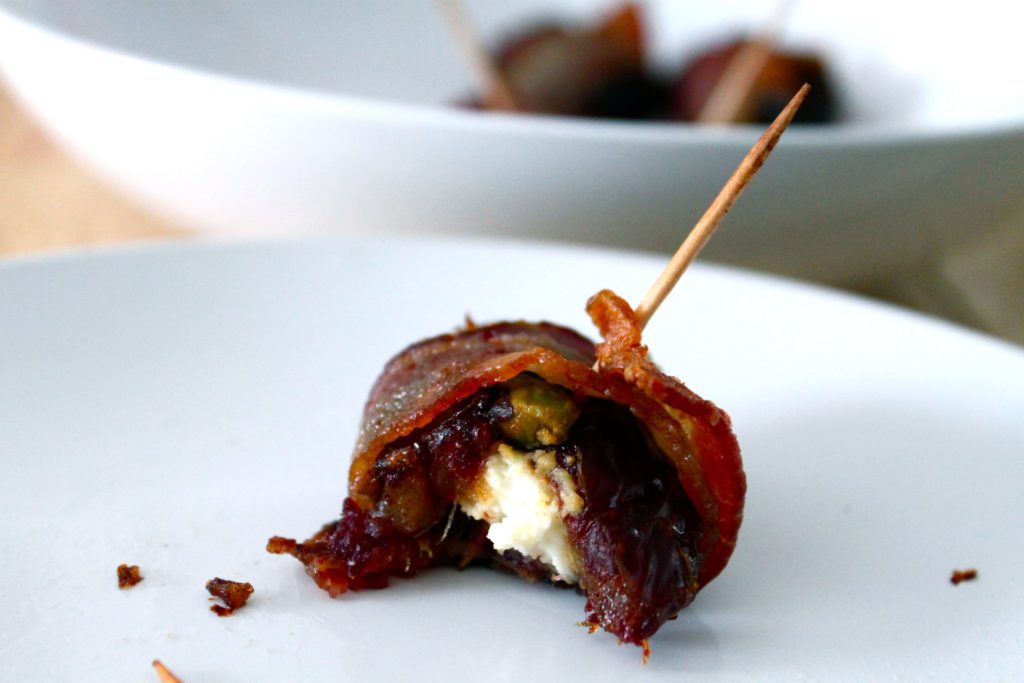 Serve at a party!!! Your guests will fall in love with you forever and ever. Even if it's just a party of one. Treat yourself like royalty. Do it.
Love you guys. Thanks for hanging out with me on this wild journey of life.