Today is Thanksgiving, and in the spirit of giving, I want to share something very special with you, from someone who is very close to my heart. :)
I first met Rachel Johnson in Costa Rica last year at a conference for the Institute for Integrative Nutrition. Immediately, I felt drawn to her positive energy. It was impossible not to feel her warmth, generosity and genuine caring for others – it absolutely radiates from her. We spent the week together sharing stories, learning from each other, and becoming fast friends.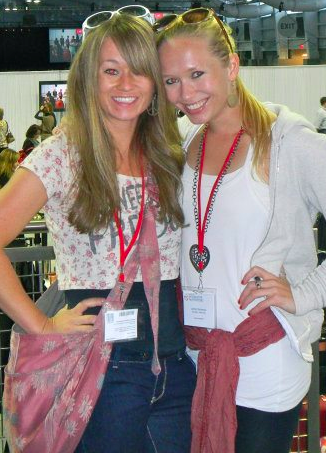 A few days into the trip, she casually mentioned the work she does helping the homeless. She told me about feeling frustrated that homeless shelters were full of processed foods, and how she spent countless hours per week feeding healthy, whole foods to the homeless so they could get some proper nutrition. She was so humble about it, as if it were no big deal. But I knew she had something really special going on. Her heart was fully immersed in this work, and her passionate dedication to her homeless friends touched my heart and brought me to tears…and below, Rachel will tell you what happened next. :)
Rachel came to visit me a few months later in NYC, and I'll never forget this moment. We were walking through Manhattan and Rachel spotted a homeless person sitting on the sidewalk who looked hungry. She walked right up to him and asked him if she could buy him dinner. He seemed so surprised and grateful as we walked to a nearby food cart and got him a hot meal. Those little acts of kindness, which can make such a difference in someone's day, are common in Rachel's world. Once again, I was in awe of her generosity.

Fast forward to today, Rachel (who lives in Billings, Montana) has just launched Billings Blessing Bags – it's her way of providing necessary items to the homeless people in her community. I interviewed Rachel about her mission….so now I'll stop babbling so you can read all about it!
What inspired you to start working with the homeless?
Rachel: Simply put, my life fell apart! I was struggling with depression and fresh on the heels of recovering from a decade long eating disorder that doctors said should have killed me. My husband lost his job. I had a falling out with my dad and a few months later my husband's father died. The world I knew was crumbling around me.
While turning back to my eating disorder was more than tempting, I realized the only way to overcome my fears was to walk through them and immerse myself in something bigger than myself. I was sick and tired of being sick and tired. I found myself pleading for clarity and calling out to God, The Universe or whoever was listening.
To make a long story short, within a month my life completely shifted and doors began to fly open left and right. I connected with a woman named Denie who has dedicated her entire life to providing unconditional love and support to the homeless in Boise, Idaho, and I knew instantly that I was supposed to be involved with her work. I spent almost two years joining her on Sundays in the park to serve food and connect with the homeless. My eyes and heart were opened. She showed me a world that I knew existed, but never took the time to understand. My time with her and my homeless friends left me humbled, grateful, and most importantly, anxious for ways to connect human beings with one another and experience the simple fact that we're all connected.
As I became more accepted at the park, I spent some time at the homeless shelter. The experience was nothing short of overwhelming. Overcrowded, stressful and drowning in processed foods, my heart hurt when I left. There were days I could cry the whole way home. There was a whole other culture right outside my back door; a silent epidemic many of us turn our heads to. Heart-wrenching stories helped me understand addictions. Vietnam vets, widowed mothers, new babies, the mentally ill and once-millionaires became pieces to a puzzle I was anxious to solve. If I couldn't solve it, I knew I at least had to work to make it better.
In my case, ruin was the road to transformation! I believe it can be that way for all of us, which is why I've made it my life's purpose to bring joy to those who need it most. We're all connected, worthy of love, and capable of overcoming anything and everything.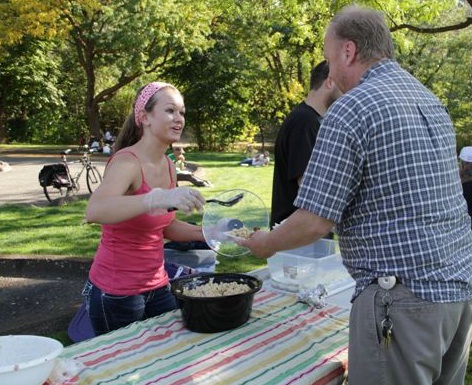 Tell me about Billings Blessing Bags. How does it work? What's the mission behind it? 
Rachel: Billings Blessing Bags evolved from my desire to spread the love that Denie so selflessly gives in Boise. BBB is a 100% Non-Profit Organization that distributes high need items to the homeless population in Billings, MT. Blessing Bags are filled with basic necessities, whole food bars, inspiration, and much needed resources. The mission is to serve, empower, and bless those who need it most. While this may seem simple, the big picture mission is to inspire others to get involved in something that allows them to be of service during a time when the world needs it most.
We bring the Blessing Bags to homeless shelters, and I keep some in my car to give to homeless people I see on the streets.
Examples of what's in the Blessing Bags:
Soap
Shampoo
Lotion
Toothpaste
Tooth brush
Water Bottle
Gloves
Hand-warmers
Warm Socks
Whole Food Bars
Fruit
Nuts
Baby Wipes
$5 gift card to a tea or coffee house
Local resource list
Inspiration Quotes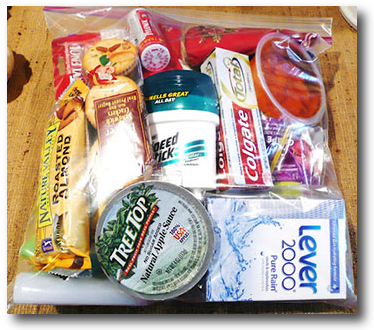 Rachel saw this photo on Pinterest, and it inspired her to start Billings Blessing Bags. 
Tell me about the grant you received to start Billings Blessing Bags. 
Rachel: Jenny, you're kind of the reason I received the grant!
I met Jenny in Costa Rica at a conference for the Institute for Integrative Nutrition (IIN). We had an instant connection and decided we were long lost soul sisters. I began telling her about my work with the homeless and she pushed me to talk to Joshua, the founder of IIN. I said no at first because I didn't think what I was doing was anything special. Later that night, (after a glass of wine and a little more pushing from Jenny) I got up the nerve to talk to Joshua. The next day, in front of everyone, he offered me a seed grant to spread the IIN message of health and happiness to the homeless population! I'm truly blessed to be part of the ripple effect.
Can you share an example you've witnessed of how even small contributions can make a huge difference in someone's life? 
Rachel: I could write a book on it! You never know the little seeds you plant in someone's heart and how it can change their lives.  Sometimes just holding space, remaining present, and being a sounding board for someone's pain can be life-changing. I spent one Sunday talking to one of the homeless men for over an hour who was really struggling.  Weeks later he came to me with tears in his eyes and told me that our conversation saved him from committing suicide because it gave him hope and he knew someone cared. We both cried and we still keep in touch.
I also remember being at the park and Denie giving one of our street friends a hug. He began to cry. He hadn't been hugged or touched by another human being in over a decade.
From what I have seen, I truly believe that no act of kindness or compassion happens without making a difference in the world.
How can people create something like this in their own town? 
Rachel: The bags are simple and anyone can make them. I have a list of goodies on my website that you can use for inspiration. While the tangible items are wonderful and much needed, the inspiration inside and the love behind the bags is what really counts.
Make and give one out to someone in need. Bring it to a homeless shelter or give it to a homeless person you see on the street. You won't believe how amazing it feels! I'm convinced that giving is the biggest high in life! My heart is racing just thinking about it.
Can we donate to this cause?  
Rachel: You sure can! Just click on the Donate button on my website. You can also find peace knowing 100% goes directly to the cause and will be no doubt making a difference. :)
What are your future plans for Billings Blessing Bags?
Rachel: I have a vision of what I would like to see happen, but I've learned to let go of the outcome and trust it will all work out exactly as it's supposed to. I plan on showing up daily, putting my heart and soul into this, and letting the universe take care of the rest.
Next month I have the opportunity to go to my seven-year-old's classroom and teach the kids about the work I'm doing. I plan on having them all draw a picture and inspirational message that will go into the bags. I'm really excited! Instilling compassion in the next generation is critical.
What is the biggest thing you've taken away from your work with the homeless?


Rachel: That we're all equals in this life. The second you can internalize this and drop judgments, I promise you that your world will shift. I believe the biggest misconception of our time is that we're all separate from another. I'm still working on embodying these beliefs into my own life.
Thanks for sharing so much love in the world, Rachel! I hope this ignites some sparks of inspiration inside whoever is reading this. Every person has the ability to make a positive impact on someone's life. This definitely inspires me to focus more attention on how I can give.
Happy Thanksgiving!!!