A few weeks ago, one of my friends posted a picture of Chia Seed Kombucha on Facebook, and I'd never seen it before. Being an avid consumer of GT's Kombucha (I love the Multi-Green one), I was immediately intrigued and knew I'd have to venture out and find one of these seed-filled fermented teas. Kombucha + chia together in one place? Say no more!

I headed out to the store and bought a raspberry one. (They also come in cherry + grape but those flavors don't jive with me). I have to admit, though, I was skeptical. Not because I don't believe in the power of chia seeds, but because…well…just…look at it: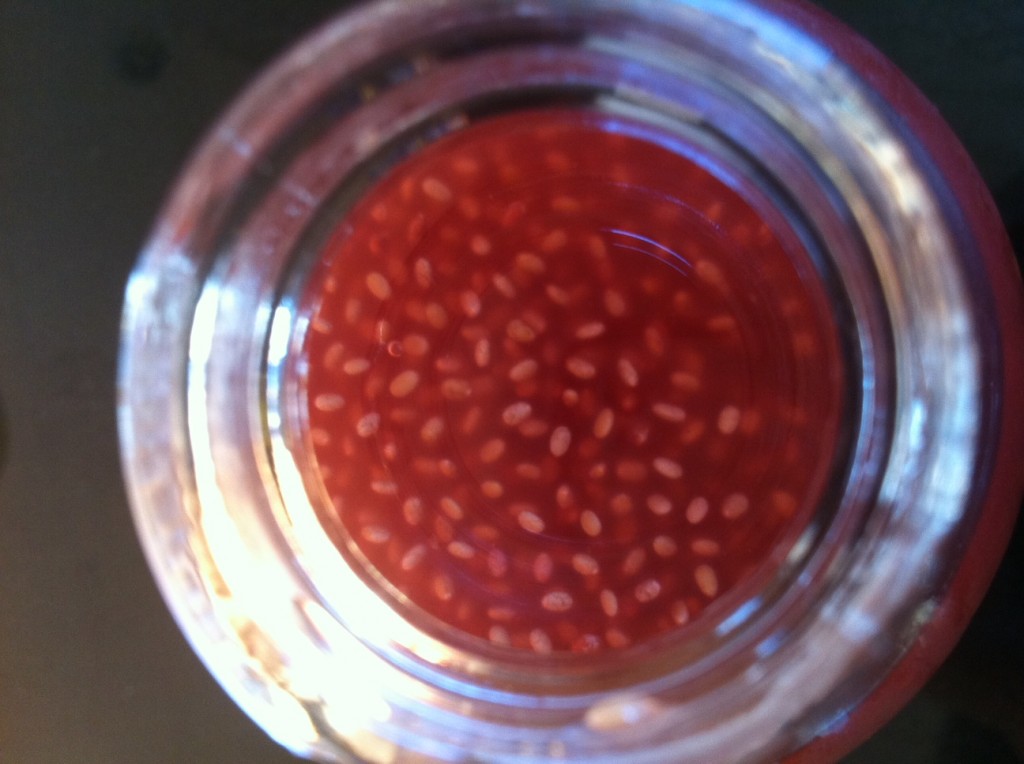 Eeeeeeee. So I bought it…and it sat in my fridge for about a week. I wanted to try it, but I guess I was nervous about the texture. Today, though, I was feeling quite adventurous so I cracked it open.
The result? It's fizzy, tangy and…chewy.
I couldn't finish it all in one sitting, the texture was so thick. After the first few sips, I put it back in the fridge, thinking it was over between us. Now, though, it's back out. I keep sipping on it.
I kinda like it.
Man, I'm such a sucker for kombucha. I just can't hate on this!
**2013 update — I am now a huge fan of this chia kombucha, and my favorite flavor, by far, is the GREEN one! Order it here.
From the bottle:
"Chia is a nutrient-rich superfood that provide sustained energy for your body. Packed with more than 8 times the omega 3's found in salmon, this small seed has big nutritional value. With more antioxidants than blueberries and more fiber than oatmeal, see for yourself how chia brings new life to our GT's Kombucha."
Will I be swapping my regular kombuchas for a daily chia kombucha? Probably not, but I actually think this could be a great pre-workout drink. Chia seeds, after all, are runner's fuel!!
Have you tried chia kombucha? What do you think??