I can hardly contain my excitement over this sauce. Seriously, it doesn't feel normal to get this excited about a sauce. But then again, I hardly ever feel normal, so let's go…
I should probably begin by explaining the way I feel about cilantro. People usually either love it or hate it…and I love it. Actually, I am IN LOVE with it. My mouth waters just thinking about it! When I have my own garden one day, the first thing I want to plant is a huge cilantro bush. I LOVE YOU CILANTRO!!!!!!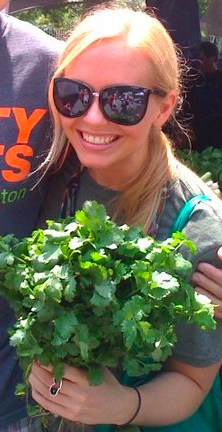 Whew. I'm getting carried away.
Anyway, if you're a cilantro-lover too, you'll want to make this sauce over and over again, and put it on everything you eat!
The inspiration for this sauce came from a restaurant in NYC called Mooncake Foods. There's this green sauce they have there that's so delicious I can hardly stand it. Whenever I go there, everyone orders extra sides of this mysterious, totally addictive green sauce. It normally comes with their sliced steak dish, but I love putting it on their avocado/watercress salad. YUM. One night I finally asked the waitress what was in the sauce. "I think it's cilantro…and garlic." Hmm. Ok. Although I didn't have every ingredient, I was ready to venture out on my own and re-create this masterpiece.
SUCCESS! This may not be the exact same sauce, but it tastes pretty-freaking-amazing.
Here's the recipe:
1 cup fresh cilantro leaves
2 small/medium cloves of garlic
1/4 cup extra virgin olive oil
2 tbsp tamari (soy sauce)
juice of 1 fresh lemon (about 1/4 cup)
1-inch piece of fresh ginger
Pinch of cayenne (optional)
Put all ingredients into blender and blend until smooth. Pour over your favorite dish – brown rice, lentils, beans, veggies, tempeh, tofu, meat, eggs, whatever you want!! Either way, just make it soon so I have other people to share my enthusiasm with. :)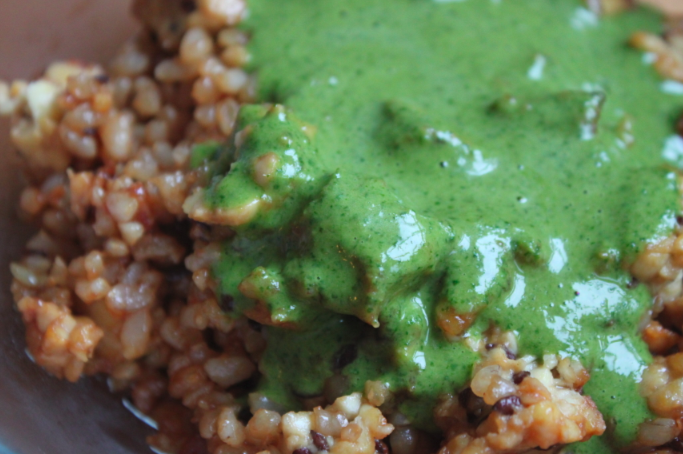 Are you a cilantro-lover? What's your favorite way to eat cilantro?