These Cinnamon Spice Crispy Treats are a riff on the Crispy Treats from Alicia Silverstone's Kind Diet, with a little added holiday spice!
Cinnamon makes any dish feel like the holidays. Plus, it's super healthy. It can help lower your blood sugar, triglycerides and cholesterol, so let's throw this magical spice into everything we eat, shall we!? Read more here on cinnamon + health.
These crispy treats have a little cinnamon, a little nutmeg, a little ginger….perfect for leaving out for Santa. :)
Ingredients:
1 box

brown

rice crispy cereal (Erewhon makes my favorite)
1 3/4 cups brown rice syrup
3/4 cup almond butter
1 pinch coarse sea salt
1 tsp cinnamon
1/4 tsp nutmeg
1/4 tsp ginger
Pour cereal into a large bowl.
Melt brown rice syrup in a pot on the stove on low heat, until liquid. Add almond butter and all spices and mix well.
Pour mixture over the cereal and mix well with a wooden spoon.
Put the mixture into a 9×13 baking dish. Wet wooden spoon and press mixture evenly into the dish. Sprinkle more cinnamon on top, if you want to!
Let cool for 1 hour, cut into bars.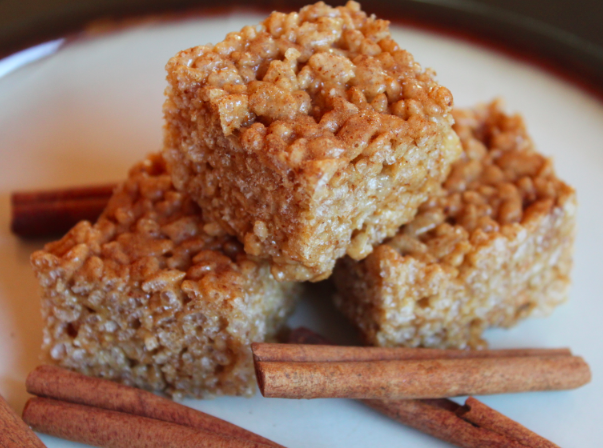 Happy Holiday Treat-Making!