Sweet potatoes are a fall favorite – they are delicious and super healthy! They are rich in vitamins A & C, beta-carotene, antioxidants, and have a lower glycemic index than regular potatoes. Basically, they are rock stars.
So…I guess I should preface this by saying I spent many hours trying to bake the *perfect* crispy sweet potato fries. I didn't want to settle for mediocre ones – I wanted them to be awesome! I've made "ok" sweet potato fries one too many times now. If you've ever baked sweet potato fries before, you know that it's tough to get them crispy.
My first batch came out looking like this — some mushy, some burnt, some stuck to the pan…in general, a mess. Still tasty, yes, but not pretty.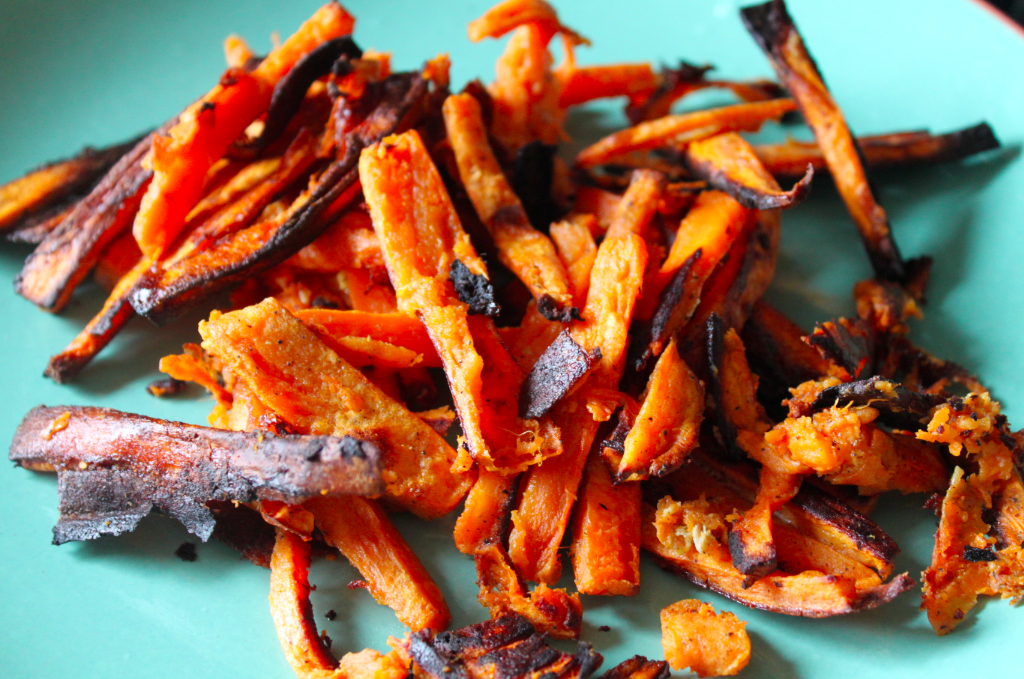 I used both of my sweet potatoes for this batch, and since I really wanted them to have the perfect crispiness before I shared the recipe here, I walked BACK to the store to pick up more sweet potatoes and try again. Determination. ;)
After doing a little research and combining a few different ideas, I settled on the final, winning strategy. The results were better than I could have imagined! Crispy on the outside but not burnt, not stuck to the pan, and bursting with that sweet & savory flavor that only sweet potato fries can bring.
I should mention that one of the main ways to get these puppies crispier was to use an egg white in the coating. If you're vegan, you can skip that part. They'll just be less crispy.
Ingredients:
2 sweet potatoes
1 tbsp olive oil (plus a little more for brushing the parchment paper)
1 egg white (optional, but creates crispiness!)
Sea salt to taste
Black pepper to taste
Garlic powder to taste
Directions:
Pre-heat oven to 450.
IMPORTANT: Put baking sheet in the oven to heat up by itself for 5-10 minutes! This is a necessary step in getting them crispy.
Cut sweet potatoes into thin sticks. Whisk together egg white, olive oil, salt, pepper and garlic powder in a bowl. Put sliced potatoes in the bowl and coat well with the mixture.
Brush a piece of parchment paper (large enough to cover baking sheet) with olive oil. If you don't have parchment paper, you can use tin foil, but parchment paper gets them crispier!! Line up potato slices on parchment paper – DO NOT let them touch! Another important element in the crispiness.
Put the parchment paper on top of the already-hot baking sheet. Bake for 10 mins and then flip the fries over with a spatula and bake for another 10 minutes (or until desired crispiness is attained).
Enjoy your accomplishment of creating baked sweet potato fries that are actually crispy! A job well done.