Hey, my little chickens. 
For the past month or so, I've gotten more questions about CBD oil brands on Instagram (and in texts from my friends!) than anything else. I'm spending time each day replying to everyone with the exact same message, so I figured that means it's time to write a blog post about it so I can direct people here for an overview.
Keep in mind that I'm fairly new to the CBD oil arena, I've only been researching and trying different products for a few months. But in that time, I've been going hard with the research and product testing (like I do with everything). Haha! What can I say, rabbit holes are kinda my thing.
Here are my favorite CBD oil brands at the moment. I've personally tried all of them, and I continue to cycle through each one to get a better idea of the effects.
FYI, the main effects I enjoy from CBD oil are help with sleep, relaxation, anxiety, mood and focus.
Many people report pain relief as one of their top reasons for using CBD. 
As always, my dear friends, please consult your doctor before starting any supplement protocol! Healthy Crush Medical Disclaimer.
If you have other CBD oil brands I should try, please, let me know in the comments! And just to be extra helpful to everyone, add a little bit about WHY you love that particular product, too. :)
Please note — ALL of these brands contain less than 0.3% THC (the part of the cannabis plant that makes you feel high), which is the current regulation for CBD oils sold across the US. This means that these CBD oils should have no psychoactive effects. Regulations are a changin', though. So stay informed, by reading my weekly newsletter.

My Favorite CBD Oil Brands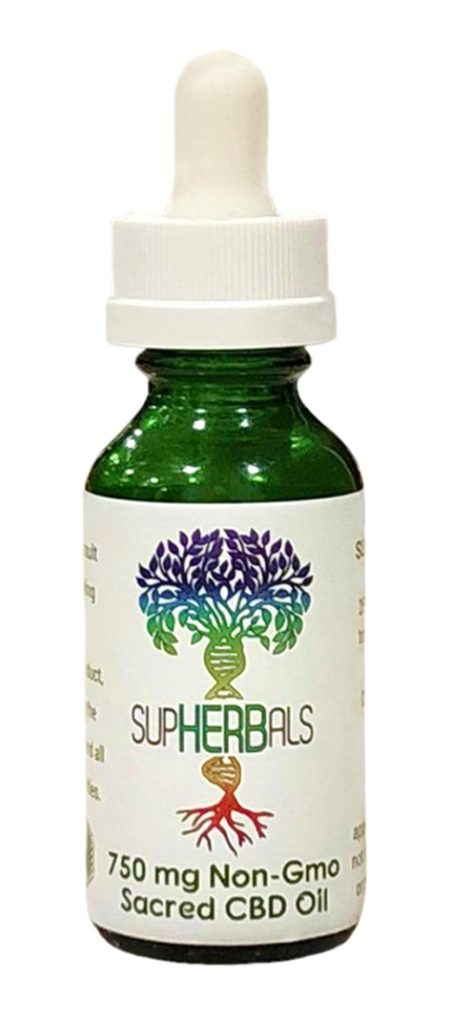 This is one of the first CBD oil brands I tried after a recommendation from my very brilliant friend Nicole. Immediately when I tried it, I could tell it was different than the other brand I had purchased before. Why? Well, the oil was dark and earthy-tasting (it has the taste of the marijuana plant in it), and the first night I took it, I had my best night of sleep in awhile (after having trouble sleeping for a long time). It took away my feelings of anxiety and racing thoughts, and allowed me do drift into a peaceful sleep and wake up feeling well-rested. It's been my absolute favorite brand so far. 
I have the 750mg bottle, and I take about half to one full dropperful before bed and it's been a DREAM, literally. And of course, this is a CBD oil without any of the psychoactive properties of THC. I've been in close contact with the company and it's no surprise why this CBD oil is helping me so much — each bottle is energetically cleared with palo santo and sage, vibrationally attuned with a tuning fork, and then blessed with Reiki energy and the Oneness Blessing. Are you kidding me!? (Side note – I became a certified Oneness Blessing Giver myself many, many moons ago. I'll tell you all about it one day. And on that day, things will get weird).
As they say over at SupHERBals, "Is your CBD even blessed, bro?!" Haha! MINE IS! Order here, and use code JENNY15 at checkout for 15% off your first bottle.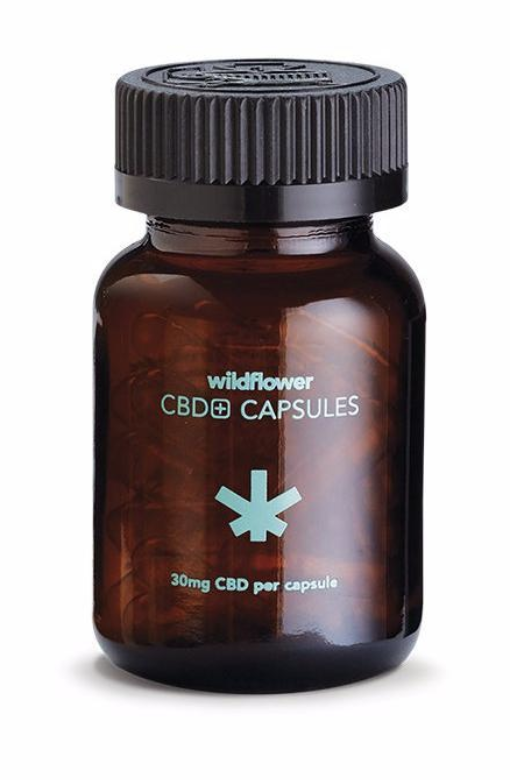 These capsules were my first experience with purchasing CBD at a store. I got these at the glorious Alchemist's Kitchen in NYC (I'm probably moving back to NYC just so I can go there all the time).
I got these for my Dad, and within a few days he reported that his joint pain that he'd suffered with for years had completely gone away. Nuts, right? He's been taking 2 capsules per day for a couple of months now, and has (seemingly) experienced pain relief from them. So, if you're more keen on capsules than a tincture, these beauties are a wonderful choice. These are clear capsules, with the oil inside. You can see the oil – which I like. The bottle we have contains 30mg of CBD per capsule.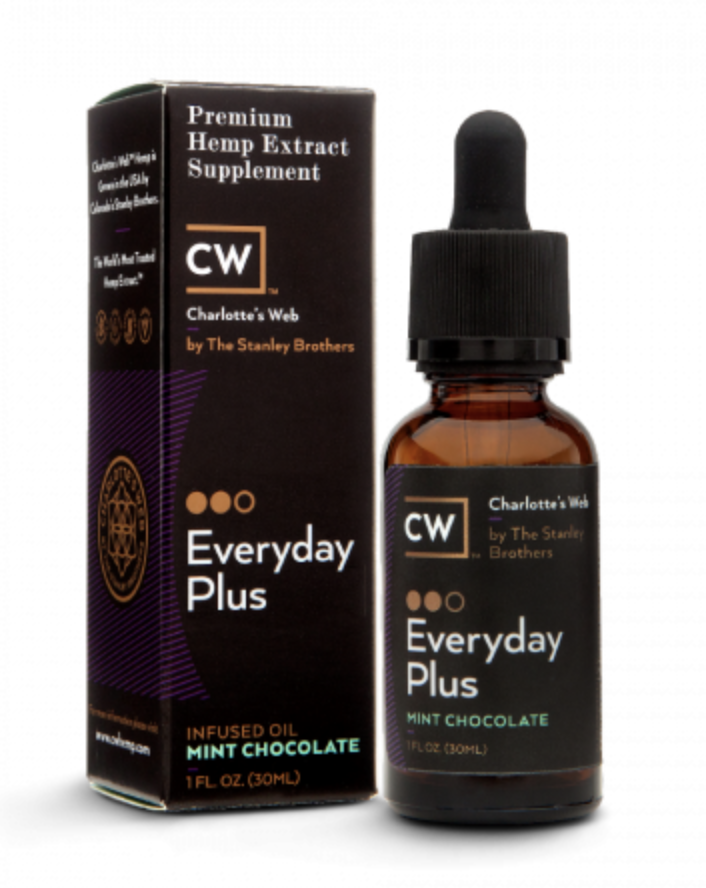 I just found this bottle of golden joy at the local health food store, and I almost cried with glee because prior to that, this particular health food store only had lower-strength CBD oils. I purchased this one, the Everyday Plus, becuase it's about the same strength (750mg) as the other one I've been using.
This one is particularly fun because it's mint chocolate flavored. To be honest, I do prefer the earthy, herby taste of SupHERBals because it feels like I'm really getting the true essence of the cannabis plant. BUT — I've been putting about half a dropper of this CW Hemp Mint Chocolate Oil into a cup of mushroom coffee (things are getting WILD over here, I'm telling you), along with some frothed almond milk, and….it's seriously pure delight. It tastes like I'm drinking a thin mint! And as I sit down to work, and I feel calm and focused.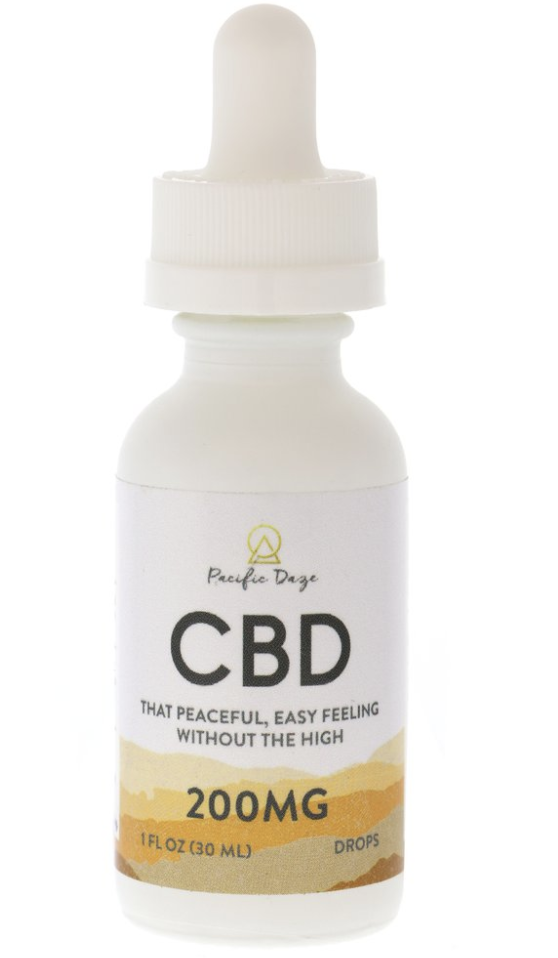 I like this brand for a few reasons. First, the owner of this company reached out to me on instagram, said she had been following me for a long time (blush!) and had seen that I was getting into CBD. She recently started Pacific Daze out in Oregon (they get their hemp from Colorado), and offered to send me a bottle to try. I was in love with the tagline immediately — "that peaceful, easy feeling without the high", as well as their branding colors and the photos on their instagram account. So bright, so cheery! I'm also impressed by their FAQ page, which addresses a lot of the CBD questions I get from people.
Anyway, I got the 200mg dropper bottle, and I was pleasantly surprised to see that the drops do, as they promise — "taste like sunshine," due to the hint of orange added. The 200mg bottle is significantly less strong than the other bottles I have, so it's nice to have a lower dose/lower priced option on hand, and to be able to play around with what dose is optimal (they do have a 500mg bottle as well). Nice if you want to "start low, and go slow" when it comes to CBD, and you like a cheerful orange flavor.
Alright, that's my CBD oil report for now. What CBD products do you guys love?
---
PS – For a discount on the mushroom coffee I mentioned earlier, use code HEALTHYCRUSH
PPS – For a discount on SupHERBals CBD Oil, use code JENNY15
I love you guys BIG TIME!
xx
Want more things I love? Shop some of my favorite products here.