This smoothie is bananas!!! B-A-N-A-N-A-S. Except there are no bananas in it.
As part of my Vitamix giveaway, I'm posting a week's worth of green smoothie recipes. What that really means is endless fun for everyone.

I woke up this morning feeling a little less-than-amazing. I decided I needed to incorporate some ginger into my day. Ginger is awesome when you feel like you're getting sick because it's super anti-inflammatory to the body. And it tastes spicy and delicious.
I don't usually add ginger to my smoothies, but this ended up being an insanely good idea.
This smoothie is perfect because it's creamy, filling, refreshing, and packed with nutrition – so it's perfect as a meal. It's not too sweet – the only sweetness comes from coconut water.
The avocado thickens it up amazingly without adding sugar — trust me, you can't even really taste the avocado. The hemp seeds add omega 3s, protein and nuttiness.
The lime takes it to another level and makes it glamorous.
Here ya go.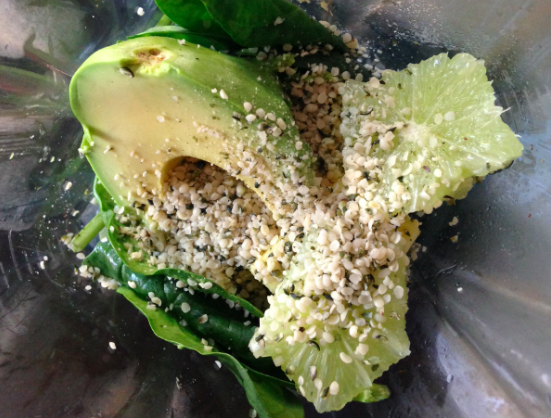 Ginger Hemp Green Smoothie (serves 1-2)

1 cup spinach
1 cup coconut water
1 cup pure water
1/2 avocado
1 inch piece of ginger
1 tbsp hemp seeds
1 lime (peeled)
3 ice cubes
Blend in Vitamix and enjoy!!! Top with more hemp seeds for cuteness.
Add more water if you want it to be thinner. If you want it to be sweeter, try adding 1/2 a pear (or more coconut water).
This smoothie will leave you feeling so fly…like a G6. (what is a G6?)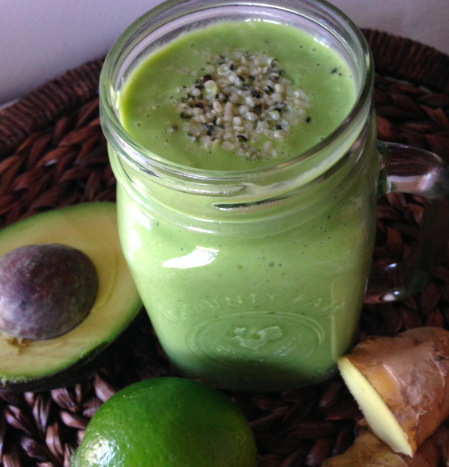 The inspiration for this smoothie came from the book The Best Green Drinks Ever – which you'll also win a copy of if you win the Vitamix contest. :)
When you drink smoothies, do it right.