Sometimes you just want a quick and convenient crunchy snack – and we all know that some snacks are way better than others when it comes to being processed and full of uncool ingredients. People ask me a lot about healthy snack choices, and I have lots. Lately since I've been traveling around like a maniac, I've been a huge fan of all of the Go Raw snacks. They are almost too good, and since they are made from raw, sprouted nuts and seeds, they're super filling so you really don't need to eat a big amount of them (although they are so intensely good, sometimes it's like once you pop you can't stop).
Let's start with my all-time favorite Go Raw snacky, the SPICY SEED MIX. Where do I even begin with these flavorful seedlings? Crunchy, salty, spicy, everything you want in a savory snack. Actually, my favorite thing to do with these seeds is sprinkle them onto a great salad. They are so tiny but they pack so much punch. Warning: they are mildly to moderately addicting.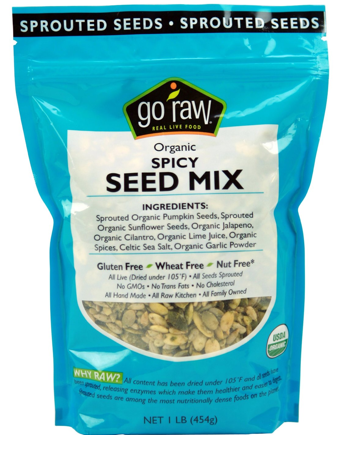 What's in them:
Sprouted Organic Pumpkin Seeds
Sprouted Organic Sunflower Seeds
Organic Jalapeno
Organic Cilantro
Organic Lime Juice
Organic Spices
Organic Garlic
Celtic Sea Salt
Awesome, I know. I know.
The sweeter cousins of these seeds, which I'm also totally digging, are the Spirulina Super Chips! These little green "chips" are so cute and delicious. By the way, spirulina is a type of blue-green algae that is rich in protein, vitamins, minerals, and antioxidants that help protect your cells from damage. Don't be scared away by the whole "algae" thing. These lil chippies taste great.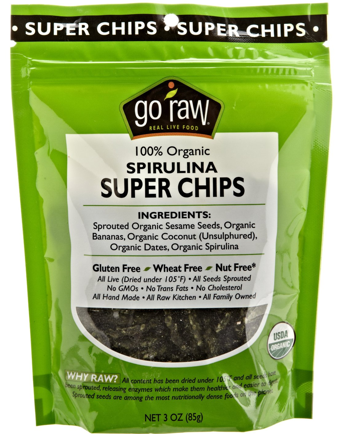 What's in them:
Sprouted Organic Sesame Seeds
Organic Bananas
Organic Coconut
Organic Dates
Organic Spirulina
Also try the Pumpkin flavor and the Carrot Cake flavor. You won't be disappointed. They have lots of other snacks too that I haven't tried yet. Check them out.
Why "sprouted'?
According to Go Raw, all the seeds have been rinsed, soaked and sprouted, releasing enzymes that make them healthier and easier to digest.
You can pick these snacks up at most health food stores, including Whole Foods, or order them online. Have fun!!