There's nothing better than when a friend knows you really well. Yesterday when my plane landed in NYC, my friend Samantha texted me saying she was going to the grocery store to get ingredients for us to make dinner. When I got to her apartment and she showed me what we were making, my heart melted. It was the perfect meal, and she just knew I'd love everything about it. I did. It ended up being one of the best meals I've ever cooked, hands down.
The recipe originally came from Blum Center for Health, but we tweaked it a bit. It came out amazingly.
Goddess Bowl with Tahini Sauce
Ingredients: made enough for 2 large bowls + some leftovers
(To make this a vegan recipe, remove the egg…and the honey, if you're hardcore)
Bowl ingredients:
2 cups kabocha or butternut squash, peeled and chopped into cubes
1 cup quinoa
Olive oil – about 4 tbsp
2 big handfuls of kale, chopped into bite-sized pieces
1/2 a yellow onion, sliced
6 brussels sprouts, chopped up into small bits
1 avocado, peeled and sliced
2 hard boiled eggs (optional)
Sea salt and black pepper to taste
Tahini sauce:
4 tbsp tahini
Juice of 1 lemon
1 1/2 tsp honey
1/2 cup hot water
1/2 tsp sea salt
Directions:
Toss squash cubes with a little bit of olive oil, sea salt and pepper until all pieces are lightly coated. Place squash cubes on a baking sheet and bake at 375 until they are lightly browned and fork tender (20-25 mins)
While squash is cooking, cook quinoa (boil 1 cup quinoa and 2 cups water, until water is absorbed and quinoa is fluffy).
Hard boil the eggs, if using.
In a sautee pan, add a bit of olive oil, sliced onions and chopped brussels sprouts. Cook until soft and browned. Add kale and a pinch of sea salt to pan and let cook for another 3-5 minutes, until kale is bright green and softens.
Mix all tahini sauce ingredients in a bowl with a fork (or in your blender) until smooth. Add the water a little bit at a time, until the tahini is a smooth liquid.
To serve:
Put quinoa on bottom of bowl. Top with the kale/onion/brussels sprouts mixture, squash, avocado, and hard boiled egg. Drizzle with tahini sauce!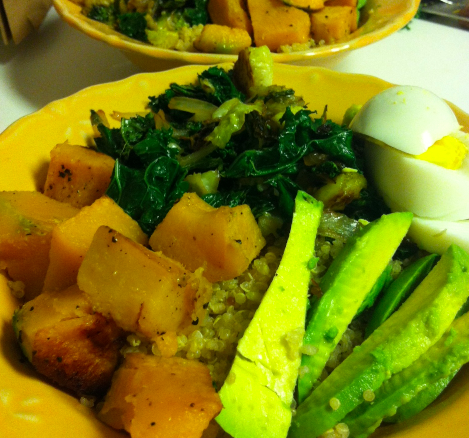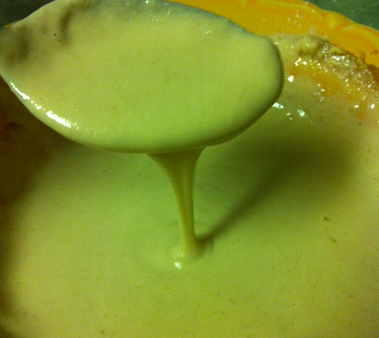 RIDICULOUS.

Let me know if you make this! And thanks to my beautiful friend Sam for this brilliant idea. :)