In an effort to create a meatless holiday option that still packs a protein punch, I threw together this 2 bean dish with plenty of autumn flavor. To make it even easier, I used almost the same recipe from this acorn squash stuffing. This a great vegetarian alternative that has TONS of bursting flavor!
Oh, and if you want it to be vegan, just omit the optional bit of goat cheese.
I used 2 kinds of beans here — cannellini beans and tempeh. You can certainly use any white beans you want, but I like these 2 because they are hearty, mild and take on the other flavors in the dish perfectly. I just love cannellini beans – big white beans that are so great to crisp up in a stir-fry.
Ingredients (serves about 3-4):
2 cups (or 1 can) cooked cannellini beans
1 package organic tempeh (plain or flax flavor)
1 yellow onion
1 clove garlic
1/2 cup chopped fresh basil
1/3 cup raisins
1/4 cup pine nuts
Juice from 1 lemon
3 tbsp tamari
1 tbsp olive oil
1 tbsp goat cheese (optional)
Chop tempeh into bite-sized pieces. Add chopped tempeh and beans to a pan with the onions, garlic, olive oil, tamari and lemon juice. Cook until beans and tempeh are browned.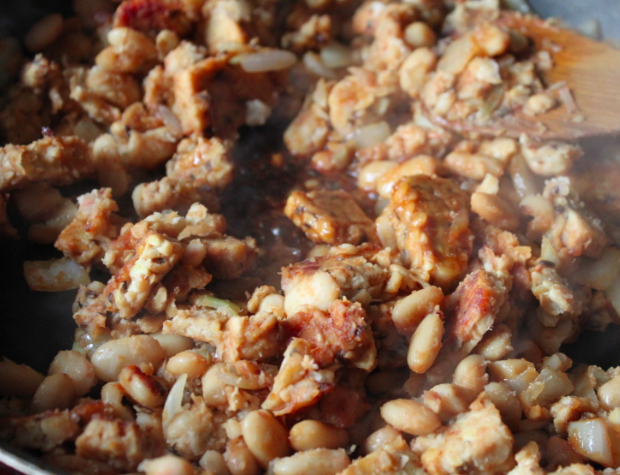 Transfer the mixture to a bowl and add basil, raisins and pine nuts. Top with goat cheese (optional).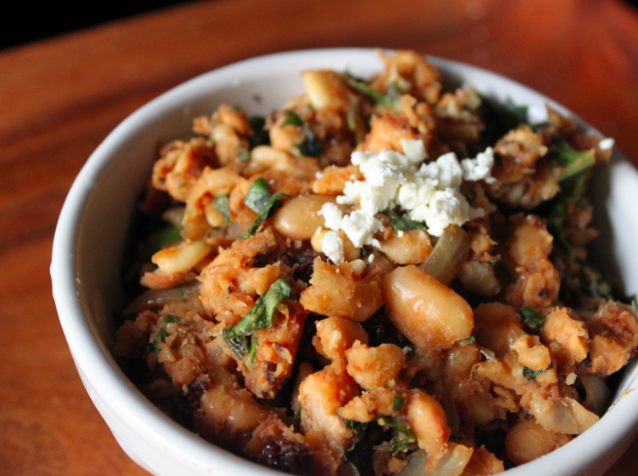 Have a delicious holiday!