Once in awhile I come across people who are doing lots of awesome stuff for their health – they drink lots of water, exercise daily, nosh on fruits & veggies – maybe there's even kale in their fridge! They consider themselves health enthusiasts…but unfortunately, they are falling victim to deceptive marketing. How do I know this? Well, I open up the cabinet and find…drumroll please…a loaf of corn syrup!!!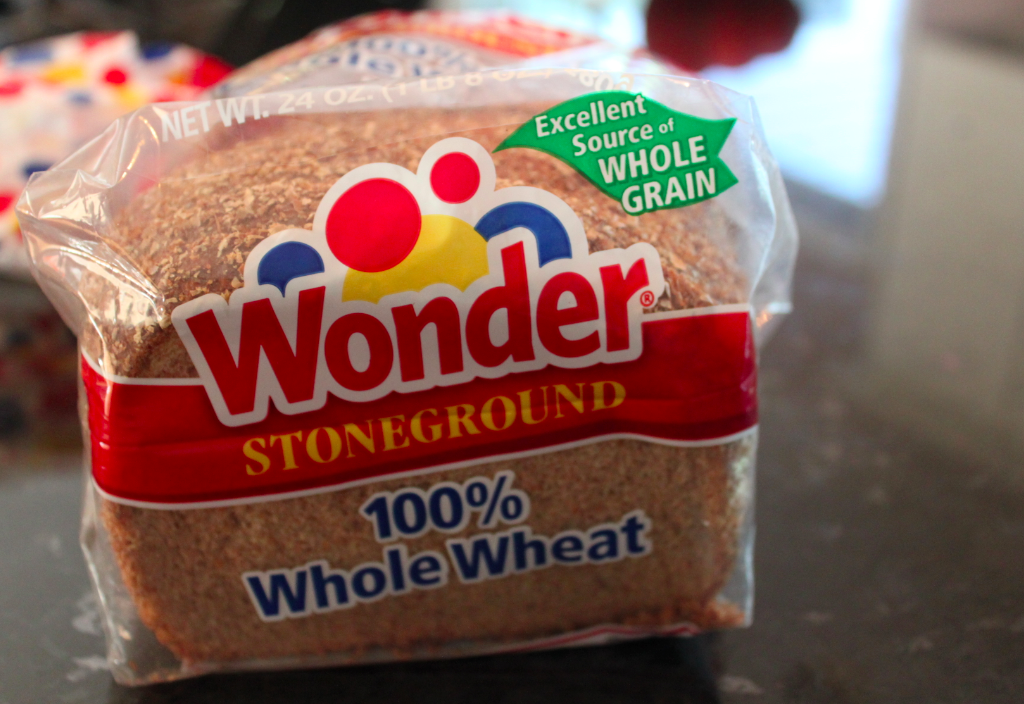 Ahh! Shield your eyes! ;)
I know that tons of well meaning, health conscious people are purchasing products that have health claims slapped onto their packaging, without paying much attention to the actual ingredients list. That's ok, I'm here to help!
Let's get down to business. Check out the ingredients list on this loaf of wheat bread: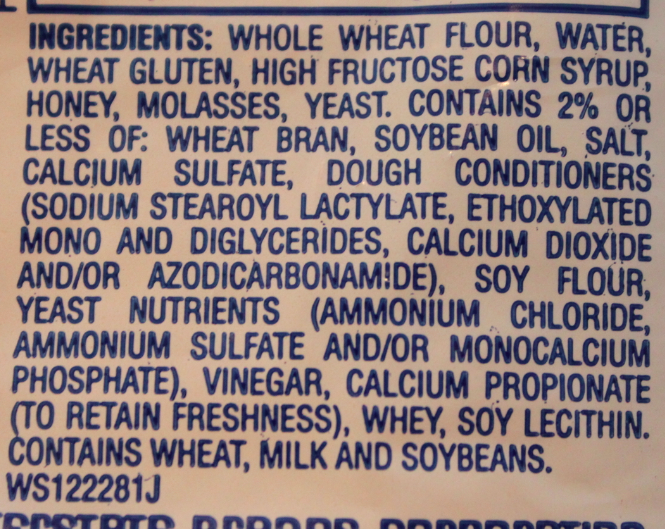 This is NOT FOOD!! (read more about what real food is). There are tons of unnecessary ingredients in here that could be affecting your body in harmful ways. The good news is that this kind of fake-food blunder is really easy to fix.
What should you choose instead?
When it comes to purchasing a whole grain bread, the first thing you should do is check the ingredients list. Anything with high fructose corn syrup or a slew of weird ingredients should be avoided.
The BEST alternative:
Ezekiel bread. Ezekiel bread is AWESOME! They have tons of different options – tortillas, breads, english muffins…and they are all made from sprouted grains and have no funky, weird ingredients. Check out all of their products here.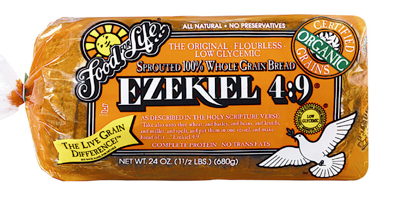 Ingredients list for Ezekiel 7 Sprouted Grains bread: Organic Sprouted Whole Wheat, Filtered Water, Organic Malted Barley, Organic Sprouted Whole Rye, Organic Sprouted Whole Barley, Organic Sprouted Whole Oats, Organic Sprouted Whole Millet, Organic Sprouted Whole Kernel Corn, Organic Sprouted Whole Brown Rice, Fresh Yeast, Sea Salt.
Other healthier alternatives:
Most whole grain breads from Whole Foods. Almost any whole grain bread you find at Whole Foods will be better than what you'd see at a conventional supermarket. Why? Directly from Whole Foods — "We never allow artificial colors, flavors, sweeteners, preservatives or trans fats in any of the products we sell."
These days, you can find different brands of organic whole grain breads (and even gluten-free breads) that don't contain sweeteners, or are lightly sweetened with honey, barley, or other more natural sweeteners. This is the way to go. You can also find great breads at health food stores made from whole grains like millet, spelt, brown rice, seeds and more.

Bottom line? Check the ingredients list. If you see all ingredients that you recognize, go for it! Lengthy list of crap? Skip it. At the very least, avoid the ones with high fructose corn syrup.
Do you have a favorite healthier alternative to conventional supermarket breads?