I stayed in LA for just a week and I did an INSANE amount of healthy things!
When I planned my trip out to Los Angeles, there were a couple of things I knew I absolutely had to do based on what LA friends had told me – namely Cafe Gratitude and Runyon Canyon. The rest of these things fell into place based on other recommendations as I went along. I was literally THRILLED at every single place I went, so I'm really excited to share all of this with you!!
If you're planning to head to LA and you're looking for healthy restaurants and activities…here's your guide. All recommended with 100% certainty by yours truly. Certified awesome by Healthy Crush.
Oh – a note: many of these places are vegan joints. I'm not vegan, but I'm an extreme vegetable enthusiast! I love vegan restaurants because most of them (not all, but lots) put tons of consideration into the ingredients in their food. I just love vegetables and green juice so much. They make me happy. So these are my recommendations for getting your juice, veggie & workout fix in La La Land!
As I mentioned, this one was on my list for "must do" in LA. I had heard about it from so many people. It didn't disappoint! At all. Just reading the menu will lift your spirits, with dish names like "I am extraordinary," "I am thriving," and "I am awesome." The vibe there is kinda magical. I literally asked the waitress if I could move in.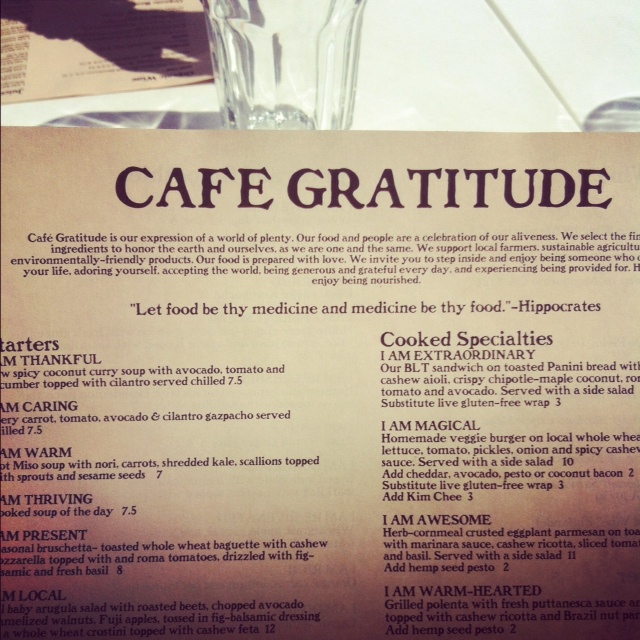 Cafe Gratitude is vegan and organic, with raw and cooked options as well as lots of juices, smoothies and naturally sweetened desserts. For my meal, I got the "I am ecstatic" brussels sprouts (UNREAL!), the "I am festive" raw taco salad, and the "I am worthy" fresh juice. All were incredible. Especially the brussels. I will be re-creating them.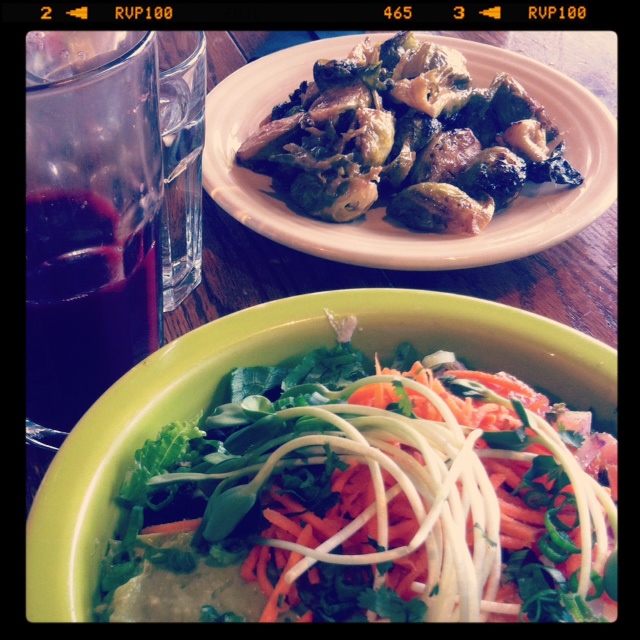 Get your green juice fix!! This place has tons of awesome fresh raw juices, smoothies and food. I got the Power Green juice, which was green apple, kale, spinach, parsley, celery, romaine, ginger, lime and spirulina. AMAZE. Go here.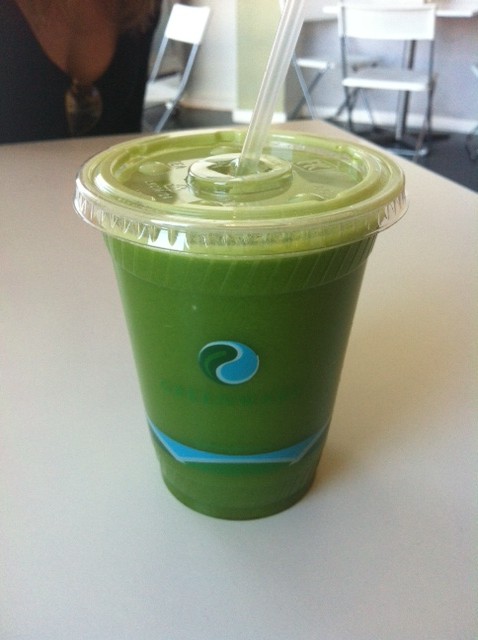 I knew I'd love this place just from the sound of the name. And, of course, I did. This is a tiny haven of superfoods, superherbs and fresh juices, smoothies and raw foods. Check out the coconut water with blue green algae in it for one of my favorite healthy highs! I also got a noni kombucha, a bit of raw chocolate, and a super delicious and vitality-giving green juice. Oh – and if you like this kind of thing, try the macadamia nut "brie." Life Food Organic also has a cleanse program that seems pretty legit, so ask them about it if you're feeling like a good detox.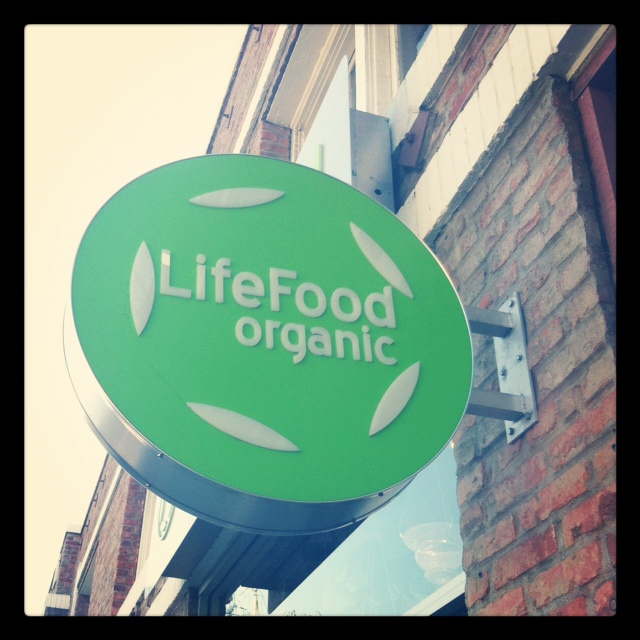 This was one of those places I dreamed of visiting. Hiking in canyons is not quite something New Yorkers have easy access to, so I was psyched to forgo my usual NYC workouts and do some California hiking. It was so much fun – dirt trails going up and down through the Hollywood hills, sunshine, fresh air – people with dogs…you get the point. Go here. Go here to stroll, to hike up the hills, or even to run. One of my favorite things was the availability of water bottles right at the entrance. Bring some water on your hike- you'll need it!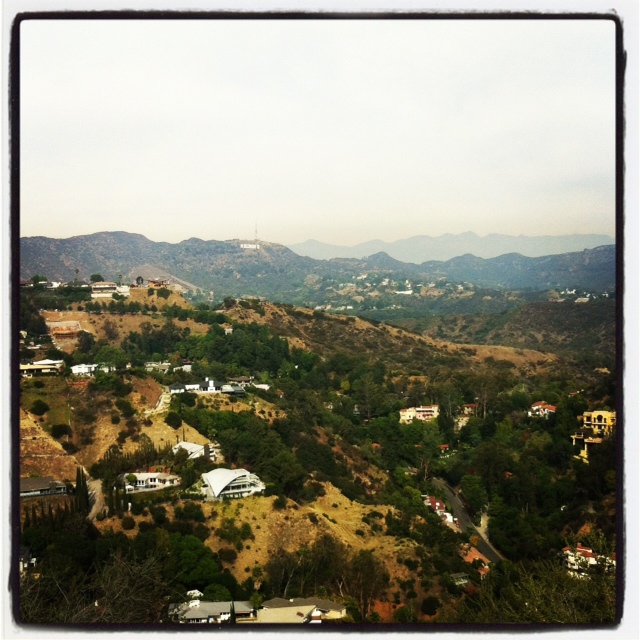 Griffith Park


4730 Crystal Springs Drive
Griffith Park is larger than Runyon, and equally as beautiful and fun. You can wander through the park, hang out at picnic tables under shady trees, grab a bite to eat at the concession stand at the entrance, and hike up some pretty steep hills, if you so desire. From the tallest point in Griffith Park, you can get a great view of the Hollywood sign. One thing's for sure, spend a couple of hours hiking around this park and you'll get a fantastic workout.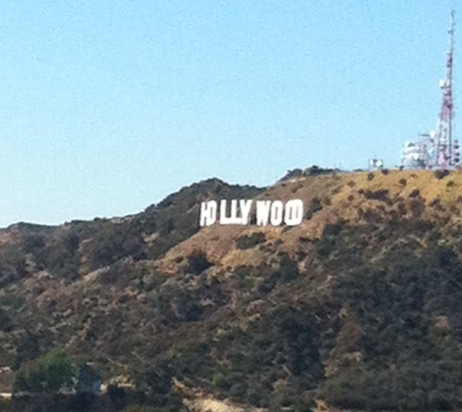 Beverly Hills Walking Path (Santa Monica Blvd)
Who says nobody walks in LA? Even though we knew people "drive everywhere," my friend and I were determined to do some serious walking in LA. We decided to walk from our hotel on Melrose all the way over to Rodeo Drive (about 3 miles) and back. Along the way, we came across a sweet walking path on Santa Monica Boulevard! It's a beautiful dirt path surrounded by trees that stretches from Melrose & Santa Monica Blvd all the way down to Roxbury Dr, passing Beverly Gardens Park along the way.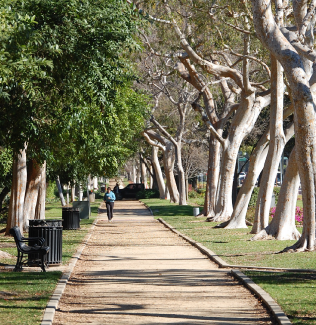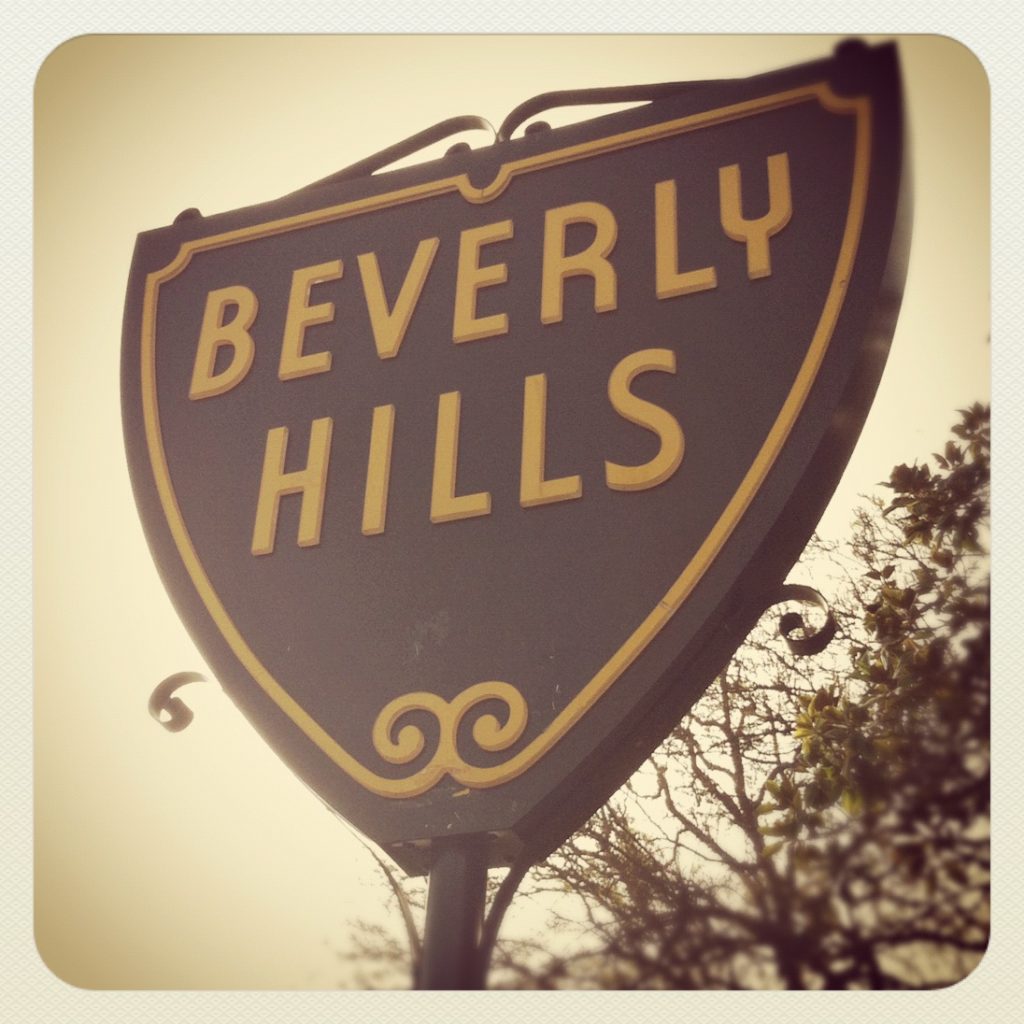 My excitement about this health food store can't be tamed. This is where you should go for health food in Los Angeles.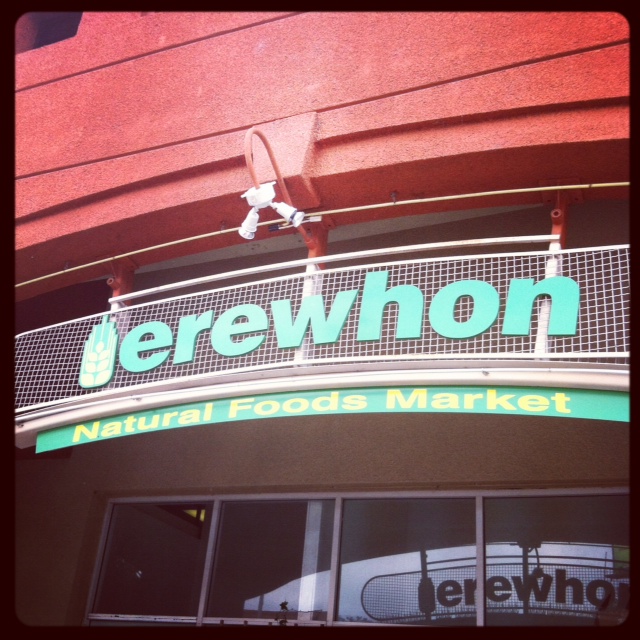 They have a great prepared foods bar, juices, smoothies, superfood ice creams, and every healthy grocery you could imagine. Here's a great picture of the lunch we picked up at Erewhon and ate at the picnic tables outside. I know, we went a little overboard, but I couldn't help it! Kombucha, green juice, raw chocolate, salad w/ organic hard boiled eggs and root vegetables, raw curry wraps, guacamole, flax chips….a healthy Thanksgiving! :) If that excites you, go there now.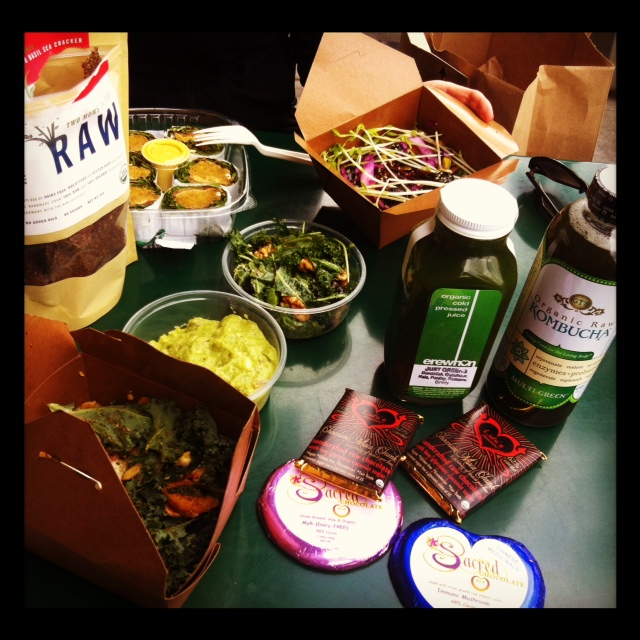 Dr. Andrew Weil was one of my teachers at nutrition school, and I was thrilled to hear that he opened a restaurant in Santa Monica. If you're checking out Santa Monica pier, you should definitely make a stop at True Food Kitchen for some delectable food with top notch ingredients. This is a place for vegans and meat eaters alike!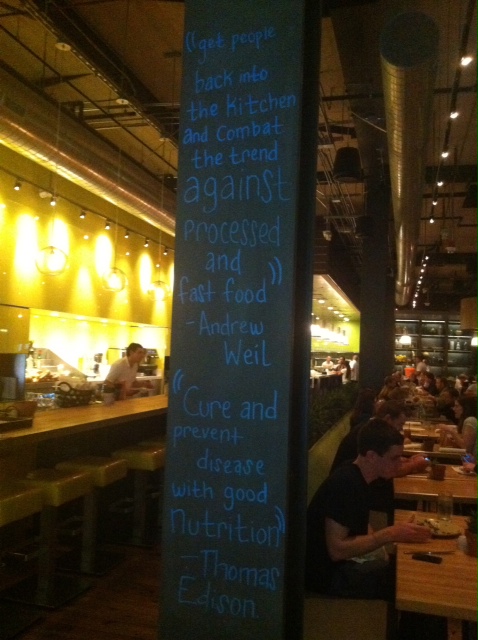 I got the sea bass with brussels sprouts and purple potatoes, and my dinner dates and I split the edamame dumplings and kale salad to start. As a beverage, I got the Green Arnie (matcha green tea and honey lemonade). Everything was out of this world delicious. Even my skeptical non-health-food-interested LA actor friend was satisfied – with the grass-fed burger. :)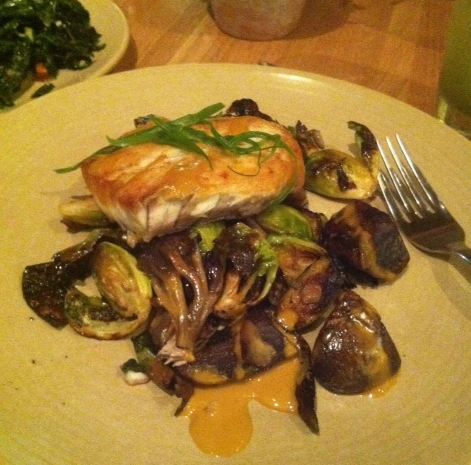 Amazing, amazing, amazing x 10. Sage has a to-die-for menu of healthy goodies.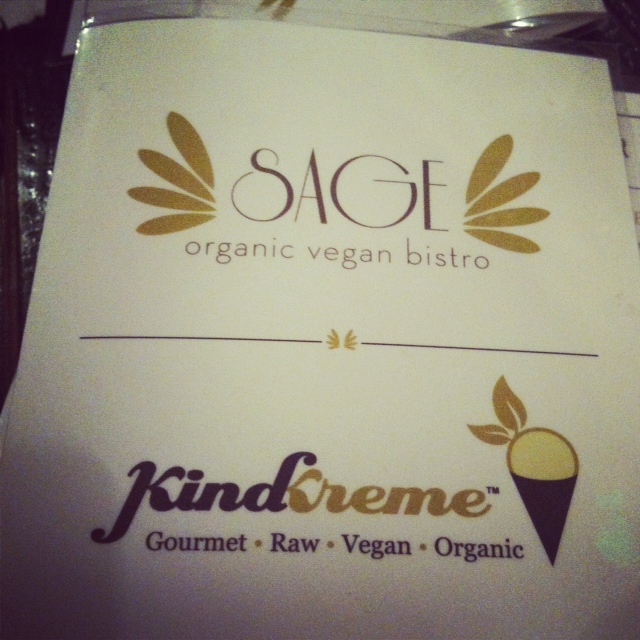 It's hard to decide what to order, since everything on the menu sounds delicious, but our waiter was super helpful. He suggested the root vegetable tacos ("messy, but worth it") and he was right on the money. I couldn't believe how delicious they were (in fact, I'm craving them now as I write this). Oh, and we got artichoke dip and brussels sprouts as an appetizer. Big smiles all around.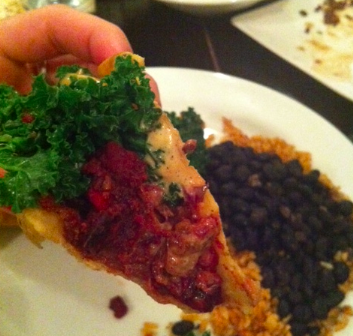 For dessert, there's a Kind Kreme right inside the restaurant which offers raw ice creams and treats. Being the extreme health food cazypants that I am, I decided to get an E3 Live (blue-green algae) Kombucha float with raw kale-coconut-lime ice cream. When I ordered it, the waiter got this knowing grin on his face. "That," he said, "would be…RIDICULOUS." And it was. The experience was better than doing magic mushrooms. I swear to you.


A friend described this place to me as the "it" place for vegetarians and vegans in LA."Oh, yeah, RFD – everybody goes there." So clearly I had to give it a go. I chose the cold soba noodles with veggies and blackened tempeh, along with the sweet green juice. Insanity ensued. So good. My sister had the spicy BLT and it was probably the best BLT either of us had ever eaten — crispy tempeh bacon, lettuce, tomato and spicy vegan mayo wrapped in a spinach tortilla. The waitress described herself as "addicted to it!" So try this place out, and don't be surprised if you see a health-conscious celebrity lingering over a tasty salad.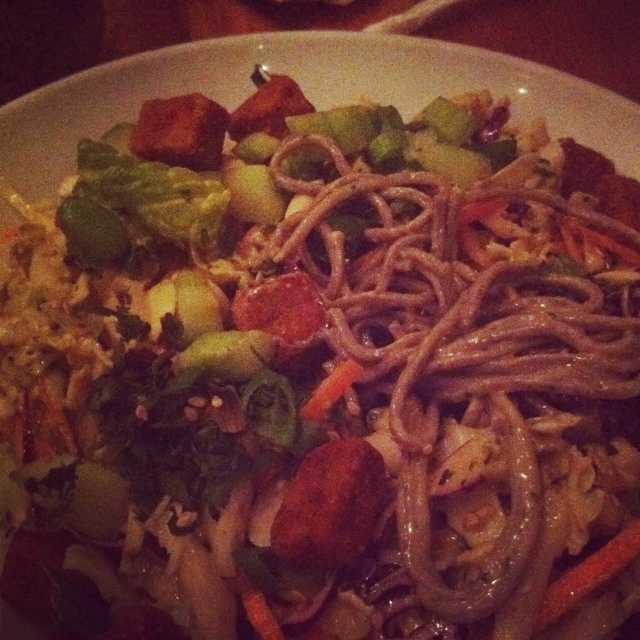 This is a great place to sit and have an outdoor lunch or coffee date. Their menu has a variety of options for meat eaters and vegetarians, as well as certified organic coffees and teas. Check out their Urth Caffe "organic coffee standards" – pretty cool information about fair trade, shade grown coffee, and why they choose organic.

I chose the Urth Salad for lunch which was a really nice salad with chickpeas, hearts of palm and pine nuts — and I'd definitely try the Farmer's Salad on my next trip. This is also a nice place to potentially spot a celebrity having a casual brunch. :)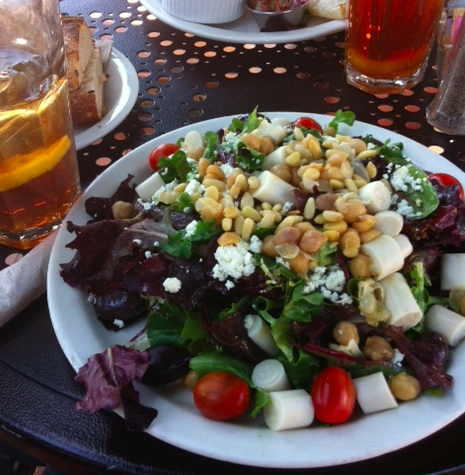 I hope you found this helpful! I want to hug LA. There's so much green juice here.
Now, let's be real. I clearly didn't have time to hit up ALL the best healthy spots in LA, so if there's another one you love, PLEASE comment below and let me know what I need to try on my next visit!!
You guys rock.