Believe me – I love any holiday that is centered around food! But when Thanksgiving rolls around, many people have that "all or nothing" mindset when it comes to their health.
I'm not here to give you a list of foods to avoid or rules to follow — who wants those during the holidays? I find it much more enjoyable to simply tweak my holiday mindset to include healthy foods and habits. You can enjoy the holiday without turning off your healthy mindset completely when you sit down to Thanksgiving dinner.

Here are a few tips for enjoying your holiday favorites – while practicing a bit of simple, healthy awareness:
If you plan to eat a lot of carbs and heavy foods, make a fresh green salad, too. Crisp leafy greens will balance out the heaviness of the other foods and will aid in digestion.
If you want to indulge in pie or other sugary treats on Thanksgiving, have a small portion and fill the rest of your plate with a fresh, seasonal fruit salad. You may even find your taste buds gravitating more towards the fruit! Apples, pears, pomegranates and fresh figs are great options.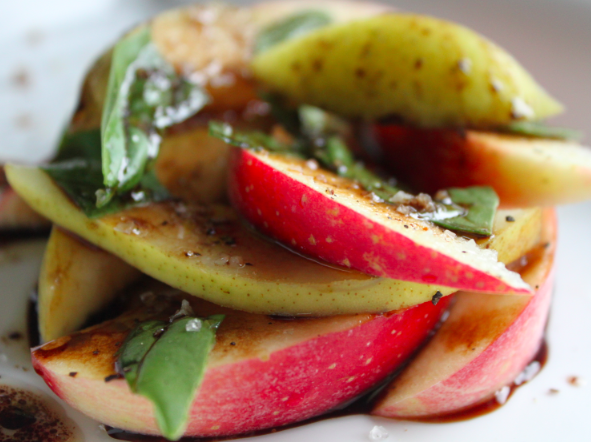 Drinking alcohol? Alternate between drinks with with a big glass of lemon water.
Wake up 30 mins earlier than planned on Thanksgiving morning and go for a jog, walk or do some yoga.
After dinner, help to ease your digestion with a hot mug of herbal tea – try ginger, peppermint or detox tea.


You don't need to use Thanksgiving as an excuse to completely stuff yourself to the point of a massive stomach ache. Instead, try savoring & appreciating each different dish and eating slowly.
Before you run off for seconds, have another big glass of lemon water! You can enjoy leftovers for days to come, so don't feel like you need to scarf it all down in one sitting.
If you're in charge of cooking, try some healthier recipes (link list below). If you're eating at someone else's house, volunteer to contribute a green salad or fruit salad.
Focus on what you're thankful for, and connect with the people you're celebrating with — rather than only focusing on filling up on food!
Remember to enjoy yourself and let it be OK to indulge a bit in your holiday favorites. :)
Link List: Healthy Thanksgiving Recipes:
Gluten Free Girl : Thanksgiving 2011
101 Cookbooks: Vegetarian Thanksgiving Recipes
101 Cookbooks: Vegan Thanksgiving Recipes
Beaming with Health: Healthy Thanksgiving Meal Ideas
What's your favorite way to stay healthy and balanced while also indulging in your holiday favorites?