I've been traveling a TON so far this year, and it's not even the end of Q1. I love/hate saying things like Q1. Get this to me by EOD ok!?!? #corporatelife #rememberthat?
The major reason I've been traveling as much as I have in 2017 is so I can be there to support Joel at his ultramarathons (he's running an ultramarathon on every continent to raise money to build schools with Pencils of Promise – more on that here). That's why I was in Australia for most of January, Finland in February, and I'll be heading to South Africa for his final race in April. We're in Bali for most of March, because I'm teaching and co-leading at the Creative Rehab retreat…so at least ONE of our trips is a work trip for me too. ;) It's awesome for both of us to have the freedom to join each other around the world for different kinds of work, aka — "relevant fun" as I like to call it.
Speaking of relevant fun, the workshop I'll be teaching is about creating passive income from your passions – this is how I'm able to travel so much. 
That being said, let's talk about the most important topic – my tailbone, of course!!!
Because our trip to Finland for the Rovaniemi 66k (read the race recap here) would overlap with Valentine's Day, I decided to get a little bit cute and creative and book us a GLASS IGLOO for the night of Feb 14th.
Yes, I know exactly what you're thinking. Nick and Raven's fantasy suite date was in a glass igloo in Finland too. I swear I booked it before that episode aired!!! Actually, I booked our whole Finland itinerary before any of the Bachelor episodes in Finland aired, so our activities had nothing to do with the Bachelor, I SWEAR, OK!? Despite what Joel may think. Sigh.
Moving on.
We had an awesome time at the Arctic Snow Glass Igloo (didn't see any Northern Lights, but it was super cool nonetheless).
And we were all smiles the morning of February 15th, running around like arctic monkeys and exploring in the snow.
Little did we know…
Tailbones were about to break.


As we were killing some time before our shuttle took us from the igloo back to downtown Rovaniemi, we saw a hill with some sleds next to it. Like a little kid, with absolutely no hesitation, I ran up the hill and hopped right into the sled. From where I was standing, it looked like the coast was clear.
Wrong-o.
I ended up hitting a bump of ice – HARD. Here's the video.
Looks a little painful, eh? "It's not good! It's not good!"
I knew something was really wrong right after I hit the bump. My whole tailbone area was in MAJOR pain, worse pain than I'd ever felt from a physical accident.
As I walked back to the igloo to lay down, my every move throbbed with pain. The only thing I could think to do was take a shower to get some heat onto my body. But when I got into the shower, I realized that a major portion of my tailbone area was numb. I couldn't feel it at all when I touched my skin in the shower. That freaked me out MAJORLY. At least I could walk, but the numbness felt like a bad sign.
I took a day to rest in Rovaniemi at our Airbnb before deciding that I needed to go to the hospital. Joel had his race the next day, and I knew he'd be running for most of the day, so I figured it was a good time to spend the day getting x-rays. Fun!
I dropped Joel off at the starting line and wished him off and then headed to hospital land. 
And spend the entire day I did. I went to the Lapland hospital in Rovaniemi and I got to know their waiting room VERY well. Between the initial meeting with the doctor, waiting for the x-ray, getting the x-ray, waiting for the x-ray results, and then waiting for the doctor to provide me with next steps, I think I was there for 8 total hours. 
Needless to say, travel insurance would have been a very smart idea, although thankfully my total hospital bill was only around $200 USD.
I started having a bit of anxiety while I was at the hospital because I wasn't sure what time Joel would finish the race. I was picturing him getting to the finish line after running 66k (41 miles) and me not being there to congratulate him, and it was making me so sad!!!
Luckily at one of the break points in the race he was able to answer my text and let me know he still had 2 hours to go, so I was able to breathe again. I ended up being able to leave the hospital with a firm diagnosis of "slight fracture" to the tailbone, and make it back to the finish line in time to see him cross and present him with a congratulatory Finnish pizza. #girlfriendwin
Here's the x-ray, I actually don't know where the fracture is on this photo, but it feels like it's at the top of the tailbone, closer to the sacrum area.  But if anyone is an expert in x-rays let me know if you see where the fracture is.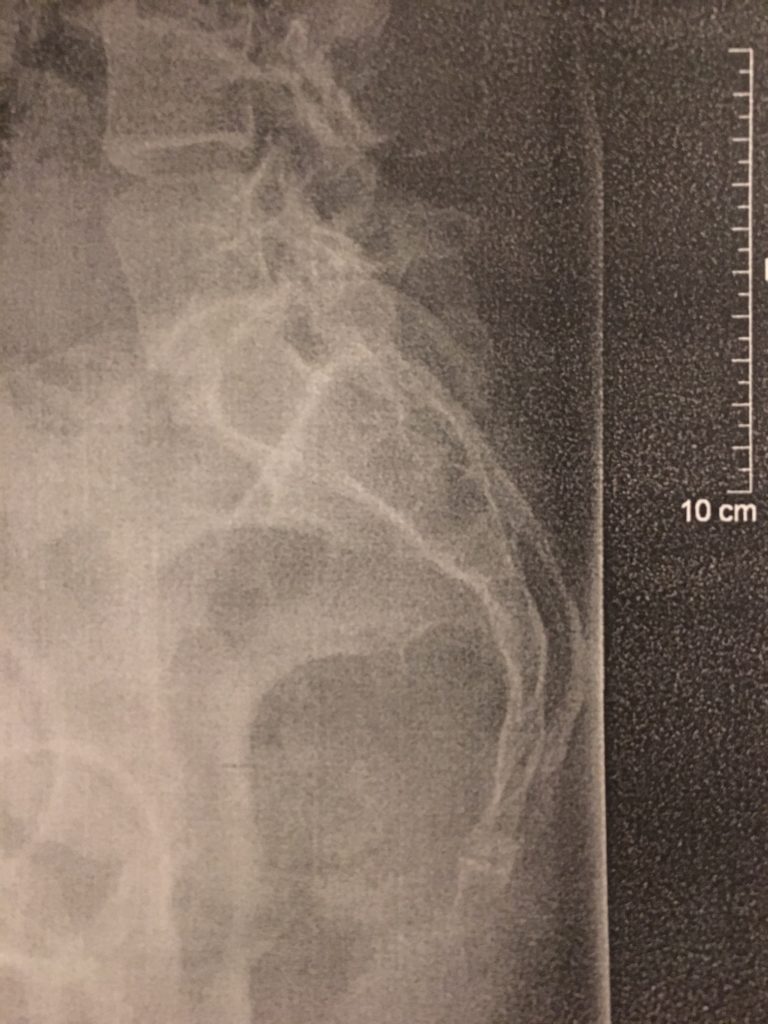 Interestingly enough we ended up spending the entire NEXT day at the hospital again, because Joel thought he might have a stress fracture in his foot from the race (he turned out to be un-fractured). But let's just say the Finnish doctors and waiting room nurses were my BFFs after this trip…
So onto the healing!
Obviously a tailbone fracture is a bit of a buzzkill when you're traveling, but luckily we were at a point where we were staying at the same apartment for 5 days, so I could pretty much just rest.
My directions from the doctor were basically to not aggravate it, and take pain killers if necessary. I decided against getting prescription pain killers for a couple of reasons, but mainly because I wanted to be able to really feel what activities aggravated my tailbone instead of taking away all pain – I wanted to really understand it – so I stuck with taking a few Advils which was fine.
I had to cease all workout activity for a few weeks (which was a huge bummer because I was going strong with the BBG plan, and had just completed week 5). Any movement was really bugging my tailbone, including walking up stairs, bending over, or laying on my back.
Aside from completely stopping anything that would aggravate my tailbone, I started taking some supplements to help with healing. I grabbed whatever I could find at the health food store in Finland that I intuitively felt might help, and I've been taking them all ever since:
As soon as I got back to NYC, I made an appointment with Isa Herrera, a physical therapist who specializes in the pelvic floor and women's pelvic pain. She has a TON of experience treating the coccyx (tailbone) – apparently a lot of women break it during childbirth! Who knew? She was INCREDIBLE, and she helped to calm down the area with massage, she adjusted a few things that were out of alignment (including my uterus, apparently!), and gave me exercises to do at home. The next day after seeing her I felt significantly less discomfort, and I have another appointment with her when I get back from Bali. 
At this point (a little more than a month after the injury) I can barely feel any pain or discomfort or aggravation unless I'm doing the following things:
Walking up steep stairs
Laying on the floor doing any type of floor work (no crunches / leg lifts / etc for me right now)
Bending down for a long period of time – such as doing a forward fold in yoga
Sitting in a certain position (with direct contact on my tailbone) for longer than an hour or so
Aside from that, I feel that I'm healing up quite nicely and I can participate in all regular activities (walking, being on airplanes, etc), although I do feel a slight bit of numbness still. It's not a full numbness, but it's just this feeling of the skin being slightly less sensitive than normal when I'm washing the tailbone/pelvis area in the shower. Sorry if that's TMI but you are reading an article about a tailbone fracture, after all… ;)
The doctor in Finland and Isa both told me that I likely compressed a nerve when I hit the bump. I assume there's a nerve still a bit compressed since I feel that numbness, so I'm going to have to do a little bit more pelvic floor physical therapy to clear that up and get complete feeling back (hoping this is possible!) and I'm ok with that because Isa is SUPER nurturing and I'm actually really looking forward to my next appointment with her. I'm so grateful to know a practitioner like her exists. Thank you to Nicole for the rec!
I just started working out again recently, but I'm unable to do the full BBG program right now because of all the jumping and floor work. I've begun to create my own workouts based on what doesn't aggravate my tailbone – things like push-ups, planks, and even squats feel fine as long as I'm not laying on the floor directly on the tailbone. And I likely won't do any running or jumps for awhile (burpees/jump squats/etc). It's been a big lesson in surrendering. But I'm also really grateful that the injury wasn't worse than it was. I'll think twice before I decide to jump into a sled again and just willy nilly go for it…
I also yelled at the screen when I saw Raven sledding the morning after her night in the igloo with Nick. BE CAREFUL OF YOUR TAILBONE DEAR RAVEN!!!!!
Needless to say, a tailbone fracture isn't cool or fun so I really empathize with anyone who's had to go through this injury – especially people who sit all day for work.
Have you fractured or injured your tailbone? How? What helped? How long did it take to heal?