Hi guys,
Yesterday was an exciting day because I received my first package at my PO box here in San Diego. And inside?
THE NEW, JUST-LAUNCHED-TODAY…
Ready to drink Bulletproof Cold Brew Coffee!!! 
I just let it sit in the fridge overnight so I could wake up this morning and try it and report back to you guys.
As you could have probably guessed, these cold brew coffees are made with Bulletproof coffee beans, Brain Octane oil, and unsalted grass-fed butter.
I just tried 2 flavors: Vanilla and Original. 
My first thoughts:
The vanilla flavor is a bit sweeter than my usual coffee (I don't usually use any sweetener), so if you like sweeter coffee you'll like this one. Sweetened with monk fruit, xylitol and erythritol. 
Since I prefer no sweetener, I liked the Original. It tastes just like the regular Bulletproof Coffee I might make at home, but maybe a little less strong. ;) I make all my caffeinated drinks ultra-strong because I'm a lil bit of a junkie…
For pricing reference: Each coffee is about $4.91 for 12 ounces if you buy a 12-pack, which is about 20 cents more than it would cost to get a 12 ounce Bulletproof Coffee in person at the Bulletproof Cafe. The vanilla/mocha flavors are cheaper in the ready-to-drink packs than the vanilla/mocha drinks at the cafe (Bulletproof Cafe menu here).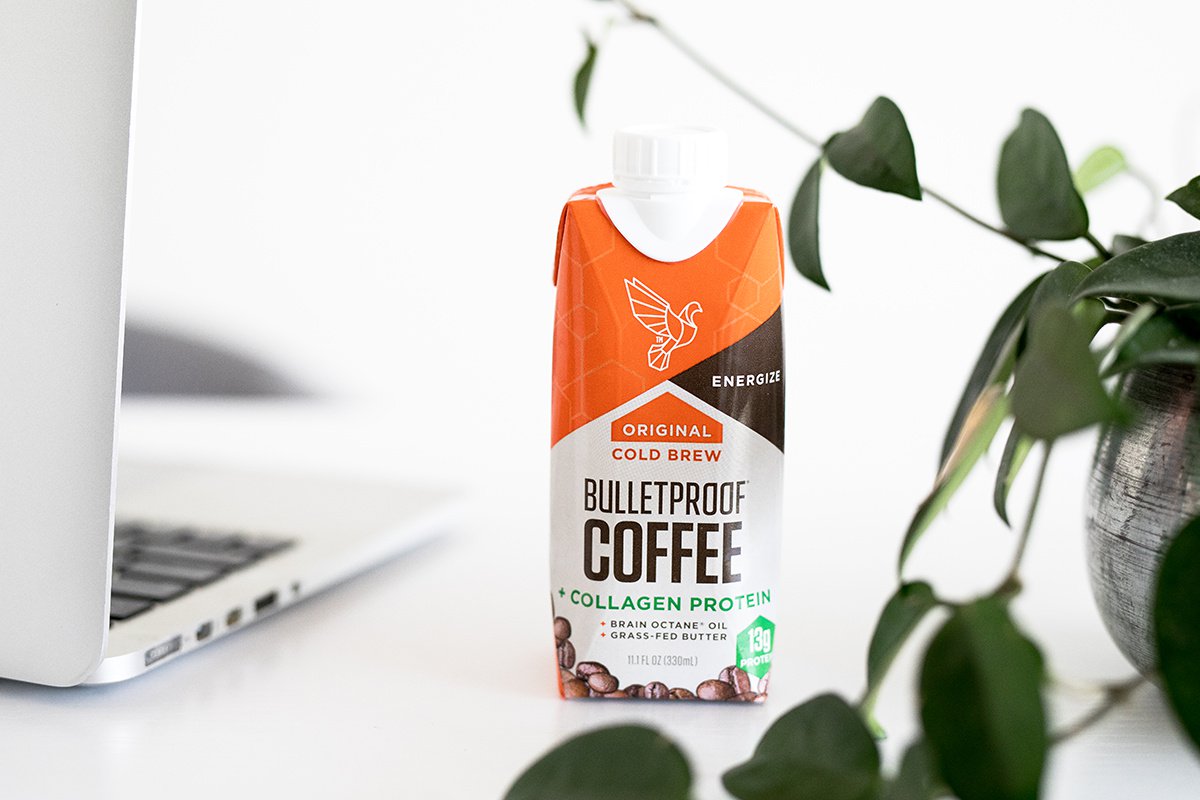 More about Bulletproof Cold Brew (info directly from my friends at Bulletproof)   
 Bulletproof Cold Brew is pre-made and ready-to-drink, meaning you can't mess it up. You simply shake and enjoy.
For those who don't have time to spare but want to take a step towards a sharper, stronger self, the ready-to-drink cold brew version offers the same results of Bulletproof Coffee in a pre-made, ready to enjoy beverage.
 The addition of grass-fed butter and Brain Octane oil provides sustainable energy from high-quality fats vs sugar.
All Bulletproof Coffee is farmed, screened, and tested to be free of 27 performance-robbing toxins.
 Bulletproof Coffee Cold Brew Original+Collagen delivers a powerful 13 grams of protein from grass-fed cows.
 No sugar is added to any of the Bulletproof Coffee Cold Brew flavors.
 Brain Octane is four times more effective than coconut oil at raising brain-boosting ketones, which cannot be stored as fat within the body, unlike carbs.
PS – Update – I just tried the Collagen cold brew and it's now definitely my favorite!
It's creamier because of the collagen powder…and has 13 grams of protein…and tastes like a sweet and creamy latte. Yum!! :)
Here's my collagen cold brew in the San Diego sunshine…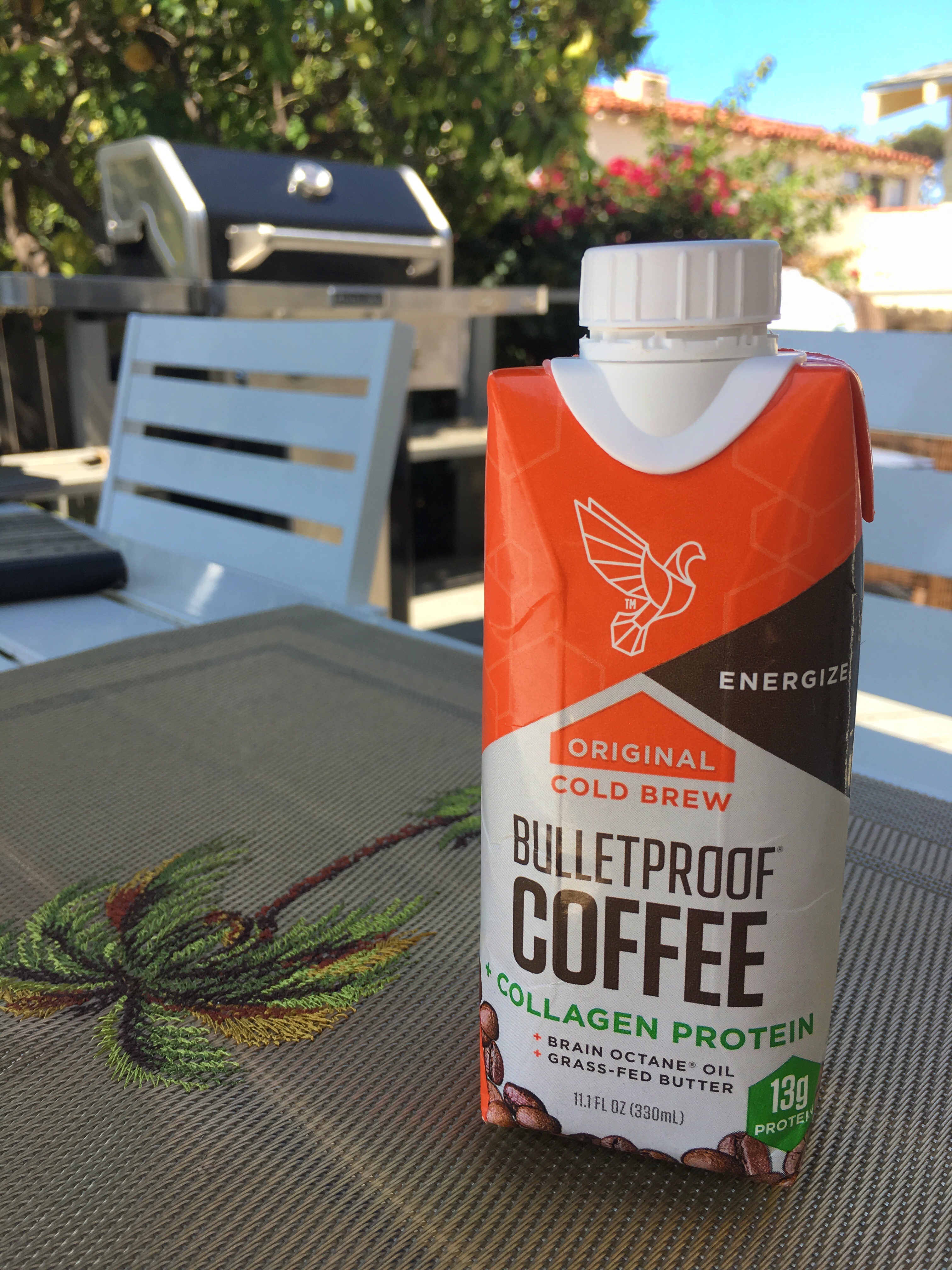 Oh, and here's what it looks like in a glass with ice!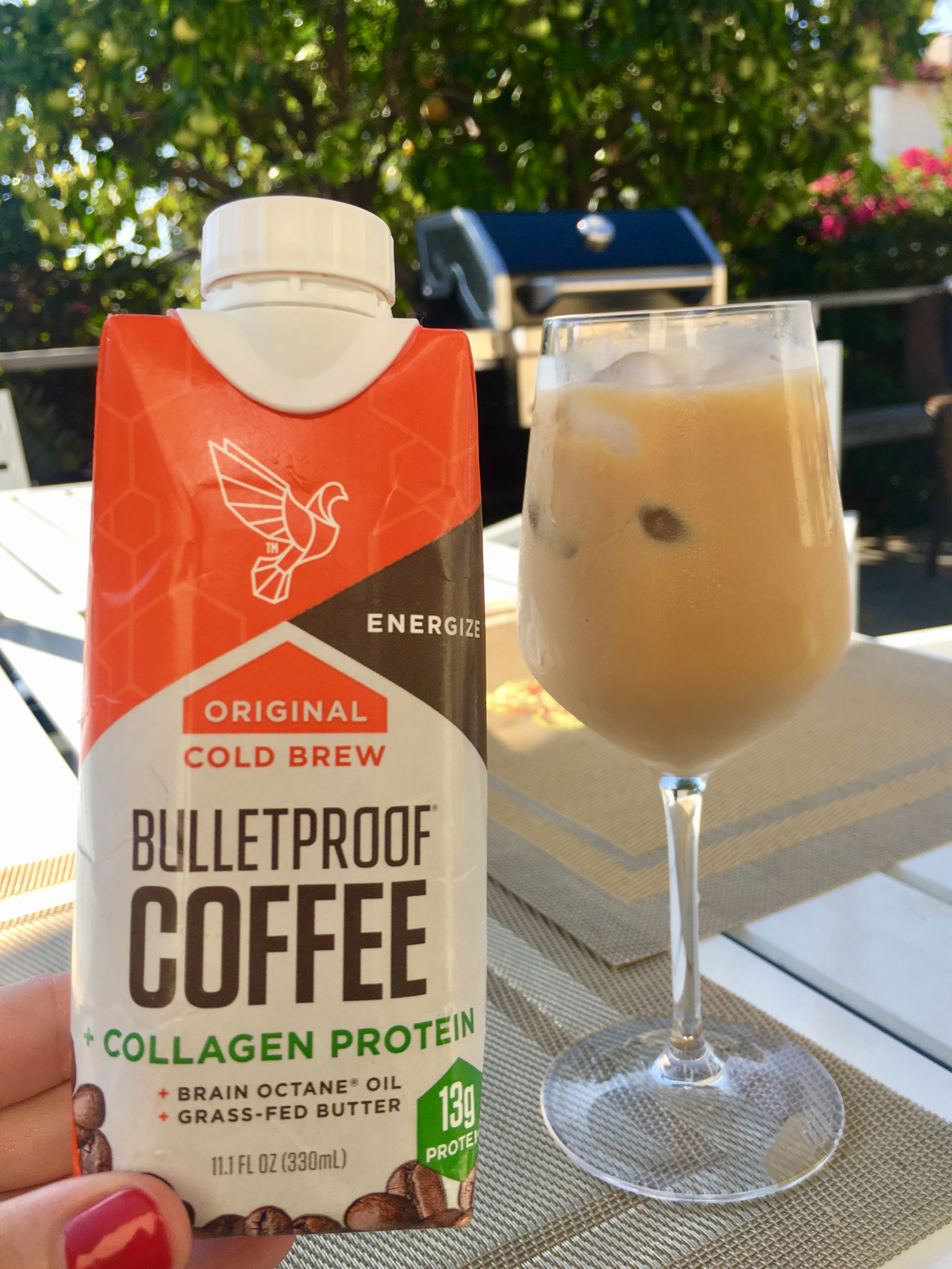 So, while I'd definitely prefer to make my own Bulletproof coffee at home and add the grass-fed butter, Brain Octane, and collagen (to reduce packaging), two of the most frequent things Bulletproof has been hearing from customers is that people want to make the coffee or take it on the go, but either don't have the time, or don't know if they're making it "correctly." So these little cold brew drinks take care of both of those concerns. :)
Bottoms up!
To optimizing your life,
Jenny