Hello there my little sweet potato heads –
I've been thinking about something for the last 9 days. It's been kind of bugging me. I've been feeling very peculiar.
It's a brand new year and it's the time when we're "supposed to" revamp everything and blaze new trails and give up everything that's not working for us. Usually, I'm all about it.
Usually, when January 1 comes around I am INSANELY excited to do some type of challenge (usually 2 or 3 or even more). I usually feel sooooo fired up.
This year, January 1 came and I just felt…gentle.
"What's wrong with me?!" I thought. "I'm always up for a challenge, I'm always up for making huge goals, and January 1 is THE TIME to do that. I LOVE GOALS. WHO AM I RIGHT NOW!?"
(Sometimes I'm a teensy bit hard on myself. #Virgo)
I had thought I would be jumping on some super specific eating experiment, or working out like a madwoman as soon as January 1 came around…but, I just…didn't feel like it.
I texted my friend Shannon on January 5th, with a photo of my breakfast (which was Fine & Raw chocolate and a latte…in my mind this was CLEARLY not appropriate for someone who has new years resolutions), saying, "apparently I haven't gotten the memo that it's a new year yet…"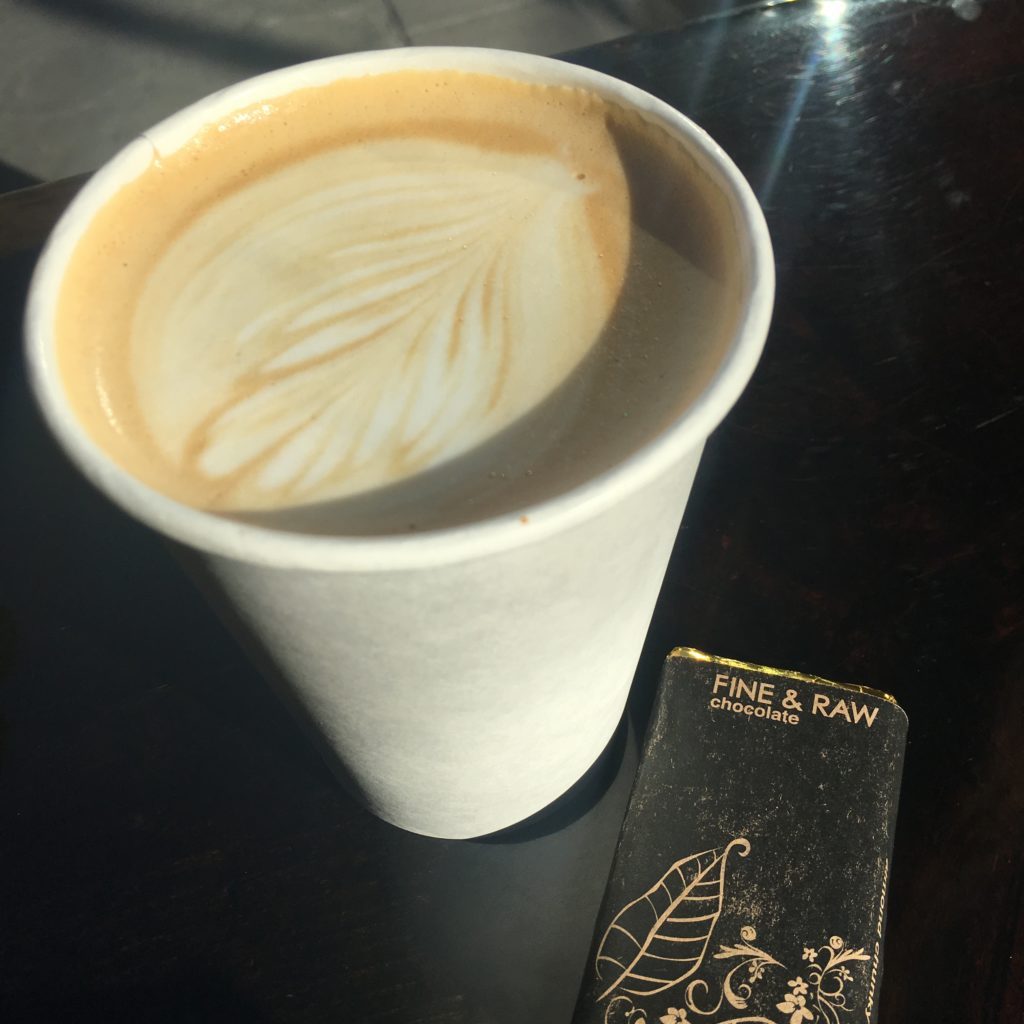 I didn't care that much, but at the same time I felt sort of guilty for not caring. It was weird.
Not like "I DON'T CARE" in a defeated or "f*ck it" angsty kind of way… I wasn't bothered by other people posting about their resolutions at all. I just felt a bit soft and gentle about the new year coming. I just felt…fine. What's up with that?
As I was looking out the window contemplating the weirdness of not having any resolutions, I got an email from my friend Robyn Youkilis. It was like she was inside my brain.
She said…
"It's nice to ride the energy wave of other people feeling inspired, but what do you do when that's not resonating with you? How do you approach resolutions/goals/intentions when you have no clue what's to come, or when goal-setting simply doesn't feel authentic?
We can start by giving ourselves permission not to jump in with new visions and intentions, that we may be in a place where we want to just feel grounded and cozy before springing forward, and that's okay. Trust that when the time is right for you to set new intentions, you'll hear that inner voice speak up." 
I texted Robyn immediately to say thank you for writing that (and she mentioned a bunch of other people had been responding with their thank yous, too).
I really liked this because the truth is, a ton happened in 2015 — in the month of December alone I was in Chicago, Boston, New York, Vancouver, Seattle and Portland! Whew. When 2016 rolled around, I wasn't feeling inspired to jump on my usual energy-fueled resolution train. I felt like I needed to rest.
I have no idea what's going to happen this year. Do I want it to be wonderful, full of adventure and love? Of course. Do I want to do some great work outs, go on beautiful runs, stay hydrated and eat foods that make me feel good? Of course. Do I want to write inspired and useful content, create new revenue streams, travel, explore and always be learning? Yes, yes, yes. I have plenty of DESIRES… I just don't have a specific way in my mind (yet?) that I want/need it all to go. There are so many ways this year could go — I don't want to even pretend I have it all figured out. :) I just want to treat myself well. Is that a resolution?
I've been writing every day this year so far, but I've been doing it quietly, more for myself than to declare it as a writing challenge. I've been eating beautiful foods and making new recipes and choosing things that feel good to my body, but I'm not exclaiming at the top of my lungs that I'm on a specific plan. I went on a run outside the other day and I didn't even track how many miles I ran.
And…
That's ok. It's gotta be. :)
I'm realizing that just because I'm not blasting through some epic list of resolutions doesn't mean I can't take care of myself, gently and quietly.
There's nothing for me to rebel against. And that feels sort of nice.
Because I also know myself, and I know the time will come again where I'll be ready to jump into a new challenge or do my Rapid Reset and I'll love every second of that too. Maybe that will even be tomorrow. You never know.
I just wanted to put this out there for anyone else who wasn't feeling the call to revamp all of life right now, to let you know you're not alone, because I've been weirded out that I feel this way and I'm willing to bet some of you feel the same way.
And if you ARE rocking out with some big resolutions in January? That's freaking awesome too. Always.
What's your new year energy like so far? Are you feeling more like taking it slow, and gently easing into things that make you feel good, or are you loving making some serious commitments to big changes?
I wanna hear.
Hugs and mugs (of tea),
Jenny