The other day, one of my closest friends (and hormone expert) Nicole Jardim and I were hanging out at the World Domination Summit in Portland, just talkin' bout things like dominating the world, birth control and cervical fluid (totally normal). She had so many insanely brilliant insights to share, we decided to jam about it on a video. You guys know making videos terrifies me but in the name of the comfort zone crusade, I made a video for you. A 30 minute video. Let's just stay in the judge-free zone about how much of a nerd I look and sound like. OK?!?! PLEASE!!!! THANKS.
In the video, Nicole and I talk about the birth control pill and how harmful it can be to mess with your hormones. We go into some specifics about other forms of birth control she recommends, and we talk about the fact that so many women are on the pill just for PMS symptoms alone — and that all of that can be fixed naturally. Baller, right?
2 Virgos talking about sex. Who would have thought!?
Ok. Here goes. In celebration of Nicole's Fix Your PMS program (only 50 spots available!!!)…. let's dive in. :)
Watch video below or link to video here.

Things Nicole said in the video if you're too lazy to watch it:
"It's the default for doctors to prescribe birth control pills now – to girls as young as 13 and 14.
Our brains are talking to our ovaries on a daily basis (your hypothalamus is telling your ovaries to ovulate every month), and birth control stops that conversation. If it's been stopped for a long time, it's difficult to get the conversation started again. When you're on the pill, you're stopping biology from happening.
If your body hasn't been ovulating for a long period of time, there are a lot of issues with that. You end up having low estrogen and low progesterone – the most important hormones you need to get/stay pregnant.
The birth control pill affects your gut function. It has an antibiotic effect. A lot of people don't realize that. That's why so many women on the pill have yeast infections. The pill is causing yeast overgrowth. If you are on the pill, make sure you take probiotics and eat probiotic rich foods.
The pill can cause depression and mood issues, because it blocks absorption of vitamins that produce serotonin. The pill prevents b-complex vitamins, magnesium and zinc from being absorbed properly – which is why so many women on the pill are vitamin deficient and depressed.
The pill lowers your sex drive — maybe permanently. The pill lowers all your hormones, so your body isn't producing progesterone and not very much estrogen (becauase you're getting it from the pill). The pill raises "sex hormone binding globulin" – which binds to your testosterone (responsible for sex drive) and the testosterone isn't usable by your body. Women on the pill can have 200-700% more SHBG than women off the pill, which means sex drives in women on the pill are much lower. When SHBG goes up, testosterone goes down. This can be permanent.
The birth control pill can cause clitoral shrinkage. It can shrink up to 15%. Not good, people!!
Your hormones are the chemical messengers in your body and are tied to every bodily function.
Other symptoms of hormonal imbalance: PMS, mood issues, frequent meltdowns/breakdowns, being weepy/teary throughout your cycle, depression, breast tenderness, heavy periods, painful periods, spotting during cycle, endometriosis, fibroids.
Getting off the pill? Finish out your pack and then start to track your cycle. Get an app on your phone.
Fix your diet. When you come off the pill, your hormones are super low. You will need a lot of nutrient dense foods to build that back up. A paleo type of diet — lots of leafy greens, lots of coconut oil, grass-fed butter, organ meats, and pasture-raised meats and eggs can really help hormones to get where they need to be.
Nicole's recommended birth control method: I practice the fertility awareness method. I've been doing it for 10 years and haven't gotten pregnant. It involves taking your basal body temperature when you wake up, observing your cervical fluid (it changes throughout the month), and checking cervical position. Your temperature will be low in the first half of your cycle and higher temperatures in the second half, and you can figure out when you're ovulating.
The thermometer Nicole recommends
Your egg survives for 12, maybe 24 hours in any given cycle, so technically, you can only get pregnant on one day per month. Sperm can live inside us for up to 5-7 days, so that's a consideration that everyone has to remember. Then you have more of a 7-day window that you could potentially get pregnant. It depends on when you ovulate, but I use condoms between days 10-17 of my cycle.
This method takes practice! It takes about 3-4 months to get comfortable and start seeing a pattern. And it requires a bit of a paradigm shift. Understanding your body and having this kind of body literacy is just incredible, it gives you so much data on yourself.
Another option would be condoms. Nobody likes them but they're pretty fail safe.
What about the IUD? It's a tiny coil implanted in your cervix. There are 2 kinds — the hormonal one, and the copper one. Copper is toxic to sperm, which is why it works. If I were to recommend one of the 2, it would be the copper one because I don't believe in manipulating your hormones. You have to go and get it put in, you can't put it in yourself. It can be anywhere from $700-$1000. Some women have IUDs that go astray and have to be surgically removed, which can cause scarring and tissue damage, and too much copper can also be toxic in large amounts. Some women do have a great experience with it and it's very effective, but I just want women to be aware there can be side effects.
Free Videos about Hormonal Health
The pull out method is actually over 96% effective if used correctly. There is no live sperm in pre-ejaculate, so you can't get pregnant from that. If you have sex twice, you'll want him to go to the bathroom first so you don't get pregnant from leftover sperm. (#omg)
The pull out method, coupled with fertility awareness, and using condoms during your fertile period is really effective.
The depo-provera shot — you can get allergic reactions, heavy bleeding, stopping your period completely, etc. I haven't heard from women who have had a good experience with it.
A "fem cap" is another option — a cervical cap like a diaphragm – I do know that it can be pretty effective, and there are no hormones. It just blocks the entrance to your cervix. You have to insert and remove it every time you have sex."
I emailed Nicole shortly after our interview to ask about the Nuva ring — she said – "It's another form of hormonal birth control that manipulates your natural, biological functions – I've seen a lot of girls take it when they are younger without issues but then as you get into your late 20's and 30's it has a much more negative effect. No good!"
THANK YOU NICOLE!!!!!! WOW. You rule so hard. So much awesome info! If you guys have any questions, let us know in the comments and we'll hook you up.
Nicole's Picks for Best Period/Fertility Apps
Thermometer for Fertility Awareness Method
Want more from Nicole?
Free Videos on Hormonal Health
PMS Program — Fix Your PMS Naturally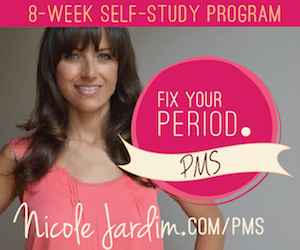 ONLY 50 SPOTS AVAILABLE – registration closes July 31 or when program is full
Get a bomb ass 30% discount on the program + 3 free live calls if you register by July 28th
Register now and kiss your PMS goodbye!!!
 Get on a free call with Nicole this Friday to learn more!
What do you guys think? I know peeps have opinions on birth control. Strong ones. So lemme know. I'm learning too. :)