At The Omega Institute's Being Yoga conference, I had the pleasure of taking an awesome 2 hour class with Sharon Gannon and David Life, the founders of Jivamukti Yoga. The class was called "The Wild Child of Yoga." I had at least a slight idea of what to expect since I'd been practicing a little bit at Jivamukti in NYC, but their class was totally next level.
David Life started out the class telling us a story about how all beings on the planet are connected, and drove the concept home that we should strive to live in wild harmony with nature instead of exploiting it. To really help this sink in for us, they played music with different animal sounds – very loudly – throughout the whole class – I seriously felt like we were practicing in the middle of the jungle! It was out of control. In a good way.
We began the class with this mantra:
"May all beings everywhere be happy and free, and may the thoughts and actions of my own life contribute to that happiness in some way."
Good, right?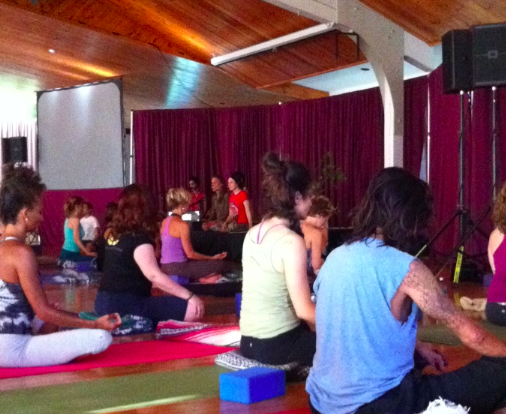 Sharon and David went on to say that practicing yoga means reclaiming our own wildness. Breaking down the barriers that stand between us and nature…breaking the assumption that humans are better than every other species and that we own the earth. When you own something, you can exploit it (i.e. the earth, air, water, animals, soil). Through yoga, they said, you can rediscover a universal language and begin to heal this relationship.
"You know there's a better way to live — with courage and compassion. The noble one teaches by example and sets standards." -Sharon Gannon
At Jivamukti, they advocate for a lifestyle that is happy, wild and free and also contributes to the happiness, wildness and freedom for others. Some people have commented to me that they don't totally resonate with Jivamukti because it promotes non-harming of all animals and they don't want to be a vegan. Here's the thing about that. You don't have to think of things in such extremes in order to live a more wild, compassionate life that's more in harmony nature. You can simply become more mindful about your habits and consumption, and make the highest quality choices for yourself and the planet – whatever that looks like for you. As with any practice – physical, spiritual, whatever – take from it what works for you. :)
Jivamukti. I'm into it.
Learn more about the teachings of Jivamukti Yoga
Check out the book: Jivamukti Yoga: Practices for Liberating Body & Soul