You know by now that what we put ON our bodies is just as important as what we put IN our bodies. (If you don't know that, check out my post on Green Beauty for more about why healthy, natural products is the way to go).
I'll admit – when I think about using organic products, I always tend to think of beauty products and food – I don't always remember that things we use every day, like TOWELS, should be picked out with tender loving care too! We use towels every day, so it's a good idea to purchase towels that aren't made with harsh chemicals. That's why I was really excited to find out about Kind Organic Towels by Joel Fitzpatrick.

These towels are 100% organic cotton and colored with natural vegetable dyes. They also look really snazzy and chic.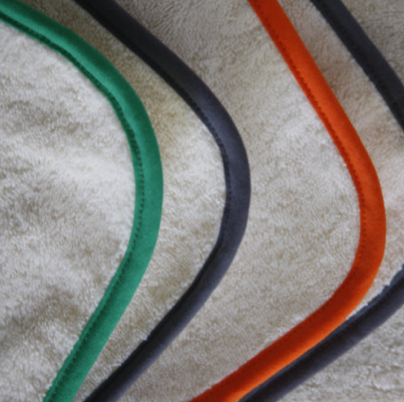 I tried them out – they're super soft and really brighten up my bathroom with that little burst of color. I love when you can really tell that someone puts a lot of thought and care into their products. That's how I felt when I first saw one of these towels. They're just plain cool. Period.
So of course I wanted to ask Joel a couple of questions, to find more about the eco-chic coolness behind the brand:
Jenny: What inspired you to create the Kind Organic Towels line?
Joel: I created the towels because I wanted to make something organic that actually looks good. Organic things tend to look muted and banal, so I wanted to make the towels really beautiful.  The green trimmed towels were the first design, so I designed them to be really bright and exuberant, and obviously "green" to be eco-friendly.
Jenny: You use 100% organic cotton, natural vegetable dyes for the coloring, and your towels are environmentally friendly. Why are these things important to consider when choosing towels?
Joel: Fabric dyes cause an incredible amount of pollution, especially in water.  Plus there can be up to 30 toxic chemicals for each dye used. Why would you use something that not only causes significant harm to the environment but could also cause harm to yourself? When you come out of the bath or shower, you're at your most vulnerable and should be surrounded by something totally pure, which is what the towels provide.
Aw! I love that. Ok, so bottom line, these organic towels are awesome, stylish and healthy for your body.
BUT – the best part is you can get them for 75% off with the code LUV75 at checkout! Get on it!