Cilantro. CILANTRO. Yes, I want to talk about cilantro.
Lately I've heard a few different people mention this controversial herb, and I figured it was time to do some further investigation. Cilantro, also known as Coriander, is a leafy green herb that likely brings 1 of 2 things to mind: It's either a mouth-watering citrusy taste that's a welcome addition to any Mexican dish, or… it's the equivalent of eating dish soap.
What gives? Why do some people LIVE for the stuff, and others won't get within 3 feet of it? Initially I wrote it off as just regular old difference of opinion – but now I realize that cilantro-haters are not messing around. They really, truly describe the experience of eating cilantro as "licking dish detergent," "eating a rotting gym sock," "biting on a soapy penny." Personally, I'm a huge fan of cilantro, so these descriptions really made my brain start ticking. There MUST be something going on here.
I did some research and found the following social network – IHateCilantro.com.
With 2,812 members, this site is waging a strong war against their enemy. There are testimonials, stories, HAIKUS ABOUT CILANTRO, and even a list of the various "tastes" people experience. You can't say these people aren't passionate about their cause!!
Shortly after, I came across this site (which says "IF YOU DON'T LOVE CILANTRO WITH ALL YOUR HEART I WILL FIGHT YOU")- this furthered my notion that there are definitely 2 sides to this battle.
So why cilantro? To stir up this much fuss, it can't be a simple matter of preference.
Is this genetic? Hereditary? Is there a missing (or extra) gene involved? Is it an allergy? Is one group further-evolved than the other? These are just a handful of theories that are floating around the internet.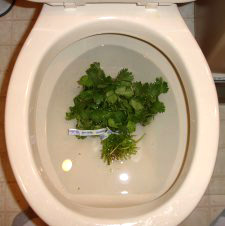 vs.
According to this article, there was a study done that strongly links cilantro to genetics based on fraternal/identical twins and whether they thought the taste was pleasant or not.
Unfortunately, it doesn't look like there has been any actual scientific genetic findings and right now it's doubtful that money will be spent on this venture. I guess I can understand that, although it's not the ideal. I wanna know! If anyone does have an update on this cilantro knowledge-quest, please let me know.
In the meantime, here are a couple of things lately that I've made with cilantro. I don't really use "amounts" in my recipes, so just play it by ear – don't be afraid, you can eyeball it, I know you can!
Lemon-cilantro rice:
rice
juice of 1 lemon
lots of cilantro
earth balance buttery spread (<–vegan. use butter if you want).
salt & pepper
Tofu/Cilantro Wontons:
wonton wrappers (my inspiration came from a pea-puff recipe- so this is what they should look like)
diced up tofu
a lot of cilantro
1 can of green chiles, diced
shredded mozzarella cheese/cream cheese (vegan or dairy, whatever you want).
1 egg white (to seal wonton wrapper – it's like glue! )
mix all this stuff together in a bowl until it makes a nice filling. put the filling on the center of the wonton wrapper. fold the wonton wrapper to look like this:
then fold each of the 3 corners in and seal with egg white..
Bake these for about 10 mins at 400 degrees, flip halfway through, cook until brown.
This is what mine looked like:
YUM!
Love you all!