If you're a fan of ABC's The Bachelor/Bachelor Pad, you're familiar with the lovely, sweet Tenley Molzahn. I was a big fan of Tenley when she first appeared as a contestant on The Bachelor (she totally got MY first impression rose!), but I liked her even more when I found out about her personal mission: to bring awareness to the gluten free lifestyle and help those suffering from gluten intolerence and celiac disease.
Tenley educates people about living without gluten in a way that feels happy and freeing. I love when people look at being healthy as giving ourselves a beautiful gift, rather than a burden — and that's exactly the energy that Tenley brings to everything she does! She's awesome.
I interviewed Tenley to find out more about her gluten free journey, and she's got some great insights to share. Read on for some of Tenley's best tips for living (and loving) your gluten free life!
How did you get started with the gluten free lifestyle?

Tenley: I had been sick my whole entire life, since the day I was born. I had been in and out of doctor's offices, the ER, had several tests done and was never given an answer of what was wrong with me. At age 24 I picked up a book about the gluten free diet, celiac disease, and gluten intolerance. All of the symptoms in the book were the same as what I had lived with, and the woman telling the story explained that with lack of medical research (no money in pharmaceuticals for this subject) many people had been misdiagnosed or stayed undiagnosed. This was a light bulb, I began my gluten free lifestyle that day and have felt better than I ever had. I had never known that my body could function "normal" because my old normal was awful but it was all that I had ever known. I will never eat gluten again (knowingly), even when I miss things because of how ill I get, it's not worth it. That's my story in a nutshell.
What are the top signs/symptoms of gluten intolerance that people should look out for?
T: The symptoms that I have been most affected by are gastro-intestinal problems (I'll spare you the details), fatigue, and malnutrition. Others will suffer from headaches, rashes, inflammatory problems, infertility issues, and the list goes on (sadly). Read more on gluten intolerance.
What health improvements have you experienced since going gluten free?
T: It's been night and day. I now have energy that I never had before and I have always been energetic, but now I feel like my body can actually keep up with itself! I finally have a normal digestive system and am free of the pain I lived with and many awkward moments that complicated my life- especially as a professional dancer, I have lived through some very inconvenient moments. I feel healthier, even when I used to eat "good" it was not food that was good for my body because I couldn't break it down and was malnourished. Now I feel "cleaner" inside and out!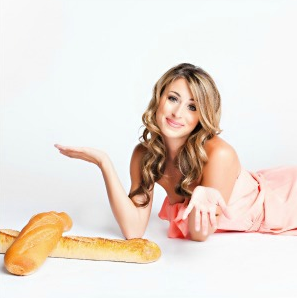 Do you have any tips and tricks for staying gluten free at restaurants?
T: Eating out is hard. Thankfully restaurants are becoming more educated, but the problems are still there because of cross-contamination. Restaurants still have gluten in their kitchens (unless it's a dedicated gluten-free restaurant), and sometime as hard as I try to order completely gluten free the servers and chefs make small mistakes that I would never know about- like touching bread and than using that same hand to plate my salad. Yep, that makes me sick. So my biggest tip is to stress to your server how intolerant you are or state that you actually have celiac disease. If you don't bring the awareness to them why it's so important that you are eating gluten free, they won't understand how serious it is to you. Also, I get everything cooked "clean" without marinades, dressings, etc. Often I use lemon for dressing at restaurants, and have my chicken grilled plain. When a gluten free menu is offered, I still make some changes. Usually I can tell how knowledgable a restaurant is by their gluten free menu and what they keep on it that shouldn't be on it. Be aware, ask questions, and when in doubt- order plain! Oh, and even though fries are potatoes, and should be gluten free, when they are deep fried in the same fryer as breaded things, then they are not gluten free!
What are your favorite gluten free meals to make at home?
T: I LOVE "Pasta-Less" Spaghetti!  I also love protein pancakes– I will eat these at any meal of the day, they are a healthy choice and so simple with very little ingredients. I have a lot of favorites, and it's a lot easier than people think to create gluten free foods that are good for you too!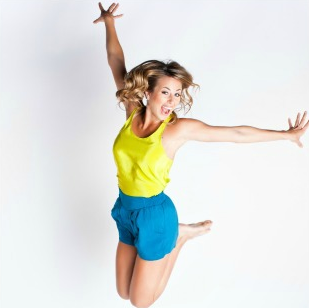 What are your favorite gluten free snack choices?
T: I often grab a handful of almonds and some dried fruit or a gluten free protein bar. But one of my favorites is apples and greek yogurt w/ cinnamon & stevia.
Anything you're currently working on that you want Healthy Crush readers to know about?
T: I have just launched my gluten free, healthy, and active lifestyle brand and website: www.SweetandFreeLife.com. I have so much to share from my own personal life from my gluten free story, recipes, tips on being g-free, fitness tips, and my favorite things like fashion and beauty!
Anything else you'd like to add?
One of the greatest things that has helped me a lot now that I eat gluten free is the nutrition plan I follow.  They have a gluten free plan that has helped teach me how to eat right so that I'm getting all the right nutrients into my body. I had a lot of re-learning to do as I became G-Free!

Make sure to check out Sweet and Free Life for more gluten free resources from Tenley! Connect with her on Facebook and Twitter.