Yesterday, I woke up feeling sick and run down, and, if we're being honest (and we are), pretty damn PMS-y. I had this plan in my mind to get a ton of work done, and do some great workout. I had the entire day free, so there was no excuse not to be as productive as humanly possible.
I'm not above pushing myself past my personal limits, but I was really, really tired. My body and mind and spirit were asking me for a break. I had my laptop out in front of me, but kept wanting to lay down on the couch and wrap myself in a blanket. I'd been feeling this way for a week and had been trying to push through it.
You should have heard the battle that was going on between my mind and my body about whether to work or take a nap. I can be a serious drill sergeant to myself sometimes. I can be a crazy perfectionist Virgo – it's a strong suit because it makes me wildly productive. But sometimes it gets pretty exhausting.
Finally, somehow, I surrendered. I let myself melt into the couch under a blanket and I let my eyes close. In that moment between being awake and asleep when I finally let go, it was as if my whole body smiled, filled with warmth and said "thank you."
Once I woke up from the nap, I didn't start working. Instead, I walked outside to the park with no agenda. It was the first sunny spring day in Brooklyn. I got a coffee at the local coffee shop in my neighborhood. I haven't "allowed myself" to have a coffee in months. I walked really slow. I sat in the sun. I watched people laughing and walking their dogs. I listened to my "effortless" playlist. I felt free and relaxed. And I got tears in my eyes (good ones!), because in that moment I remembered.
I remembered what it feels like to really fall in love, to really be in love, and what I really want romantic love to feel like. A warm blanket wrapped around me when I'm tired. A cup of coffee on a sunny Saturday afternoon in the park. Walking slow. The sound of an acoustic guitar. A warm smile that I can feel inside my entire body. Melting into ease. Melting into sunlight. A hot bath. Tenderness. Making brunch with the windows open and feeling the spring breeze. The feeling that everything else can wait.
I tend to get a lot of ideas in my mind about what I "want" in romantic love. You know. We all do. This guy is definitely the man for me, look at him, we're so much alike, it would just fit so perfectly, that's exactly what I want, I just love everything about him. He's totally my co-star. You know the elaborate fantasies we get about people that actually aren't based on feelings or real intimacy or mutual freedom, they are based on mind and ego stuff. How many times have you thought with every forceful little cell in your brain that you were meant to be with a specific person because it just made so much "sense" in your mind?
Yesterday in the park, I remembered that it's not about any of that. It's about a feeling. The way the love makes you feel, the way the love makes you exist differently in the world, the way it makes you walk through your life…with a greater sense of beauty and grace and ease and magic. You absolutely can't construct that feeling out of your over-analyzing mind, no matter how much you try to force it.
We can stay attached to our fantasy storylines for so long…until we meet a person who doesn't match exactly with our ideas of the perfect partner, but for some reason they just make our insides melt into a puddle. Love comes in like that.
I have this vision that comes up in my dreams…of being on an airplane sitting next to a man I love and putting my head on his shoulder and closing my eyes and feeling that same warmth through my body that I described during my nap yesterday. This man, in the dream, doesn't have a specific face or name or career or hobbies (other than, I guess, loving me and wanting to travel together). It's just a feeling.
When you really fall in love, it takes you to a place you can't justify with your brain and you can't accurately describe on paper. It's not forced and it doesn't need convincing. It's not competitive and there's nothing to prove. 
I remembered that yesterday by caring for myself. Letting myself off the hook and being that person for myself…the one who says, relax. It's ok to let go.
I don't really know why I'm writing this blog except for the fact that it feels important and I feel mushy. And I wanna write about love just as much as I wanna write about smoothies, so whatevs, I'm gonna.
I saw this sign in Barnes and Noble a few months ago. I didn't post it then, because I remember thinking "are my standards too high if I agree with this?" But the answer is no, fuck no. I don't have to tell you guys. Why settle for something that pacifies your mind but not your heart? It's like taking a job that pays well and looks good on paper but you don't feel passionate about. Your heart is gonna speak up and catch you red-handed sooner or later. You know that.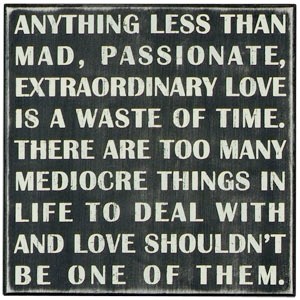 Ok, yeah. If you feel like a mushball now too, feel free to share some stuff in the comments. I like hearing the little sounds that come from inside your heart.
Thank God for PMS, it makes me write this kind of crap. It's like I have no choice in the matter.