About 5 days before I left for the Hanuman Festival last month, I started to feel a little sore throat. Uh oh. That's always the first sign of getting full-blown sick, right?
I took a day to rest, but the next day I woke up feeling like I got hit in the face with a Mack truck. I felt absolutely awful. I even had the thought "If I feel like this on Thursday, I can't go to Colorado." That absolutely wasn't happening, so I decided it was time for some serious action. I needed to heal, and needed to heal FAST. I wanted to be in tip top condition for this particular fest, and I had 2 other retreats to hit up directly afterwards (Wanderlust in Vermont and Kripalu). So, not a great time to get sick. I wasn't having it.
I'm a true fighter when it comes to getting sick. I don't just "accept it" and take medication to drown out my symptoms to hopefully feel some bit of relief for an hour. No way.
As one of my greatest teachers, Annemarie Colbin, says — taking medication/antibiotics when you have a cold is like kicking out the cleaning lady (your immune system) while she's cleaning. If you continuously kick the cleaning lady out while she's cleaning and let drugs take over, after awhile she stops working so hard to heal the body naturally (i.e. you suppress your immune system).
Ponder this. What if instead of kicking out the cleaning lady while she's working, you gave her even more awesome cleaning products and a kick-ass support team so she could get the job done quicker and more efficiently?! I freaking love that concept, and I decided to try it.
I knew it was time to give my internal cleaning lady as much support and nourishment as possible.
This incredibly nourishing and immune-boosting green juice was part of my daily repertoire when I was healing. Along with this garlic soup.
Andddd, I admit, I did a whole crazy amount of other things too. I sat in an infrared sauna, got a colonic, got shot up with an IV of glutathione and B vitamins (what needle phobia?), slept, and took Chinese herbs. I'm NUTS, and I don't mess around. I called that week "Extreme Makeover: Healing Edition." But it worked. I left for Colorado feeling 95% better, and extremely proud of myself.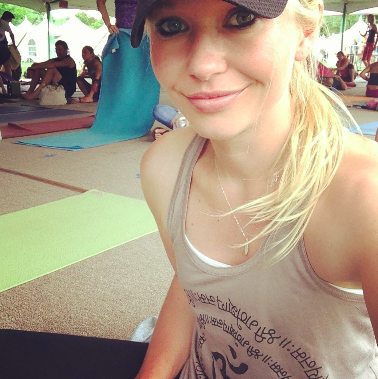 (BTW – most people I spoke to during this time were like "Jenny, you should just be resting." So if you're about to leave a comment saying that, yeah, I got it, already heard it 100 times, but I did my thing, and it worked, so shh).
Anyway, the whole point of this is to share my green juice recipe with you. There's something extremely special about it. Get ready…it has OLIVE OIL in it.
What! Olive oil in a juice? Why? Well, when I was in London last year, every time I got a green juice at Joe & the Juice they would blend it in a blender with olive oil. "Helps your body absorb the nutrients better," the barista told me. The more I learned about vitamins, the more I realized that some are fat soluble (A, E, D & K) – meaning they are absorbed more properly when taken with fat. In order to maximize my potential vitamin intake (why wouldn't I?), I went for it. It's really cool to do this, in my opinion, and tastes absolutely delicious.
What else about this juice is so supportive to our beloved internal cleaning lady?
Ginger and cayenne are super immune boosting. Lemon, lime and orange give us a nice supportive boost of Vitamin C. Cucumbers hydrate you, always important for the best health. Greens…I don't need to go into it, just read more here.
Immune Boosting Green Juice Recipe (makes about 16 oz of juice) 
2 cups kale or spinach
1 teaspoon olive oil
1 pinch cayenne
4 inches ginger (or more, as much as you can handle)
2 cucumbers
2 lemons
2 limes
1 orange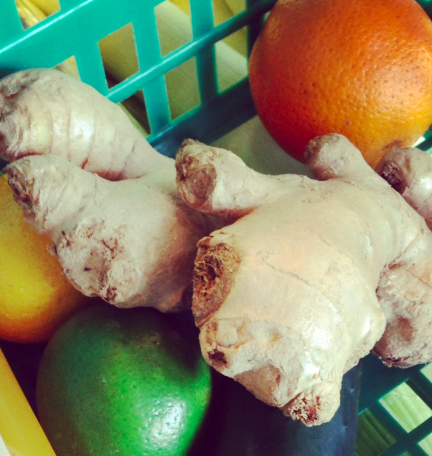 Juice the greens, ginger, cucumbers, lemon, lime and orange in a juicer.
Add the juice to your blender with the olive oil and cayenne, and blend.
Drink and HEAL!
This juice is even better when you pair it with garlic soup, with crazytown amounts of garlic. Double the garlic, in fact.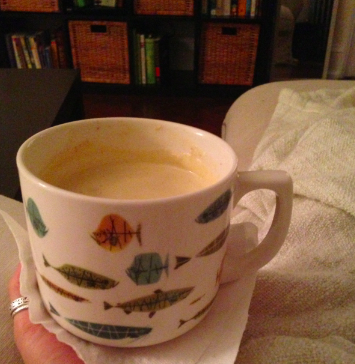 The cleaning lady will be so thrilled!

Whew. That's all for now. Love you guys.