About 2 hours north of Manhattan lies an oasis of serenity. It's one of my favorite places on Earth, and it's called the Omega Institute. I've written about Omega before, but it's time for me to express my love again.
The Omega Institute is a holistic wellness retreat center that sits on a campus of rolling green hills and a breathtaking natural landscape. There's a gorgeous lake available for swimming, kayaking, canoeing, or just relaxing and taking in the scenery. Coming to Omega from the busy streets of Manhattan always gives me an immediate feeling of peace.
At Omega, you can opt to take a workshop with one of the incredible workshop teachers. Two weekend workshops I've taken that I've particularly LOVED were The Artist's Way with Julia Cameron, and Omega Cooking Series (Vegetarian Cooking). Check out the workshops here for the most educational and transformative way to experience Omega.
If you'd rather take some time to relax, Omega offers R&R Retreats as well. They offer wonderful optional activities to take part in if you decide to do an R&R. These retreats are the perfect answer to a stressful, fast-paced lifestyle. You can take a yoga, tai chi, or guided meditation class every day. They also offer extra activities exclusively for R&R participants, like Reiki classes and movies.  Trust me, you'll leave the campus feeling completely at ease!
One of my favorite things about Omega is, of course, the food. The Omega Dining Hall serves three amazing vegetarian meals every day.  According to Omega's site, they serve vegetarian food because "A vegetarian diet fulfills one of Omega's core values—sustainability. It consumes the least resources of any other diet, leaving the smallest carbon footprint possible." Awesome! They also donate the leftover food to local community outreach organizations.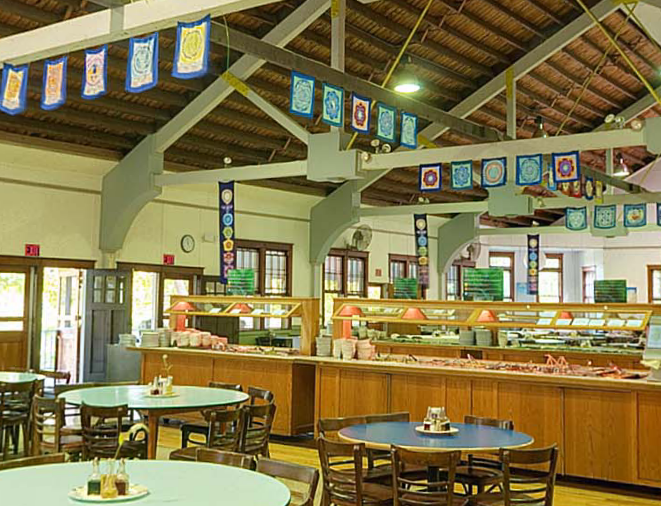 They serve food from local farms and always have vegan options – along with an "essentials" bar that serves plain greens, whole grains and beans. The food is pure love, I'm telling you.
So next time you're in need of a healthy, peaceful, rejuvenating weekend getaway (or a week! indulge!), consider heading to Rhinebeck, NY to the Omega Institute. I'm willing to bet it'll quickly become one of your all-time favorite places, too.