October is the month for all things pumpkin! These sweet, rich pumpkin muffins are the perfect way to celebrate the autumn months & chilly air.
I took a "regular" pumpkin muffin recipe and swapped out all of the ingredients for healthier ones. There are no dairy products in these muffins! You can use whatever flour, sugar, or oil you prefer, but here I am using spelt flour, coconut palm sugar and coconut oil – and they came out delicious!
Note on the "pumpkin pie spice" ingredient below — I used Trader Joe's pumpkin pie spice, but you can simply use a mixture of cinnamon, ginger, cloves, nutmeg and cardamom. Cinnamon should be the most prevalent ingredient.
Ingredients (makes 12 muffins):
2 cups spelt flour
1 cup coconut palm sugar
1 1/2 tsp baking soda
1 tsp salt
1 tbsp pumpkin pie spice
1 can organic pumpkin (15 oz)
1/4 cup almond milk
1/3 cup maple syrup
1/3 cup coconut oil
1 tbsp vanilla
OPTIONAL ingredient: chocolate chips — I used grain-sweetened dark chocolate chips from Sunspire
Pre-heat oven to 350. Grease muffin tins w/ a little coconut oil or use paper liners.
Combine all dry ingredients in a bowl — flour, sugar, baking soda, salt and pumpkin pie spices.
Combine all wet ingredients in a separate bowl – pumpkin, almond milk, maple syrup, coconut oil and vanilla.
Add dry mixture to wet mixture and mix well. Pour into muffin tins.
If using chocolate chips, top your muffins with a few chocolate chips. I made 6 chocolate chip muffins & 6 plain.
Bake 30 mins.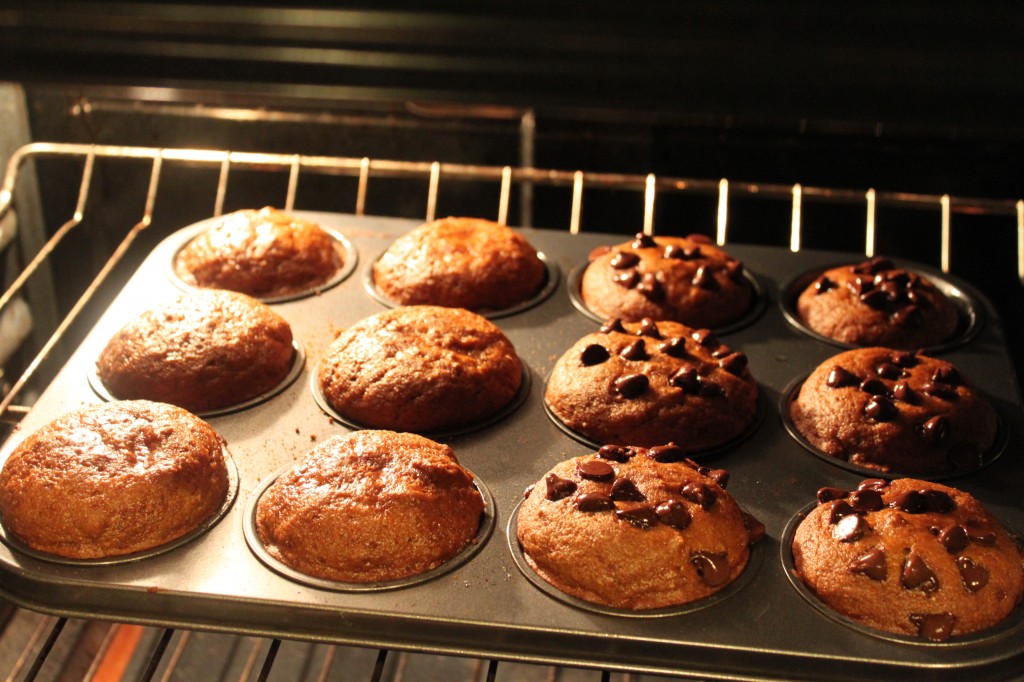 Enjoy! Happy October!