When I saw the name of this class on the list of choices at the Being Yoga Conference at Omega, I knew 2 things.
1) I definitely had to take it, even though I felt resistance to taking it.
2) My new Jade mat would probably be soaking up a few tears.
Yeah. This class was as intense as I imagined it would be. Nestled in a secluded cabin down by the lake, with the sun shining in the windows and birds chirping outside, a big group gathered to listen to Seane Corn talk about heartbreak and healing through yoga. For the first half of the class we had a discussion, and for the second half we practiced.
I did pretty well for the first little bit of class. Seane spoke about losing her father, and others shared about what they had lost. I felt a lot of compassion for them, but was impressed with how well I was holding myself together and thought maybe I wouldn't be too emotionally affected after all. Cool. Smooth sailing. Until Seane said this-
"Sometimes things in life happen that are incomprehensible to the body. Even if your rational mind is prepared, your body feels blindsided and feels the assault. Your mind gets it, you might logically understand or even be grateful…but there's a big 'f*ck you' inside your body that needs to be released. You can't just process grief in your mind, you must process it physically. "
Oh sh*t. Here we go. Pass the tissues. This I knew was true. When my relationship of almost 4 years came to an end a few months ago, my rational mind was all over it. I was at least somewhat mentally prepared for it, had been thinking it over for months, had come to the realization that it probably made sense, could put it on paper and analyze it and do all the calculations. My body, on the other hand, was a completely different story. As soon as the breakup actually happened, my body "felt the assault." I got extremely physically sick. And I NEVER get sick. I couldn't sleep through the night for weeks, I was on the couch with the worst cough I'd ever experienced, my entire body hurt, I couldn't eat and I cried through entire days without a break.
Yeah, I know, all of that doesn't sound very cute or cool. I could sit here and pretend that I just immediately dusted myself off and went on my merry way- but being honest, raw and real is a priority for me now. Why? Because these feelings aren't just mine. This stuff is UNIVERSAL. The more we're forthcoming about what's really going on, the more we bring this stuff to the surface, the more we create space for others to express their own truth and feel it's safe to do so. So in that sense, I feel obligated. For you. :)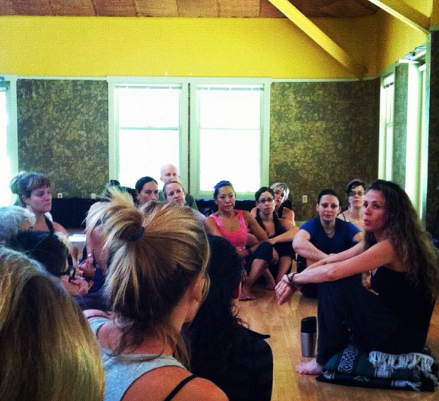 So to paraphrase some of what Seane said in class, everyone has grief. It's a natural part of the experience of what it's like to be in the world. Most people don't feel comfortable expressing it, so we shut down and disconnect. Most of the time we try to pretend we're totally peachy, while the pain swirls around inside our bodies and manifests as anxiety, stress, tension, depression, disease and addictions. Yep. And that ain't fun. The tension can make us very sick.
The grief gets stuck in our system – and yoga can bring that energy up and out. There is no disconnection between the body and mind in yoga, so as we stretch we release tension, begin to let go of attachment, and move into accepting what is. As we move through the acknowledgment of truth, we work through layers of grief, like we're "rinsing" our emotions. Your yoga practice will start to help you find space for these emotions in order to release them.
Practicing yoga, along with other forms of self-care like meditation, prayer, a nourishing diet, and connecting and sharing with others, can help us to open, cleanse and transform.
At the end of the class, Seane said — "Before we can truly experience deep compassionate love, we must experience the opposite. Even in joy, there is devastation. If you feel THAT bad, it means you loved THAT big."
OH man, yep, tears on the mat again. My body felt that one. I know you guys feel that too.
Some last parting words from Seane:
"Don't pretend you're supposed to be anywhere else but where you are. This is why it's called the warrior's journey. It takes courage."
When I first came to yoga, I didn't realize I was coming for any type of emotional healing. Didn't plan for that at all. Just thought I'd get a little flexible and have some cool classes to go to. But I was in for quite a ride….
Bottom line, just do yoga as much as you freaking can. Ok? This is important stuff here.
I'm sorry for such a ridiculously emo blog post but I'm just FEELING this today.  I swear my next one will be about something more fun.
Oh, and P.S: I've mentioned this a million times, but READ THIS BOOK, by the founder of the Omega Institute, Elizabeth Lesser. Broken Open.
Love you guys. For real.
-J