Hi there, travel crushers.
I just got home from my 2nd car rental with Silvercar.
While I was making the 90 minute drive from Connecticut to Brooklyn, I was having such an awesome experience, I almost pulled over to the side of the road to call customer service. I'm not joking. I knew I was going to write this blog as soon as I got home, so I wanted to call them and see if I could get a coupon code for you guys (hang tight on that).

Here's the reason I'm writing this blog.
On my drive in the lovely Silvercar, I had it connected to my bluetooth and was listening to a podcast. I'm embarrassed to say which one, because you guys will think I'm so predictable. (Ok fine, it was Tim Ferriss. This episode).
Either way – on the podcast, there was a part where someone mentioned the idea of solving problems with your writing, and I thought, "Hmmm, solving problems. How can I help solve more problems? Well, Silvercar definitely solved the car rental problem in NYC!" 
So this blog post is me helping solve the problem of people Googling "how to rent a car in NYC in the least annoying way possible." I heard about Silvercar through word of mouth (thank you Jeanne and Joel!), not the internet, and I searched a lot.
So, you lucky car-less NYC dwellers, I hope you're Googling, and I hope you found this!
One of my favorite things about blogging is the thought that someone might be Googling a question that I can help solve. Isn't that exciting!? Like this very important question, for example.
So here we go.
The NYC Rental Car Situation
I've lived in NYC for over 10 years now, and everyone knows you don't need a car in NYC to get around.
Everyone who has lived in NYC car-less knows – renting a car for those rare occasions where you want to drive out of the city for the weekend has historically been…well, frustrating and expensive and time-consuming, to put it lightly. 
Prices and availability for rental cars in NYC are usually insane because:
1) Most people in NYC don't have cars, so the more popular rental times (holidays, weekends) often find rental car companies with limited inventory 
2) There's limited inventory in general – sprawling amounts of space for rental cars is not NYC's best asset. ;)  
Doing a search in NYC for a last minute car when you need one and finding nothing under $200/day can be a shock to your system, especially if you're used to a place like San Diego, for instance, where there's so much space for cars available, and everyone generally already has cars…you can get them for less than $20/day.
Yes, you can get a slightly better deal if you rent from any of the NYC airports, but who wants to go all the way to the airport to get a car (if you aren't already at the airport) – let alone Jersey City or Connecticut, where some people say they go to get better rental car deals… Ain't nobody got time for that!
For me, convenience is key and spending half the day searching the world for my rental car seems very inefficient.
Why Zipcar Didn't Work For What I Needed
Some people have told me to try a car share service like Zipcar, where cars are parked along the sides of the road and you can pick them up as you like. I enjoy this concept in theory, and have had great success with Car2Go for short trips (such as to drop stuff off at Salvation Army, but not much further than that, because there's a distance limit).
I was hopeful about Zipcar, but there's a place where it really fails for me. And that's in the sign-up process.
I tend to do things fairly last minute, and recently I wanted to get a rental car for somewhere I needed to be in 2 days.
After scouring the internet for possible car rentals and coming up empty aside from going to the airport or Hoboken to pick up a car (what!?), I decided to try registering for a Zipcar account. I thought I had figured out the solution.
But…
Here's the catch. Once you're approved for Zipcar, you have to WAIT TO GET YOUR CARD IN THE MAIL before you can rent a car. There is absolutely no way around it. Although you can unlock the cars with your Zipcar app, you can't do it for your first trip. This means if you're a first-time user, it's definitely not the solution if you need a car within the next couple days. I think having to wait a week for your card to come in the mail before you can rent a car is an epic fail. Things need to be more instant these days. And I'm not even a millennial!!!! (I'm a Xennial). ;)
Although the "need things to happen instantly" thing could be considered generational and a symptom of the digital world, it's definitely a quality that New Yorkers have, just because of the nature of New York. Everything's fast here. Car rental has needed to catch up, majorly.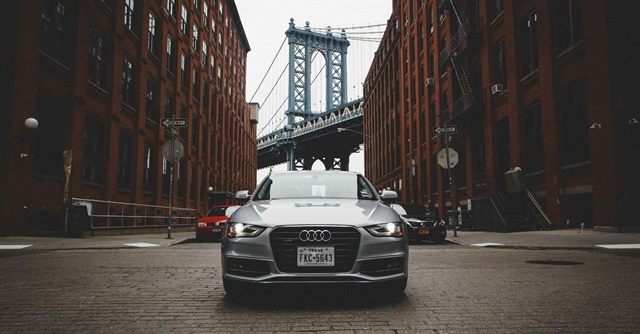 ENTER SILVERCAR
Silvercar is like a breath of fresh, sparkling, silver-lined air compared to any of the other options in NYC, or any other place I've rented a car for that matter. Why? Because you can sign up instantly (with your drivers license and credit card) and you can RESERVE THE CAR WITH AN APP. Then you simply just go pick it up from the parking garage where it's located, where the always-friendly Silvercar parking attendant is waiting for you with the keys.
There are no forms to fill out. 
No lines to wait in. 
Silvercar asks you to send them a quick text when you're 10 minutes away, and the car is waiting for you. 
You scan the code on the front of the car with your Silvercar app, and your trip has started.
When you return it, you simply drive back to the parking garage, leave the car with the garage attendant, smile, and walk away.
30 seconds after you walk away, you are emailed a receipt for your trip.
It's sleek, it's efficient, it's seamless.
Oh — and did I mention it's always an Audi?!
This is the future. The future is reserving rental cars on apps and not walking into a grungy rental store and waiting in line for hours behind a line of tired people, getting in a mini-argument with the guy at the counter about why you don't need ALL THOSE EXTRA INSURANCES, and then getting into a questionable car that doesn't even have a USB charger.
Silvercar is so efficient and so easy. I keep walking away from my rental cars thinking "that was amazing."
We're renting one for this upcoming weekend and I am actually getting excited just to pick up the car. When have you ever felt that way about renting a car, especially in New York City?!
I'm completely sold.
I just had my rental car for a full day, with a totally wonderful and non-frustrating experience, for $86 (base price was $69 + NYC car rental tax). I know that price is high for other cities but for NYC? That's damn good.
I used my Chase Sapphire credit card for the insurance coverage, so I didn't choose anything extra. The best part? You can choose or deny insurance coverage with one click of a button and there's nobody behind the counter to try and sell you anything else. 
I'm not saying Silvercar is always the cheapest option (depending on the day and location the prices will vary), but the amount of time and hassle you save is so worth it. 
You can find your location at Silvercar.com and start a new reservation to check the prices for the different dates in different cities. 
For me, a company has really solved a problem when they've taken an experience I usually equate with frustration, time-sucking and annoyance, and they've turned it into something I actually GET EXCITED ABOUT.
Silvercar, this is a win. You are a win.

Here are all the Silvercar locations. In NYC, there are 2 in Brooklyn (Downtown and Williamsburg) and one in Manhattan (42nd street).
New Yorkers, consider yourself saved from car rental hassles. (I'm sure it's epic in other cities too, but I definitely feel a huge difference here in New York).
Just sent them some love on Twitter and I was loved back quickly. Another good sign. :)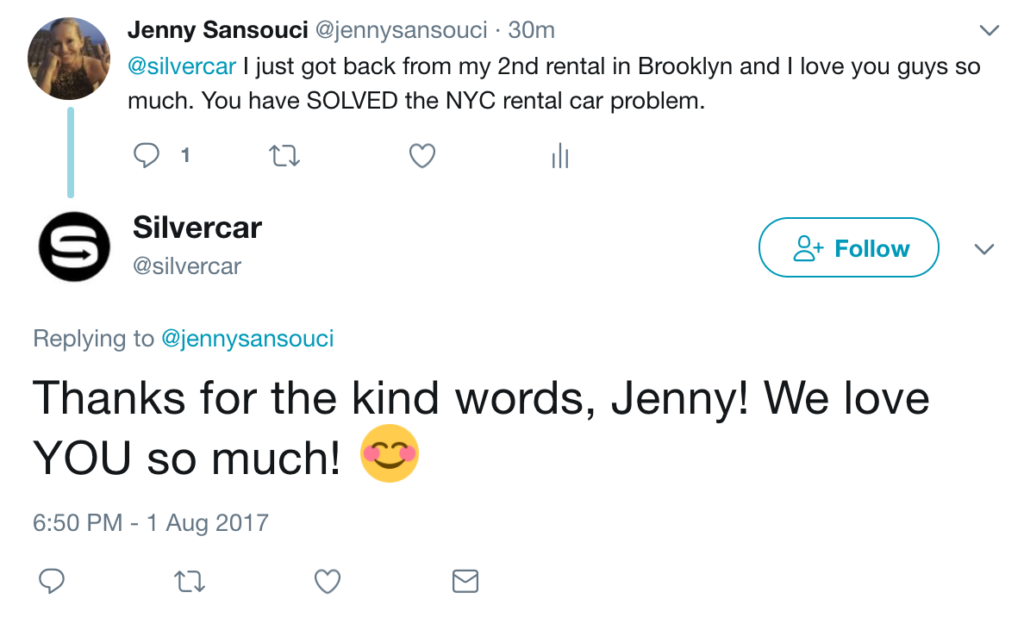 It turns out they do have a referral program, where you can get $25 back after your first rental, if you enter Silvercar Promo Code: CPHESBJX when you sign up.
Re-reading and editing this post is almost enough to make me go buy a car. ;)
But in the meantime…
Silvercar.
Love and car-rental bliss,
Jenny