​"If you have knowledge, let others light their candles in it." -Margaret Fuller
Hey guys!!
It's a really exciting day over here. The moment we've all been waiting for — for Gabby Bernstein's Spirit Junkie Masterclass to go DIGITAL, is finally here!

Why is this such great news? Well, when Gabby created the Spirit Junkie Masterclass Level 1 and Level 2 programs (both of which I'm a graduate of), it was previously only open to people who could attend the live event. Now it's open to everyone, in a digital program!!! This is the coolest news ever.
Who is Gabrielle Bernstein?
Gabrielle is a New York Times bestselling author, motivational speaker and the founder of the incredible Spirit Junkie Masterclass training, where she teaches others to build a massively successful career through their healing work. She's also been my personal mentor and best friend for 8 years, so I've been by her side to see her career grow. Trust me — this training is an absolute gift to anyone who experiences it! 
I met Gabby in 2007 when I needed some major fine-tuning in my life. Since then she's been my coach, my mentor, my sister, and my friend. Her presence in my life has been one of the GREATEST miracles – I've learned so much from her – and the fact that she's sharing everything in Spirit Junkie Masterclass Digital is going to be completely life-changing for anyone who enrolls! I personally feel very connected to this program because I've watched every step of Gabby's career transform and flourish, and she puts her heart and soul into every single word she teaches.
It's actually kind of difficult for me to put into words the magic you'll learn in this program, because I truly can't imagine my life without the wisdom that Gabrielle teaches. 
Here we are through the years…!!!! :)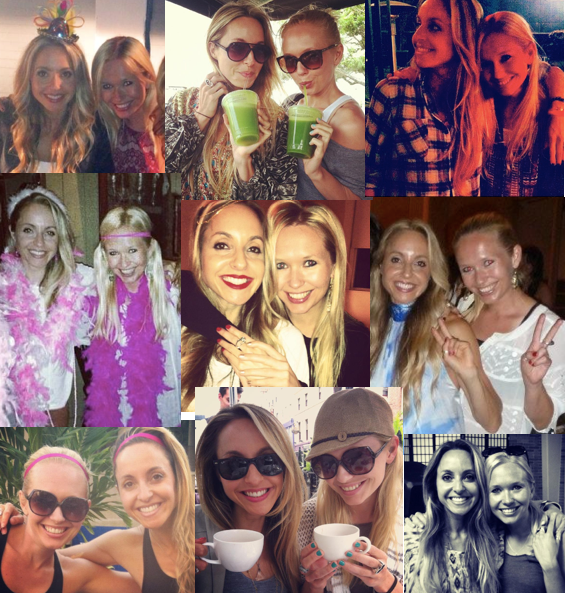 An 8-week online training course taught by Gabrielle Bernstein — for coaches, trainers, teachers and healers — or ANYONE who has the desire to spread a powerful message in the world through their work
A course that gives you the tools to elevate your brand, take your business to the next level, and serve the world
Step-by-step guidance on the practicalities of running a business, building your public speaking platform, leading large groups, publicizing your brand, publishing books and much more
This course caters to your personal learning style so you can follow it through video, audio or transcription
A life-changing, game-changing experience!
A clip from Spirit Junkie Masterclass…I get chills when I watch this:
How to step into your power as an authentic leader

How to be a clear channel for bringing inspired information into the world

How your personal life story can help others

How to create inspired content, books, digital courses and more

How to earn abundant money for your healing work (and be unapologetic about your earning capacity)

How to manifest media placements for your message 

Gabrielle will give you the play-by-play of how she created her incredible career, helping millions of people and building a hugely successful business
I've been working very closely with Gabby for almost 9 years – I've traveled around the world with her, going to countless events and learning the ins and outs of her entire business. The Spirit Junkie Masterclass is like taking all of that priceless, inside information I've learned on those long drives, plane flights and sleepovers with Gabby…put into an incredible online spiritual business training course.

Gabby is a POWERHOUSE spiritual businesswoman, like nothing I've ever seen before. Ever. And you will learn the ins and outs of how she runs her business in the

Spirit Junkie Masterclass Digital program.
Everything I've done to build Healthy Crush into the business and lifestyle I have today has been the result of what I've learned from Gabby – and it keeps getting better.

Here's another clip from a Spirit Junkie Masterclass session that I was in…makes me tear up watching it!!
So good! Learn more about Spirit Junkie Masterclass Digital and if it's for you.

If you missed the free training videos Gabrielle released over the last couple of weeks, here they are – this will give you a great sense of the concepts you'll learn in Spirit Junkie Masterclass.
Video 1:

Stop Holding Yourself Back From Following Your Purpose

Video 2:

Turn Your Purpose Into Your Paycheck

Video 3:

Attract Media Coverage For Your Message
Are you ready to rock!?
If you know you're ready to enroll…
I have some AMAZINGGGG bonuses to give you if I do say so myself!!! If you're ready to enroll in Spirit Junkie Masterclass and create a lifestyle that's beyond your wildest dreams (like I have, from working with Gabby for so many years!), you will love this!!! 
HEALTHY CRUSH BONUS!!!
for new Spirit Junkie Masterclass students:
What you'll get if you enroll in Spirit Junkie Masterclass through this link today:
My Dream Lifestyle Package (SUPERCHARGED VERSION) (Spirit Junkie Masterclass Bonus) will help you…
Make Money While You Sleep: Guide to Passive Income + Monetizing Your Blog


Travel For Free

: A 101 Guide To Booking Your First Free International Trip (and beyond!)

Feel Amazing: The Perfect 1-Day Reset Cleanse — a step-by-step, morning-to-night guide to feeling better quickly that you can do anytime!
You'll get all of this when you enroll in Spirit Junkie Masterclass Digital! These tools are some of my best tips of all time that I use daily in my own life and they will greatly support you on your journey!!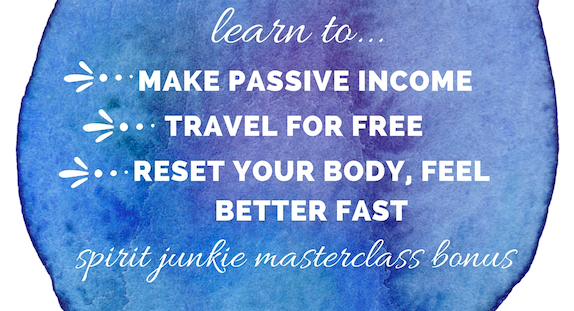 THE BEST PART? The Optimize Everything / Dream Lifestyle Package is currently ONLY available to new students of Spirit Junkie Masterclass who enroll through my personal link. It is not currently available for purchase to the general public, but it will be in the future. Once it is available for purchase, anyone who purchased Spirit Junkie Masterclass through my link will get automatic approval to become an affiliate for all of these items (at a 50% commission payout) so YOU can start earning passive income!!
If that sounds good (or GREAT) to you, and you're ready to enroll in Spirit Junkie Masterclass now, click here!
ENROLL NOW + GET THESE BONUSES!
PLEASE NOTE: Your awesome bonuses will be delivered to you via e-mail AFTER the refund period is over for Spirit Junkie Masterclass.

All you need to do is enroll directly through this link and I will be informed that you did, and I'll email you the bonuses when the refund period has ended.
Let's go!!! Woohoo!! ENROLL IN SPIRIT JUNKIE MASTERCLASS!

Questions about Spirit Junkie Masterclass Digital? Ask me below!!!
One of my favorite quotes from Spirit Junkie Masterclass…
"There are FAR more people in need than there are people serving. And they need YOU."
Get excited – you're in for an incredible 8 weeks and beyond. Love you guys!
Affiliate disclosure: if you purchase Spirit Junkie Masterclass through a link on my site or an email from Healthy Crush, I may earn a commission fee, but the product will be of no additional cost to you. These affiliate sales support Healthy Crush. If you purchase through my link, I really appreciate your support!!