Hey friends,
I'm writing this blog on a flight from NYC to LAX — I just finished up a really inspiring week at Kripalu in Western Massachusetts, for Gabby Bernstein's Spirit Junkie Masterclass Level 2 business training. In addition to attending the whole training for the 3rd time, I taught a workshop about the basics of making passive income online from your passions.
If you want a few resources to start with to get an idea of what my workshop was about, check out:
Blog post: How I Got Started Blogging As A Business 
and
Get Paid To Live: Blogging for Effortless Income (Free Chapter) 
You may be wondering what exactly goes on at Spirit Junkie Masterclass Level 2. Well, this training is almost a week long (Sunday-Friday) and Gabby basically opens the doors to graduates of Spirit Junkie Masterclass Level 1 and shows them exactly how she created her business as a #1 best-selling author and motivational speaker — and she helps everyone in the room get clear on how to step up as leaders and help as many people as possible in their desired field.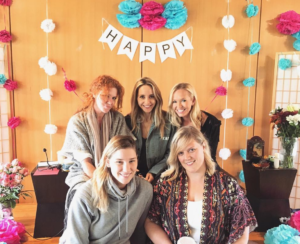 Gabby covers topics like: 
Marketing and creating digital courses
Book publishing and creating book outlines
Public speaking and crafting your transformational talk
Leading guided meditations
Teaching workshops
Creating your core message and sharing your story
…and a lot more.
As you can see, the week is pretty jam-packed with learning and resources and sharing stories. I've been helping Gabby with events and seeing the ins and outs of her business for 10 years, so it's awesome to see her share all her business tools with so many people. If all of this sounds exciting to you, get on the list to be notified when the next Level 1 training is open for enrollment!
We also got to eat every meal in the Kripalu cafe, which meant lots of kitchari. :) Aside from Gabby's birthday evening, where we left the retreat center and the lovely Aviva Romm cooked a few of us a gorgeous meal.
Every morning started with a meditation, and as a special treat, our friend Jamie led a kundalini meditation one morning. Everyone loved it.
So, as I like to do, I thought I'd share some of my favorite quotes and notes from my notebook so you can get a little inspiration from our week…
---

Here are some of the quotes that I wrote down during the week: 
Be brave enough to wonder what is underneath. To heal and teach with authenticity and wisdom. Be brave enough to go there.
Prayer: One day at a time, show me the way. Show me the way to be healthy and happy and free.
Be vulnerable enough to tell the truth in the expression of what comes through.
Be committed to your own practice. Walk your talk each day so you wake up proud. What in your life is not fully aligned with integrity for the teacher you want to be? Are you in alignment with what you're teaching today? 
Allow yourself to be led by a power greater than yourself.
Being in a pressure cooker is terrifying and debilitating and everyone's in it. We have to be the ones to help them out. Be willing to let go of negativity and fear. 
To teach is to demonstrate. Demonstrate a way that's elevated, kind, uplifted and happy. When you demonstrate, you heal yourself. 
You have answered a call.
"A light has entered the darkness. It may be a single light, but it is enough." 
Invite spiritual alignment into your relationships. You are always a teacher and always a student in every relationship.
We're all just trying to get to love — what are your ways of getting there?
Ask, "Where do I begin? What would you have me teach?" Step back and say, "show me."
Be in the devotion of what you're here to do. 
You get what you need when you tune into it. Call on the compassion of the highest good. Connect to source energy rather than your own energy. Become a vessel for the light.
Be the light where you are. 
---
I hope some of those quotes light a spark in you.
For more from Gabby, check out her upcoming book Judgment Detox.
See you on the west coast..
x
Jenny