Garlic bread is a must-have for any Italian feast. Most garlic bread, however, is laden with butter and white flour. Fortunately, there is a healthier way that gives you the salty, garlicky punch you crave, delivered on a wholesome, sprouted-grain slice of toast.
I got this idea from Annemarie Colbin, and when she first suggested it, I didn't believe it would really work! Why? Well, basically all you have to do is rub a raw garlic clove on a piece of toast and it disappears into the toast. Seriously! If you don't believe me, check out the before & after pictures below.
Ingredients:
A few slices of sprouted grain toast (I prefer Ezekiel brand)
A drizzle of olive oil for each slice
A sprinkle of sea salt for each slice
1/4 to 1/2 clove of garlic for each slice
The reason I say 1/4 to 1/2 clove of garlic is the maximum you should use for each slice is because I made the mistake of using a whole clove for 1 slice – and let me tell you – it was SO SPICY! It was like eating an entire clove of raw garlic at once. So go easy on the garlic, trust me!
All you do is drizzle some olive oil & sea salt on the bread, toast it, and rub some garlic on the toast.  DONE! (Note: you can toast the bread first before drizzling with olive oil and salt. Your choice).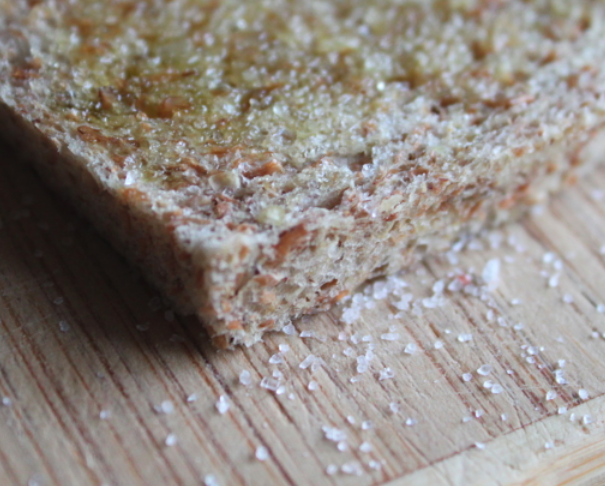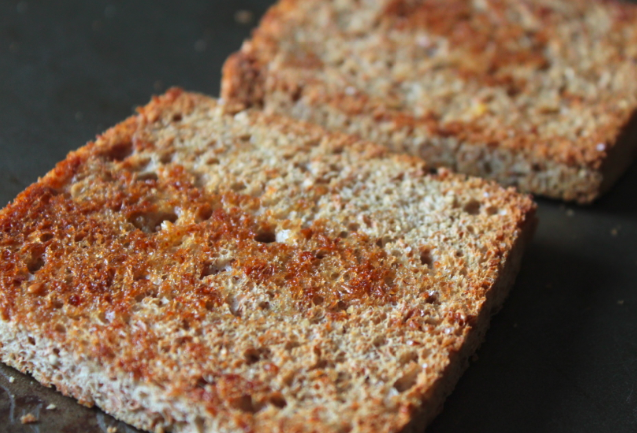 Note: this will give you garlic breath. Don't say I didn't warn you. :)