This stuffing is OUT OF THIS WORLD! I was actually very skeptical of myself when I came up with the idea to make stuffing with Ezekiel Bread, but it came out better than I could have ever imagined. You can substitute any kind of bread you want — gluten-free bread, cornbread, another kind of whole grain bread….use your imagination. I chose Ezekiel because I dig the healthy ingredients. This is really the ultimate stuffing recipe, no matter what kind of bread you go with.
Growing up, we always had Stove Top pre-made stuffing in a canister. All you had to do was add water, and voila! The last few years, though, I've been experimenting with making my own – and this is BY FAR my favorite — and, dare I say…way better than canister stuffing. :)
This stuffing earns two VERY enthusiastic thumbs up!!!
Ingredients (serves about 4):
1/2 a loaf of Ezekiel Bread or your bread of choice
1 small yellow onion
2 stalks of celery
3 tbsp olive oil
1 1/2 cups of stock/broth (I used mushroom broth)
1 tbsp fresh rosemary
1 tbsp fresh thyme
1 tbsp fresh sage
Sea salt + black pepper to taste
Toast bread so it's dry and crispy. Chop into cubes.
Chop onion and celery and add them to a pan with 1 tbsp olive oil. Cook until translucent and soft.
Chop rosemary, thyme and sage. Add broth + herbs to the pan with the celery and onion. Let the broth heat up.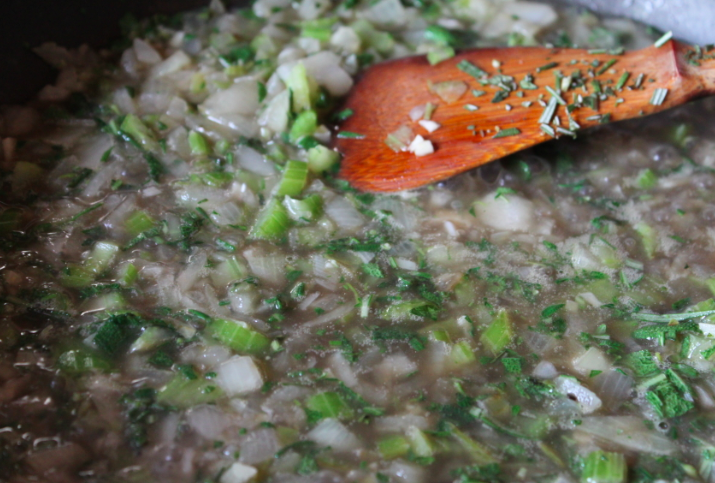 When the bread cubes are toasty, add them to the pan with the broth, herbs and vegetables.
Add the remaining 2 tbsp of olive oil to the pan. Stir the mixture until the bread cubes soak up all of the moisture, and cook until the stuffing has reached your desired consistency. Add more broth if your stuffing is too dry.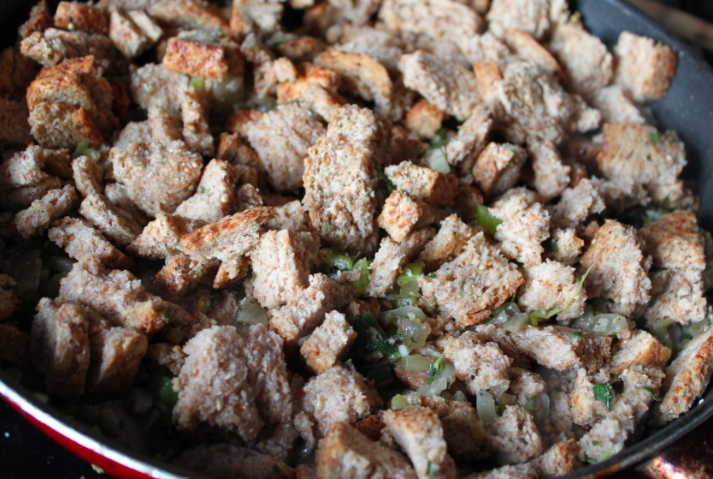 Add salt + pepper to taste. Congratulate yourself for making the most delicious stuffing on Earth!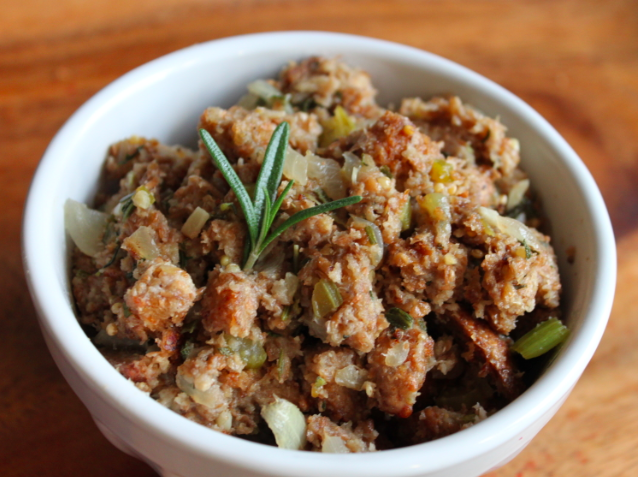 P.S. – I'll let you in on a little secret. This stuffing + this gravy might be the most heavenly combo….ever.