One of the best things about being up at the Omega Institute is how fresh and delicious the food is. The food was one of the first things that really attracted me to this place…obviously, right? I love nothing more than being able to know exactly what's in my food — and even better, to know where my food is actually coming from. When a place like Omega is so transparent about how everything is obtained and prepared, that makes me pretty excited.
The reason the food at Omega tastes so fresh and feels so good to eat is because they focus on local, seasonal, sustainable food obtained from farms nearby, which helps to enrich the local economy. They focus on organic as much as possible. Here's a list of some of the local farmers vendors they work with.
It's extremely fun (for me, anyway) to go into the dining hall at Omega and read all the little tags to see where the produce came from. Wheeee!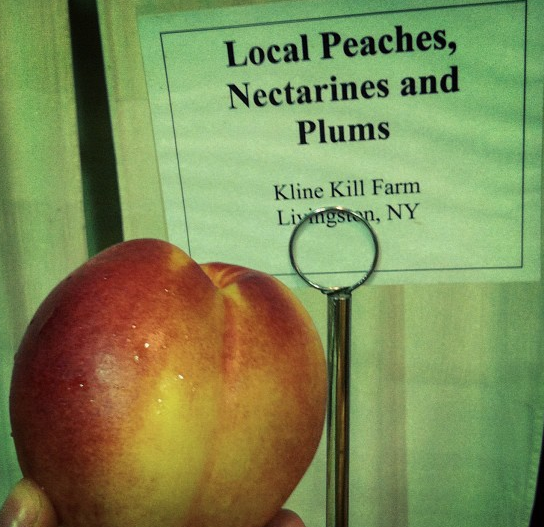 Why does Omega serve this kind of food? Well, for one, this place is a healing retreat center. They say, "We've learned the many negative effects of eating mass produced and processed foods. Chronic diseases like high blood pressure and diabetes have rapidly increased, and once fertile land is continually depleted of nutrients from unsustainable farming practices. We are grateful to reap the benefits of the abundant fresh food New York's Hudson Valley has to offer and we're excited to share it with everyone who visits our campus."
Awesome.
I mean seriously, have you ever done a taste test of a local, organic piece of fruit vs. one that's been sitting in the supermarket for days on end (and probably traveled across the country to get there?) Such a difference. Try it. Or just trust me and get the freshies.
Supporting local farms means your food is fresher, tastier, has a higher nutrient content, it has to travel a much shorter distance (i.e. better for the environment), it supports the local economy and community, keeps small family farms in business, and it's just totally high vibe all around.
Ways to support local farms:
Buy your food at a local farmer's market. It's so much more fun than shopping at a grocery store!
Sign up for a local CSA share
Dine at restaurants that offer farm-to-table food from local farms
Spend time at places like Omega that support local farms
Spread the word about how cool it is to eat farm fresh food!
And there you have it. Fresh is where it's at.
If you're ready to dive into the world of fresh produce and local farms, look no further than Local Harvest. It's a great guide to "farmers' markets, family farms, and other sources of sustainably grown food in your area, where you can buy produce, grass-fed meats, and many other goodies." Win.