I had a lot of trouble trying to decide on the name of this post. Why? Because these cookies aren't just the best gluten free cookies ever. They are so much more than that. They are not only gluten free, but totally grain free (made with just almond flour), sweetened with honey instead of refined sugar, full of high quality dark chocolate, and made with only a few ingredients.
They are incredibly delicious, so much so that I will probably never make them again because they cause me to go into a cookie-induced hysteria. Except that I already promised my roommate I would make them again next week…
The reason I made this recipe was based on a little challenge that was proposed to me. Last weekend, I was up in Maine, and my uncle was trying to convince me to "live a little" and eat one of these cookies: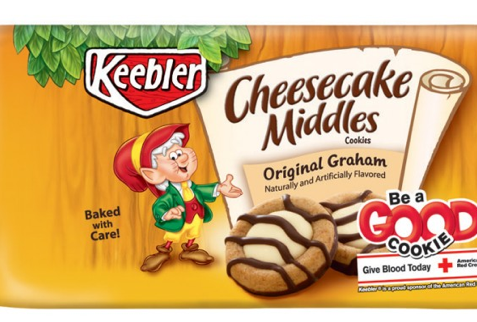 They may look innocent enough, but I took a reluctant peek at the ingredients list and found this staring back at me: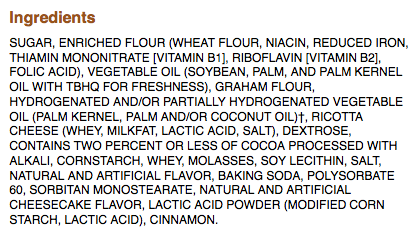 MY EYES!!!! THIS INGREDIENTS LIST IS BLINDING ME!!!! I had to look away.
"I would never eat this," I said. "This isn't even food." I genuinely had no desire to even remotely get one of those things anywhere near my face. Needless to say, these cookies are the complete opposite of what I consider "living a little." (I try not to make a habit of commenting on other people's food choices, but he was jokingly trying to press my buttons, so I had to get a little sassy).
After about 20 minutes of me putting my foot down, he challenged me to create a cookie that is "just as delicious" as these cookies, but with "jenny-approved" ingredients.
Done. EASY. I made it my mission immediately, and I far surpassed even my own expectations…
I don't need to actually try a "cheesecake middle" Keebler cookie to absolutely guarantee these are way more delicious…and so, so SO much friendlier to the body.
Believe it or not…you can actually enjoy an incredibly indulgent warm gooey cookie…and not destroy yourself in the process! :) Here's how.
I adapted this recipe from one I found in Paleo Cooking from Elana's Pantry (an AWESOME cookbook, btw). The main difference is that I didn't use vegetable shortening. Instead, I substituted coconut oil in one batch, and grass-fed butter in the other batch, just to guarantee both would work. They both turned out fantastic, so which one you use is up to your preference.
I brought these cookies into Dr. Lipman's office this week and everyone flipped out. Always a good sign.
Ingredients:
2 cups almond flour
1/2 tsp baking soda
1/4 tsp sea salt
1/4 cup coconut oil OR grass-fed butter
1/4 cup honey
1 tbsp vanilla extract
1 bar of high quality dark chocolate (I used Hu Kitchen Salty Chocolate, which has only 3 ingredients – cacao + coconut sugar + sea salt) (or about 1/2 cup dark chocolate chips)
Preheat oven to 350.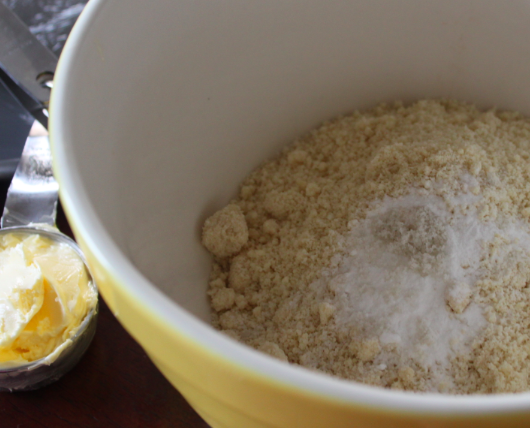 Add almond flour, baking soda + sea salt to food processor and mix well. Add honey, vanilla and coconut oil/butter to the mixture. Mix in food processor until it becomes a dough.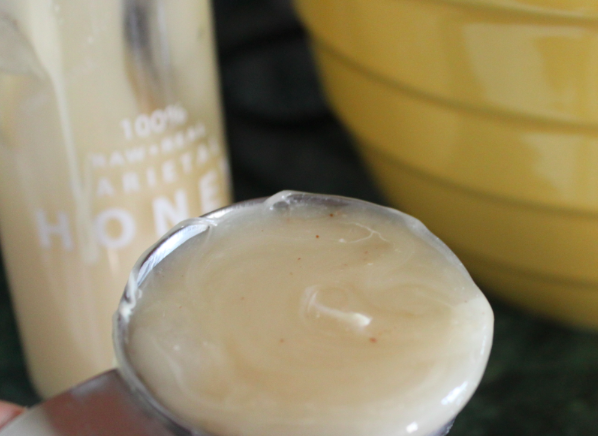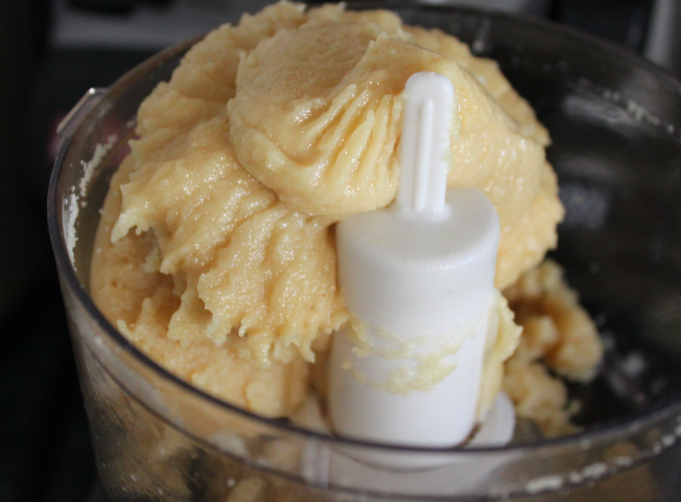 Transfer dough to a bowl.
Chop up chocolate bar and add to the dough.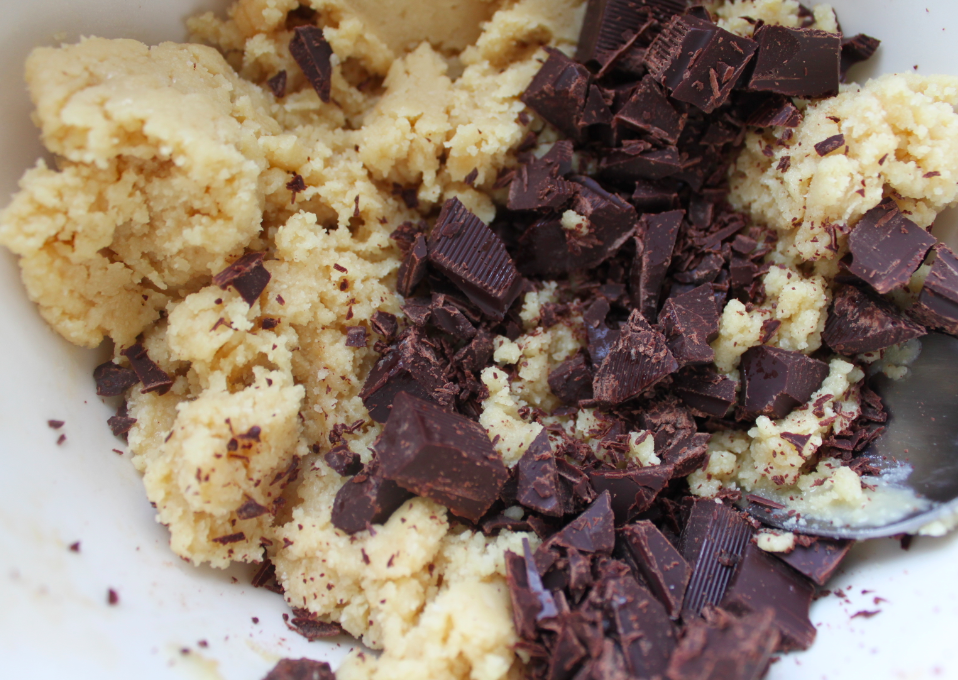 Try really hard not to eat all the dough (difficult).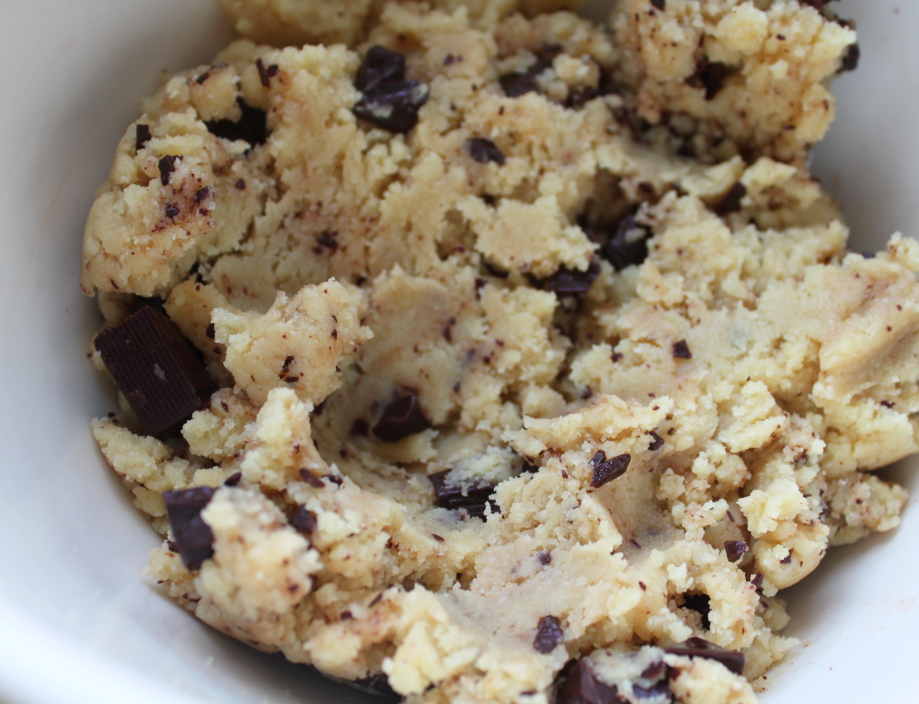 Grease cookie sheet with a little coconut oil or butter.
Roll dough into balls and put on cookie sheet. Pat down with fingers.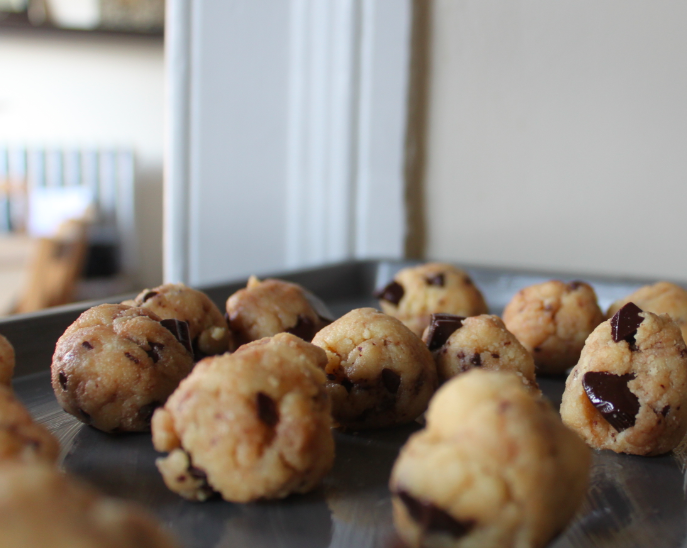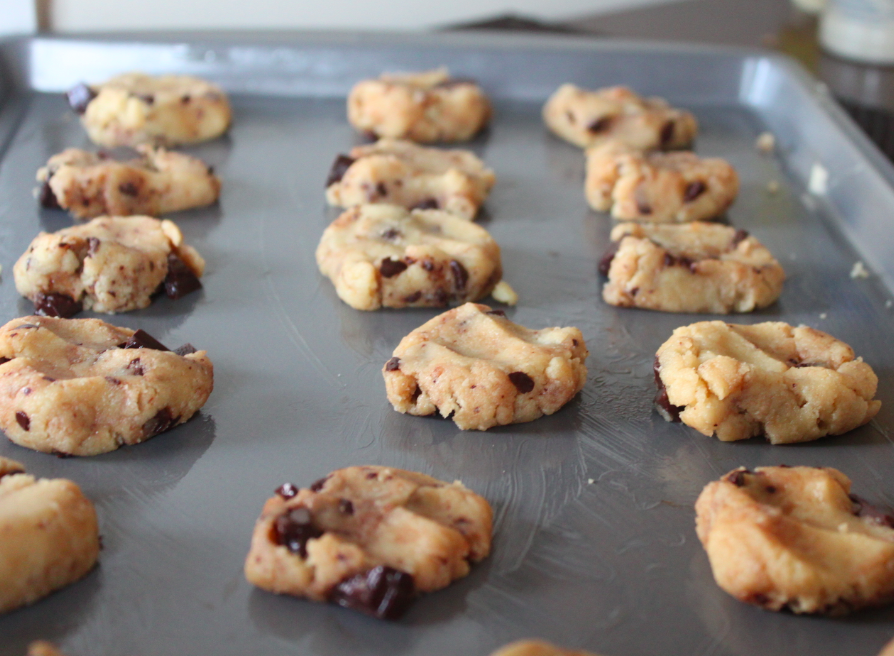 Bake for 6-9 mins (I know, that's it!) until golden brown.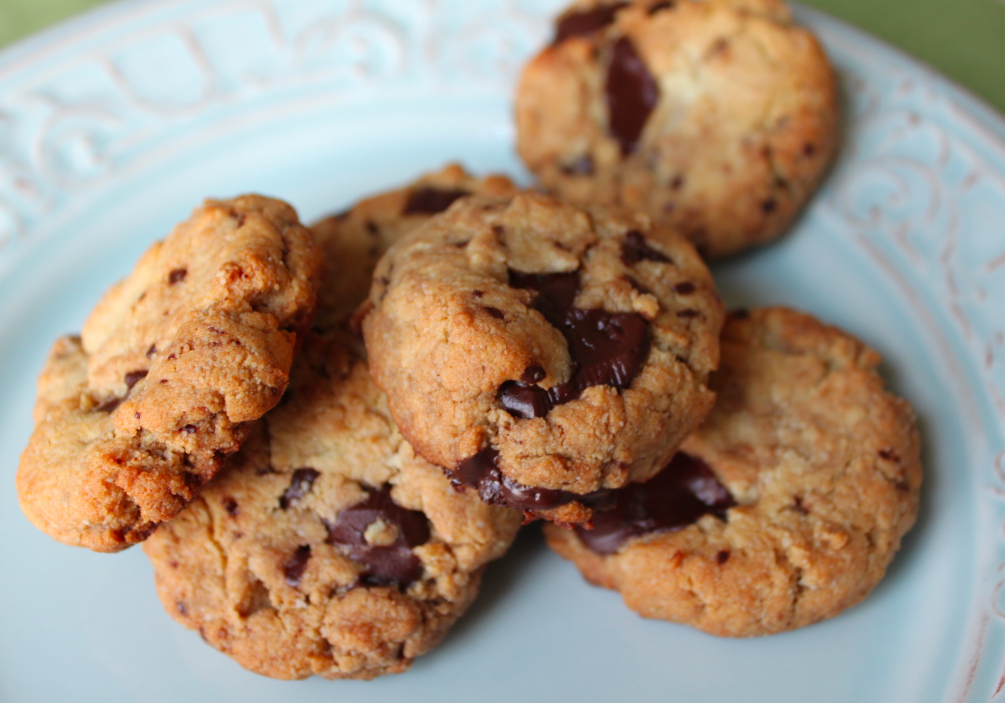 Let cool. Eat. Never buy packaged cookies again. Your life just got so much more amazing….
Let me know if you try these!
A note regarding substitutions: I have no idea if a different flour will work, a different sweetener, trying it without a food processor, etc, because I've only tried this one recipe. If you have a question about substituting something, just try it! And if you do, please let us know in the comments so we can all learn. :)
If this blog isn't proof of how much I love you guys…