Coconut water has been the new Gatorade for awhile now. Even though people have been guzzling this too-good-to-be-true beverage for a long time, it's just starting to get more mainstream hype recently – and with good reason! It completely and utterly rules. It's my favorite hydration technique, tastes amazingly refreshing, and most brands on the market have no added icky ingredients.
What makes coconut water so worthy of love?
Tons of electrolytes that your body needs to replenish after a workout
More potassium than 2 bananas
Super hydrating
NOTHING AT ALL added- all you have to do is crack open a young coconut and drink up!
So let's say you can't get your hands on an actual coconut. What brands are the best? To tell you the truth, I'm not 100% brand loyal to any coconut water at the moment. There's VitaCoco, Zico, One, Naked, and lots more.
I've really been digging the taste of this one lately: Amy & Brian's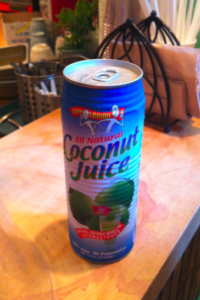 There is seriously nothing better than finishing a summer jog with an ice-cold glass of coconut water. Give it a try and you'll be converted!