I just finished watching the Titans of Yoga documentary on GaiamTV. When I read the description of the movie, I knew it was right up my alley. Titans of Yoga is about 25 of the most prominent modern figures who practice and teach yoga, meditation, and other mindful practices in the Western culture. They share stories of how they were introduced to yoga, and how the practice has transformed their lives for the better.
One of the things I've been the most grateful to experience this year has been the opportunity to attend multiple yoga festivals and conferences and learn from incredible teachers. Each teacher I've practiced with has given me a beautiful gem of wisdom about life, myself, my relationships, my journey, how I can show up in a more authentic way in the world.  One of the best parts of going to a yoga class, for me, is not just the physical practice, but rather the energy and stories and anecdotes that each individual teacher brings. I love nothing more than being able to learn from these teachers and share the energy and the knowledge with others. A lot of the teachers featured in Titans of Yoga are people I've been blessed to be able to practice with.
It's not uncommon to hear about people coming to the yoga mat as they're going through a difficult time, a transformation, a physical or emotional struggle. The stories in Titans of Yoga represented that – they talked about things like addiction, depression and disease bringing them to the practice and helping them to develop a new courage and a new strength. It gives me chills to even write about this, because I can relate, and I'm sure you can too. We're all on a journey of self-discovery, and yoga just helps us to go deeper into it. Whether it's painful, pleasurable or a little bit of both, yoga helps us to get very acquainted with our inner worlds.
The documentary features Seane Corne, Shiva Rea, Dr. Dean Ornish, Gurmukh Khalsa, Vinnie Marino, Bryan Kest, Sharon Gannon, David Life and others.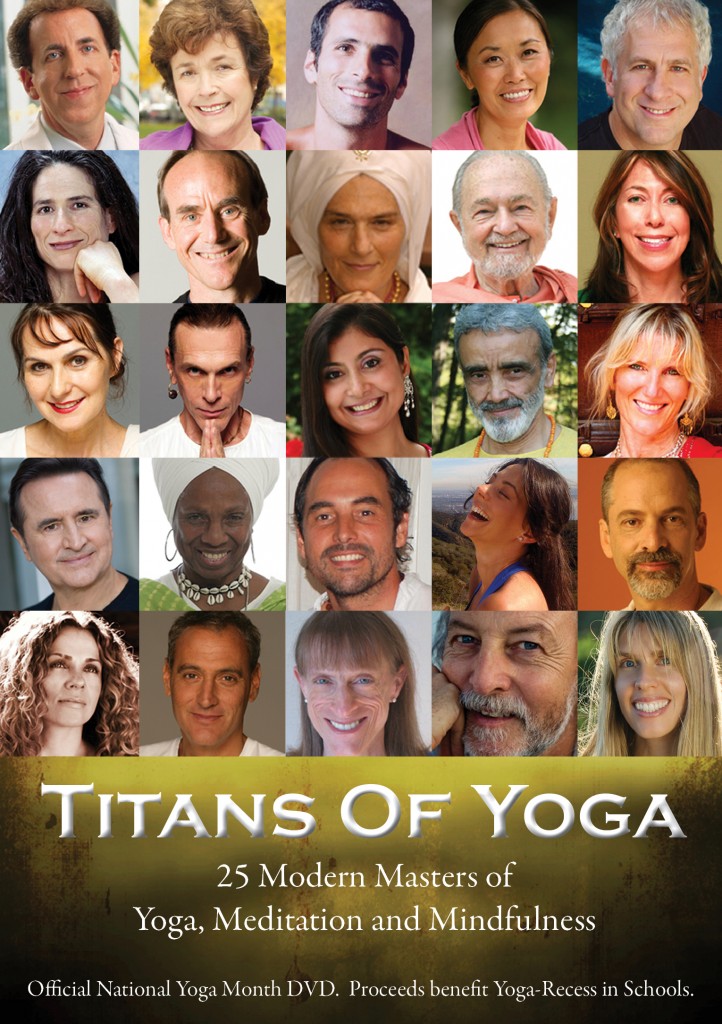 It's really interesting to hear what brought some of the teachers to yoga. 
Bryan Kest says that when he was younger, his dad told him to do yoga every day or he'd be kicked out of the house. After 6 months, Bryan felt so good, so alive, that his dad never had to force him again.
Lisa Walford was diagnosed as HIV positive, and yoga enabled her to maintain a calm in the midst of the storm – a quiet internal state that kept her from being fearful.
Dr. Dean Ornish was depressed when he first came to yoga. He thought, "let me give this a try. I can always go to plan B and kill myself if this doesn't work."
Shiva Rea, who has been practicing since the age of 14, says yoga has been there through her various life challenges, including the death of her mother, and many other changes of external circumstances. She says, "our yoga practice is our greatest gift when we are experiencing unexpected challenges."
Everyone spoke about what yoga means to them now, and how yoga makes them feel. Many of the teachers talked about experiencing the "yoga high" – feeling more alive than they had ever felt before. They describe yoga in many ways – including self-realization, being present, creating harmony and balance, a roadmap to self-discovery, creating stillness, cultivating a unified consciousness and more.

A few quotes I loved:
"To understand that to act out or to become distressed is not our only option. That's what yoga brings to our lives." –David Life
"You can't experience joy unless you're in the present moment. When you feel, you have an opportunity to feel good. To feel peace. Yoga strengthens our life force. It makes us stronger deep inside." –Vinnie Marino
"The more that we can heal ourselves and create that unification of body mind and spirit, the more we're going to be able to stand in empathy towards another human being."  -Seane Corn
"It's the ability to dance with life and not get knocked off your center." -Shiva Rea
"As big as you breathe is as big as you live. Breath has the power to heal." –Gurmukh Khalsa
"The faster things go, the more you should slow down. Nature never rushes. Life never rushes. It's only humans that are caught in this constant rushing and stress." – Saul David Raye
"When you're experiencing what's happening right now, all of a sudden everything that happened to you in your entire life melts away." -Bryan Kest
"Most people try to numb themselves through drugs, alcohol, eating, working. We don't want to feel what has been depressing us." -Kim Eng
"Yoga, in the wildest possible way, could change our perception of others, and we could see the world as, 'how could my life be lived so that my life would enhance the world?'" -Sharon Gannon
"What the mind has long forgotten, the body remembers. I don't want depression wrapped around my kidneys. I want it to be released. That is one of the beauties of this practice." -Lilias Folan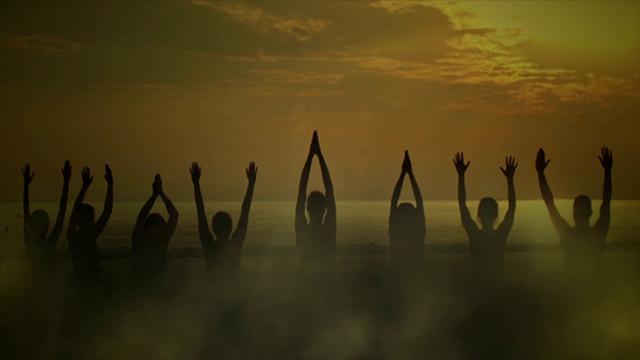 This documentary reminded me of the power of yoga and why I've developed such a connection to the practice. Sometimes it feels unexplainable, but it's amazing that these people are able to articulate it for us in their own unique way. If you're new to yoga, a seasoned practitioner, or anywhere in between, and you care at all about it, you'll find a lot of beauty and wisdom in this video…and you'll remember why you came to the yoga mat for the first time. :)