One of my health coaching clients recently recommended the book 365 Prescriptions for the Soul: Daily Messages of Inspiration, Hope & Love by Dr. Bernie Siegel. Bernie was one of my favorite teachers at my nutrition school, so I was quick to pick up a copy upon her suggestion.
The book is peppered with lots of tidbits of inspiration, but one that stood out to me right away was #182: OLIVE OIL. We know that olive oil is a healthy (and delicious) fat, and that it tastes great drizzled on veggies, but there's something even more profound that olive oil can bring to our lives, according to Bernie:
"The oil is created by crushing the beautiful olives. We are all under pressure most of the time…often we become bitter, restless, resentful and more. However, the olive knows that the pressures of life make us what we are and can be used to create something better.
Don't be afraid of the pressure. Use it to guide you…use its energy to push you forward into a meaningful life."
I love that! Food analogies are THE BEST. Seriously, what life situation can't be compared to food or cooking in some way?
Healthy Olive Oil Tip: Choose organic, extra-virgin olive oil that's kept in a dark glass bottle.
Ideas for enjoying olive oil: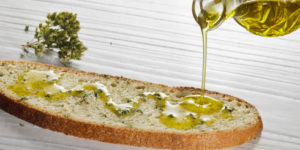 Check out Why Olive Oil Needs To Be In Your Diet by my friends at Integrative Nutrition!