Hey avocado lovers, guess what? It's Cinco de Mayo. I didn't realize that until someone told me this afternoon. I was like, YO, I gotta make some guac! And the person said, "or take tequila shots instead!"
Let's just say I decided on the guac.
Guacamole is a hilarious thing. It's like everyone has their own "special twist" on it. And doesn't it seem like everyone claims they have "the best gucacamole recipe ever"?  People get so serious about it!!! Myself included.
I've even heard of guys having "guac offs." (If you are having one, please consider inviting me, I will provide adequate instagram coverage and create hilarious hashtags).
Doesn't it also seem like even if a guy can't cook or prepare any other food, he somehow seems to have his own famous guacamole recipe? That's fine with me – something about a guy making guacamole just gets me excited. Watching it take place is like some sort of primal delight. Last summer, I even seriously considered making a calendar called "Guys Making Guac." (DO NOT STEAL THAT IDEA, K THANKS). I still might make it.
Anyway, in the spirit of Cinco de Mayo, I thought I'd share MY personal guacamole recipe, because obviously I have one. And guess what? It doesn't include tomatoes. Because tomatoes ruin guac. Yeah, I said it. Avocados are one of life's greatest pleasures and they don't need to be diluted by space-hogger tomatoes. Or onions, for that matter, if we're truly being honest (and we are). We are in the trust tree, in the nest.
You know what's disgusting? When restaurants use bagged guacamole paste instead of fresh guacamole. You know what I'm talking about.
So – what does a good guacamole ALWAYS NEED if you wanna be guac royalty?
JENNY'S (NO BS) GUACAMOLE:
Avocados
Garlic
Lime juice
Cilantro
Salt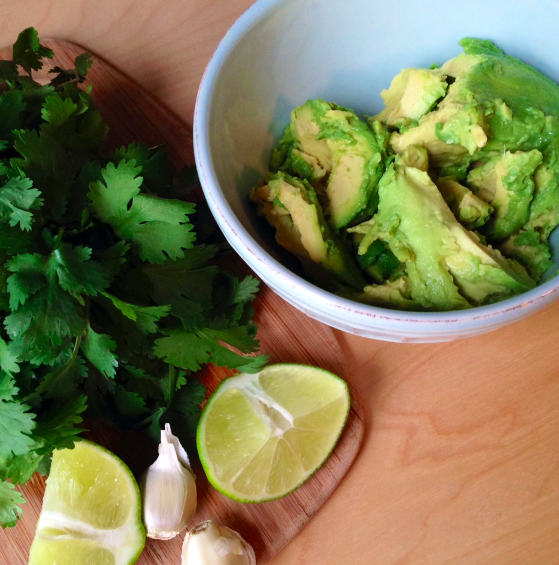 That's it. Combine it all and please, keep it chunky. The only things that are sometimes added, from time to time, are something to make it spicy (i.e. a pinch of cayenne, a chopped jalapeno pepper, or a splash of hot sauce). Otherwise, this guac is perfect and there is nothing else that needs to be done to it.
Let's touch upon the cilantro issue right now, as I know at least 40% of you are thinking it. I wrote a little about it here in 2009, when clearly I was so enthralled by it that I was rallying for the government to start funding cilantro tastebud research.
The truth is…there are certain human beings in this world that have a genetic defect that causes them to hate cilantro. You know immediately if you're one of them. To you, cilantro tastes like biting a soapy penny, and I'm so sorry about that. Let's all have a moment of silence for those people. 
The answer to your question "what can I substitute the cilantro with?" is, quite frankly, nothing. It is irreplaceable.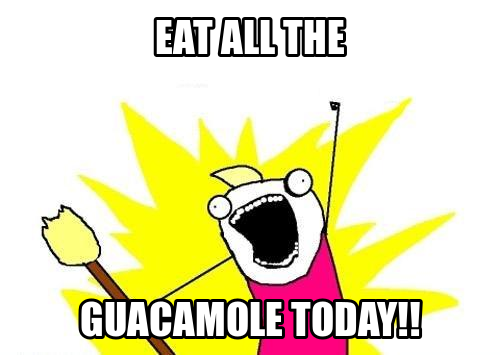 Ok now that I just blasted you with my incredible 5-ingredient guacamole recipe, here are ESTIMATED amounts, although if you are a guacasseur you know it's a good idea to add ingredients in the amounts that taste good to you. For instance, I am obsessed with raw garlic and copious amounts of cilantro, so I use a lot. Other peeps run for the hills when they even think about that.
GUACAMOLE RECIPE ESTIMATED AMOUNTS (adjust to taste):
2-3 avocados
1-2 cloves chopped raw garlic
Juice of one lime
1/4 cup chopped cilantro
Pinch of sea salt
Now here's the REAL point of this blog post: I wanna hear what you put in your guacamole. Do you have a secret special ingredient? Do you LOVE putting tomatoes in your guac? Do you want to pick every last cilantro leaf out of my guacamole recipe? (It's ok, we can still be friends, I am sure you have at least a few other redeeming qualities).
Do you have a crazy guacamole recipe that I can't even imagine? Let's have a comment guac-off!!!! We can all learn from each others ideas and MAKE EPIC GUACAMOLE EVERY DAY!
IT'S A GUAC OFF!!!
Let's all go ahead and listen to this while we make our guac.
Yep. I'm officially way too excited…again.
What's in YOUR guacamole recipe? Let's hear it!!