So many people complain that they don't have enough time to do the things that they really want to do in life – they are too busy working, going to school, taking care of a family, etc. If you're one of those people, do you actually know what you'd do if you had a full day to do whatever you wanted?
Lots of people don't even know what it is they'd do with free time. Other people have so many ideas in their head about what they wish they could do, they can't figure out what to do first. The key is to really know what makes you feel good, so you can incorporate things from your "ideal day" list into your life as much as possible – even on days where you're super busy, working, traveling, etc.
A couple of my coaching clients have been using this tool and really enjoying it, so I thought I'd share it here. The tool is simply to write out your ideal day. Morning to evening. From the moment you wake up to the moment you go to sleep. What would that look like? What kinds of things would you do? What would you eat? What would you work on? Who would you connect with? What would your ideal self do?
The reason it's helpful to write out your ideal day is because it opens up a line of possibility that didn't exist before. Most people are so stuck in their current habits that they don't consider what their ideal day would even look like – they just go about the motions that they're used to.
Try it now — take some time to think about what would really make you feel happy, healthy, vibrant, peaceful. What would you fill up an ideal day with?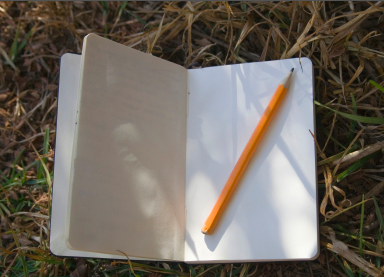 For example, here's one version of an ideal day for me. I can think of lots of different ideal days, with different situations, places, activities and people involved, but here's one general ideal day. I know everything on this list makes me feel good, so I can try to incorporate these things into my life as much as possible:
Wake up early, make tea
Write in my journal as the sun is coming up
Meditate and set my intention to have a beautiful day ahead
Go for a long run in the park while listening to my favorite music or audiobook
Make a green smoothie for breakfast
Go to the farmer's market & pick out fresh produce
Have lunch with a good friend outside
Plan a great meal for dinner for me and my boyfriend using my farmer's market goods
Cook the meal, take pictures and write it up — publish the article on my site
Call my sister, mom & dad, or a friend to catch up
Read and relax at night with a good book and a cup of tea
As you can see, my ideal day revolves around healthy food, exercise, doing something creative, getting in touch with my inner guidance & intuition, being outside, connecting with people I love, relaxing and learning new things. All of these things make me feel fulfilled, so I know it's important to incorporate these things into my life in order to feel balanced.
If you're feeling overstressed or like you don't have enough time to do anything for yourself, the task here is to make a list of things that really fulfill you, and start to make room for some of them in your everyday life. Even if you can only fit one or two of these things into your day, they deserve some attention — and you'll feel like your life has more of that vibrant sparkle that is the real you. :)
So, tell me….what would you incorporate into your ideal day?