I get emails with this question almost every single day: "Can you tell me your story, how you got started?"
Admittedly, these emails usually go unanswered.
Not because I don't want to get back to you. It's just that for a blogger, I'm rarely actually at my computer. (I take certain things a little too literally).
So I figured it might be nice to write out a little play-by-play. I got super emo even thinking about writing this, because the journey has been long and insane and magical. And it's just beginning, which blows my mind.
So here goes. This is the cliffs notes version of my journey to "where I am today."
Let's start in 2007. I moved to NYC to take a job in advertising sales at a food magazine. I partied. A LOT. Every night. In fact, the main reason I moved to NYC is because the bars were open til 5am. Other cities weren't open late enough for me. I spent most of my time either partying until the sun came up, nursing my hangovers with adderall and cocaine, or trying to find ways to meet Pete Wentz. Ah, what a brilliant existence. :)
My boss at the time thought I needed to clean up my act (shocker). He said to me, "instead of going out every night, why don't you stay in and read a book? Or better yet, WRITE a book?" I laughed hysterically.
Every so often, he would tell me he wanted me to meet his friend Gabby Bernstein, who "used to party just like you…but now she's into meditation and helping people and stuff." I brushed it off repeatedly.
Until one day when things got…let's just say…out of hand. I finally agreed to meet Gabby for dinner.
It was one of those moments where life swoops in and everything changes. Gabby quickly became my mentor. I cleaned up MAJORLY, and immediately. 
(I swear, this story is about blogging).
With my newfound cleaner lifestyle, staying in and writing didn't seem so crazy anymore.

In December 2007, I started my first 2 blogs. They were both private, password-protected blogs. Nobody read them but me. The first one was called "The Sansarazzi Report" where I would write about my NYC celebrity sightings (productive, I know). That one I actually did send around to a few friends. The second one was called "Taking 2008 To The Extreme: My Adventures in Life." There, I wrote my daily epiphanies about boys, sobriety, and vegan food. I wrote here under the name "Parvati," because I had read this in the story of the goddess Parvati and loved it:
"If one is persistent and heroic enough, one will generate so much heat that the gods will be forced to grant his or her wish in order to save themselves and the world from being scorched."
MY FIRST BLOGS:


HAHA! OK. Wow. Onward.
At the beginning of 2008, my resume got in the hands of someone at Everyday Health. ("Ooh, health!" I thought. "I love health now!") I took a job there as an assistant on the online ad sales team. I was fairly unfamiliar with online business, but I was tech savvy and I learned the tricks of the trade pretty fast. Working there for 3 years, I learned everything about how web sites make money.
In 2008, while I was sitting at my desk at Everyday Health, I was doing research on how to do a 30-day raw food diet. That's when I stumbled upon Steve Pavlina's blog. This post, specifically, about how to make money from your blog. I must have read that post 500 times. There was one line that stood out to me more than any other:
"So while most people can't make a living this way, I would say that most smart people can. Perhaps it's true that 99 out of 100 people can't make a decent living from blogging yet. But maybe you're among the 1 in 100 who can."
My whole body felt like it had been hit with an electric current. It was in that moment I KNEW I could do it. It was a visceral knowing. I would become a blogger.
I emailed my dad immediately. Here's a screenshot of the exact email from 2008, titled "my new career."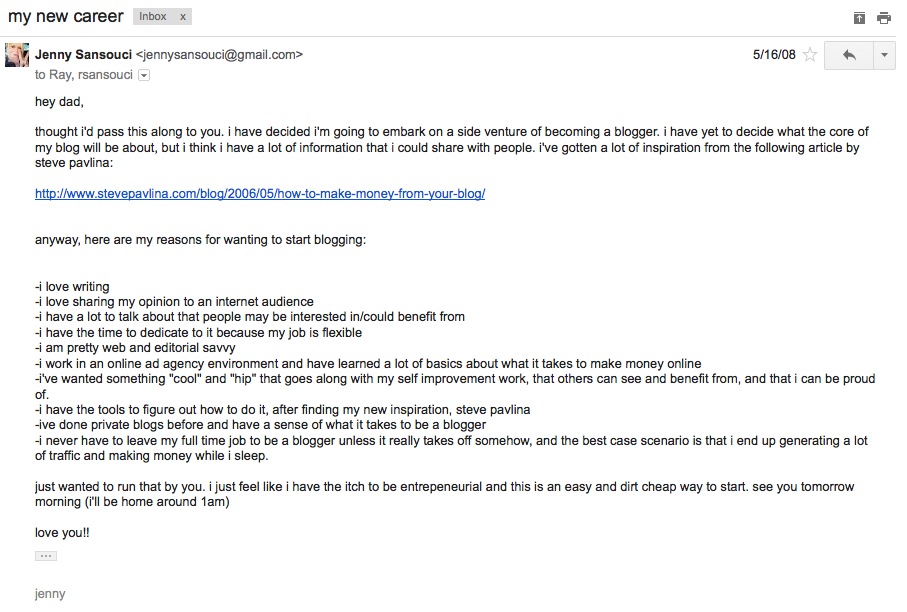 I like that I said I wanted to do something "cool" and "hip." Ha! (I also don't know why I said "my job is flexible." I had a full time, 9-5 job. Ah, delusions).
That's the first time I considered blogging as a business.
In 2008, I started my first public blog on WordPress.com.  This was my first post ever. On that blog, I wrote about things like fall out boy,  discovering kombucha, my pet peeves, how to choose coffee flavors, chicken nuggets, what it would be like if we had an emo president, and…"subway jumping."

So random! ButI blogged because I LOVED it. I loved the self-expression that came with it. I blogged as if people were actually reading it. It was really fun. I probably had 5 readers – a handful of friends and family. I didn't monetize it.

In 2009, I went to an Artist's Way Workshop with Julia Cameron at the Omega Institute. It was there I realized that what excited me most was writing about health and wellness. I decided to make an entirely new blog, all about health and wellness, and I decided to begin monetizing it.
Most important thing Julia Cameron said to me at the workshop? "Be willing to be a beginner. Good things will happen."
At that point, I saw how much money Everyday Health was making and I knew enough about online business to get started. I thought: if they can make MILLIONS of dollars a month with a health site…I can definitely figure out a way to pay my rent with mine.
In 2009, I launched my 2nd public blog. I bought a URL, set up my site on WordPress.org and hosted it on GoDaddy. It was called Recipe For Life. 
Note: I use Bluehost hosting now and I find it to be much faster.
My plan was for my blog to be primarily a healthy recipe site. I was madly inspired by Heidi at 101 Cookbooks.
I set it up myself. To figure out how, I used a neat trick called Googling. I spent hours upon hours upon hours watching YouTube videos and learning how to build a site.
I joined a couple of ad networks.I understood what those were based on my time at Everyday Health, and at that point I knew how to implement ad code in my sleep. I ran ads on my blog. My only marketing tactic was posting things on my personal facebook and twitter pages. I started making a few bucks a month. As the bloggers say, "enough to support my coffee habit."
A few examples of ad networks I've used: FoodBuzz, Google Adsense, Gourmet Ads, Glam.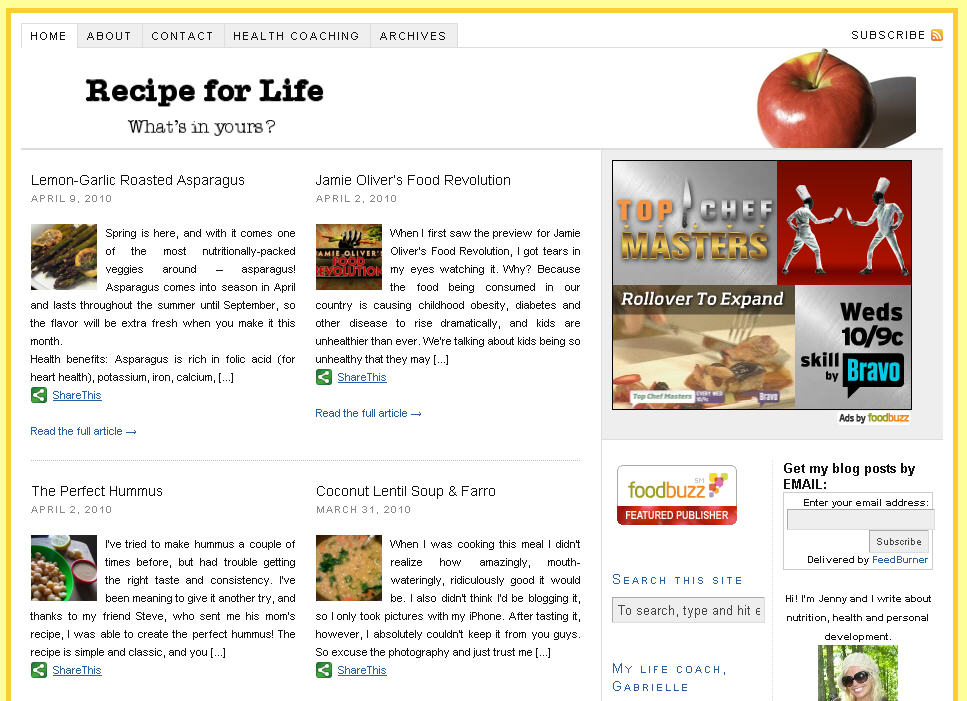 I blogged whenever I had free time, while I was still at my full time job.
I started getting free products in the mail to review. Every time I got one I wanted to cry with happiness and also self-doubt. I kinda felt like a fraud. Who was I to be writing about this stuff? (But really, who was I NOT TO BE? Ya know?)
Julia Cameron of The Artist's Way had inspired me so much, I wanted to hear her speak again. I Googled her. I found out she was speaking at an event for the Institute for Integrative Nutrition (IIN) in NYC. I brought my sister and my at-the-time boyfriend along with me — we all loved Julia Cameron. I had no idea what IIN was.
After Julia Cameron spoke, I checked out some info about IIN. I noticed that some of the leaders in nutrition that I was already obsessively researching were teachers in the program. I thought, "this school could probably make me a much more LEGIT health blogger." I enrolled. I learned a ton, met incredible people, and my eyes opened to a whole new entrepreneurial world.
I still wanted to be a blogger more than anything else, but after IIN I felt like I could be a health coach in my sleep. The IIN program taught me so much about how to run my own business.
In 2010, after graduating from IIN, I quit my full time job. I only had 1 health coaching client, and was making only a few dollars a month from the advertising on my blog…but I just knew in my heart that I could succeed. So I jumped.
I kept blogging and I built up a solid base of health coaching clients. In addition to the advertising on my site, I signed up for affiliate programs (Vitamix and Amazon Associates, for instance) and I started tweeting about products I liked. I only had a few Twitter followers at the time, but people bought things through my affiliate links. I started getting affiliate checks in the mail. Sometimes a few hundred bucks.
In 2011, IIN hosted a 60-day business building contest, and the prize was a spot at an exclusive conference in Costa Rica.
For the contest, I decided to create another blog. This time, my dream blog.

I journaled about it every day for weeks. I prayed and prayed for the perfect brand name. I plugged endless URL ideas into GoDaddy and nothing was available.
One day, I went for a run in McCarren Park in Williamsburg, Brooklyn — and the name "Healthy Crush" popped into my head out of nowhere.
I've never sprinted home so fast in my entire life.
The URL was available. That was it.
In April 2011, I launched Healthy Crush. I made this video to document the experience. (I just watched it again and cried). I hired a web designer to create the look and feel I wanted.
(Yes, I got to go to Costa Rica). :)
Content-wise, Healthy Crush changes based on whatever is happening in my life. At first, it was mostly recipes. I spent every day going to the health food store, cooking, testing and photographing food. I even bought a special camera just for food photos, and photographed my food only at certain times of the day to get the perfect lighting. My live-in boyfriend at the time was my taste-tester (tough job). I spent my evenings researching SEO, blogging strategy, and whatever else I could find about online business. Healthy Crush began to flourish.

Then, said taste-tester boyfriend and I broke up, we moved out, and I became homeless (aka, I needed to get the F out of New York and I decided to be transient and not get another apartment for almost a year). No more cooking. No more photographing food. All I could focus on was my own healing, so I started requesting press passes to every yoga festival imaginable just so I'd have places to go. I started writing more about yoga and self helpy stuff. Healthy Crush evolved in a new way.
It continues to evolve. Now, instagram is a form of mini-blogging for me. I spend much more time posting there than I do writing on the blog, because for the past couple of years I've been out in the world doing stuff more than I've been at my computer working. Lifestyle design.
Today, Healthy Crush supports me. I no longer take coaching clients. In fact, some months, this ONE blog post ALONE pays my rent. (And I live in New York City. It ain't cheap).
For reference, right now I get about 100,000 pageviews per month (I'm still a very small fry in the professional blogging world).
I'm still TOTALLY a work in progress. In fact, a lot of this stuff wasn't "strategy," but more just throwing things against the wall and seeing what sticks. I'm the most unorganized person ever and I've just been winging it, for years. Every dollar I make surprises me. But I know my writing needs to come out, for some greater purpose I can't explain, so I keep going.
So far, I've done everything myself, but after Pioneer Nation I'm gonna start hiring some peeps. Take it to the next level, yo!
Since launching Healthy Crush, I've played with various monetization strategies but the main ones I use now:
Ad networks (I currently use Healthy Ads and BlogAds) 
Direct advertising (once in awhile I'll set up a direct advertising relationship with a brand) 
Amazon Associates
Affiliate programs (to see which ones I'm currently using, just take a look at my sidebar)
Next up: selling my own digital products

Here's my new, upgraded logo.

Oh! I know some of you IIN grads want to know how I got started working with Dr. Frank Lipman, too. I work as a health coach for his patients at his office in Manhattan 1 day a week. Quite simply, how I got started with it — last year, a friend of mine who works for him was going on maternity leave. I covered for her for a few months and now I'm part of the team. It's super fun and Dr. Lipman is a brilliant doctor.
So there you go! That's the dilly with my blogging journey so far. Whew. I could talk about this for days, but that's the short version. (You don't have to love me. You don't even have to like me. But you WILL respect me. You know why?) ;)
Bottom line? Dreams come true if you nurture them. I'll leave you with that quote again…the one I put in my first blog ever:
"If one is persistent and heroic enough, one will generate so much heat that the gods will be forced to grant his or her wish in order to save themselves and the world from being scorched."
Yes! So go conquer some stuff.
Got questions? I'll answer them in the comments, rather than by personal email. That way, we can all learn. :)
If you want a great resource about how to start a blog, check out this post.