So here I am, morning of Day 5 of my 10-day cleanse. Wow! I can't believe after today I'll be halfway done.
If you're just joining me now:
Get my juice recipes in one easy, printable PDF!
Day 4 recap: I had a tough time waking up on Day 4 after not sleeping well the night before. I noticed how hungry I had been throughout the night, and had a realization – I might want to incorporate a little bit of almond milk.
So here's the deal. I know almond milk isn't fruit or vegetable juice. BUT,  I've had delicious nut milks on other cleanses before (Blueprint, Cooler Cleanse, Organic Avenue) – so I figured a little homemade almond milk wouldn't hurt as long as I didn't overdo it. So I made some fresh homemade almond milk. Recipe is below! In the morning I put some raw organic almonds into water to soak so I could make the milk in the evening.
So, anyway, I started Day 4 with a huge coconut water to get some potassium and hydration, and I felt a little better after that.
Then I made 32oz of the green juice I drank on Day 1, drank about half of it, and I all of a sudden felt a lot more awake and energized. I got some work done in the morning and then went to a yoga class at 12pm, which felt awesome. The class included a long meditation, which felt super trippy since I'm on a cleanse. I walked out feeling amazing.
I came home, drank the rest of the green juice and did some more work for a couple of hours, and then felt an energy slump. I really wanted to get some toxins out of my system, so I went to the Russian/Turkish baths, which has a bunch of steam rooms and saunas. I probably spent an hour going from sauna to cold shower to steam room to cold shower and just rotating, sweating buckets and drinking tons of water. I left feeling like I was walking on air!! It was so necessary.
Before the saunas, since I was out in the city, I got a 17oz green juice from the Juice Press. It was called "Mother Earth" – celery, cucumber, parsley, kale, dandelion, swiss chard, lemon and ginger.
I really wasn't feeling that hungry.
In the evening, I drank about 1/2 a cup of the almond milk, which was really satisfying. The rest is in the fridge for me to drink over the next couple of evenings.
Oh. So I also got a skin brush to get rid of more toxins….and I have to figure out how to use it. My skin is super sensitive so I got a gentle one.
I also drank a yogi tea "get regular" tea at night just to make sure things were flowing correctly, and I woke up today, Day 5, with a massive stomach ache. Eek. Probably because I used 2 teabags. It did work though, aside from giving me a stomach ache.
Day 4 stats:
Energy level: Low in the morning until I got some juice into my system. In the evening, my energy was the highest it's been for the entire cleanse! Bye toxins!
Exercise: 90 minute open-level vinyasa yoga class – felt great
Sleep: I didn't have trouble sleeping due to hunger (thank you almond milk!) but my dreams were SO extremely vivid that I woke up feeling sort of exhausted – like I had just done a ton of crazy stuff and seen tons of people from my past and had bizarre experiences, rather than waking up feeling rested. So weird. I've had vivid dreams on cleanses before, and I know it's a common cleanse "symptom." I wonder why?? I'm going to have to look that up.
Weight difference since Day 1: 6.2 lbs
$ spent today on juice ingredients: $34.22 (included organic almonds and juice stuff for Day 5 too)
Feeling: Emotions were low & cranky in the morning, but after the yoga and steam room/sauna trip I felt happy throughout the afternoon and evening. Food really wasn't even a thought. Mentally still feeling a little spacey as far as concentration goes.
Get my juice recipes in one easy, printable PDF!
Almond Milk Recipe
makes about 2 cups of almond milk
1 cup almonds
3 cups water
seeds from 1 vanilla bean
1 tsp cinnamon
2 dates
Soak almonds for 8 hours. Add almonds, water, vanilla, cinnamon and dates to blender (I used a Vitamix) and blend until smooth.
Strain through a nut milk bag or cheese cloth until all the liquid is out. Do what you want with the leftover pulp. I didn't save it, since I'm not gonna be eating for awhile.
I doubled the recipe and it ended up making about a full 32-oz jar of almond milk! It ended up being very yummy (not too sweet). It made me feel more full and really helped me to get to sleep without feeling hungry. Win!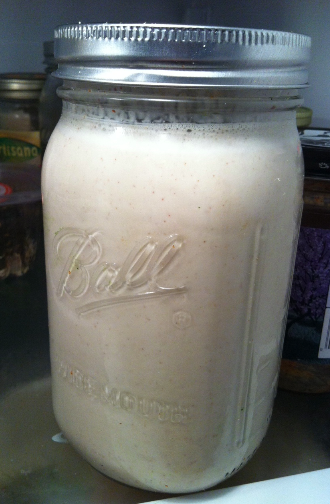 Now it's the morning of Day 5 and I finally feel really confident that I can get through the 10 days. Food is like so whatever to me now. Ha. No, but seriously, I am excited about making new juices and feeling cleaner and better every day.
Today's agenda is a spicy juice, so expect that recipe tomorrow morning. I was gonna make it on Day 4, but I ended up doing the almond milk instead.
How's everyone doing? Cleanse updates? I know there are a lot of ups and downs.

It's a crazy challenging learning experience. Sending everyone else out there on a cleanse lots of love and support. xo